What are the five best free things to do in Atlanta?
Answers from Our Experts (3)
Atlanta's top attractions can make a dent in your wallet, so bulk up your holiday with memorable, and better yet, free excursions.

1. Piedmont Park. The sunshine and green lushness of Piedmont Park are free to soak up, as are many of its cultural events and festivals. Check the park conservancy's website for a calendar full of freebies. Be sure to check out other happening green spaces at historic Grant Park and Woodruff Park.

2. Centennial Olympic Park. Also outdoors, Centennial Olympic Park in downtown Atlanta commemorates the 1996 Olympic Games held in Atlanta. The park covers 21 acres of green space, and includes artwork, rock gardens and an Olympic Fountain of Rings, where you can skip through hoops of water. Free music concerts are held during many days throughout the year so check the website for more information.

3. The Fernbank Science Center. The center is located just outside of downtown Atlanta and is free to explore, although there is a small fee for the planetarium ($5 for adults and $4 for children and seniors). Exhibits include information about Georgia's rivers and eco-systems, all sorts of fossils, an aerospace educational lab sponsored by NASA, the Apollo 6 Command Module and more. Just keep in mind the Science Center is separate from the Fernbank Museum of Natural History, which has a variety of ticket prices.

4. First Thursdays ArtWalk. The first Thursday of every month, downtown galleries open their doors for the First Thursdays ArtWalk, from 5 p.m. to 8 p.m. The Museum of Design Atlanta and Georgia State University are just some of the participants of this free cultural experience. At Georgia Tech's Ferst Center For the Arts, you are free to roam the Westbrook and the Richards galleries, featuring original artwork or photography by contemporary and student artists.

5. Sweet Auburn Historic District. An important neighborhood in Civil Rights history is free to those interested in learning more about Martin Luther King, Jr.'s birthplace, The King Center and the Ebenezer Baptist Church where he preached. The historic Sweet Auburn neighborhood covers several city blocks, so stock up on maps from the visitor's center so you won't miss anything.
Spring in Atlanta is one of the best times of the year to visit. The weather is beautiful, the trees and azaleas are in bloom, and it's when some of the city's best festivals take place. They're free, have tons of food and activities, and there's almost always one you can attend on any given weekend.

1. Dogwood Festival. This is one of the city's most popular — and longest running — festivals. It's held annually at Piedmont Park and includes a huge artist market, a high school art exhibition, an international village with more than 300 performers from around the world. This year's festival also includes a free concert Saturday night with Sara Evans in the Piedmont Park Meadow. April 19-21, 2013

2. Inman Park Festival. The Inman Park neighborhood's annual festival draws huge crowds for its well-curated street market. Here you'll find sculptures, paintings and photography, as well as jewelry, antiques, and other arts and crafts. But the highlight is always the street parade, which includes some of funkiest and eclectic "floats" and marching bands you'll see anywhere. April 26-28, 2013

3. SweetWater 420 Fest. This annual event is held in Candler Park to celebrate the start of spring, and Atlanta's favorite hometown brew, SweetWater 420. Highlights include the Relapse Comedy Tent, a small artists market, tons of food vendors and a stellar music lineup all weekend — this year's headliners include George Clinton & Parliament Funkadelic, and Robert Randolph & The Family Band. April 19-21, 2013

4. Atlanta Jazz Festival. Piedmont Park plays host to the main music events of the month-long Atlanta Jazz Festival. The celebration of live music has events all over town, and culminates with two days of free concerts on two stages in the Piedmont Park Meadow. May 25-27, 2013

5. Sweet Auburn Festival. Historic Auburn Avenue is home to the Southeast's largest free outdoor festival, which attracts more than 350,000 visitors. The three-day festival includes live music, food vendors, a kids zone, a senior pavillion and a just-for-women venue. May 10-12, 2013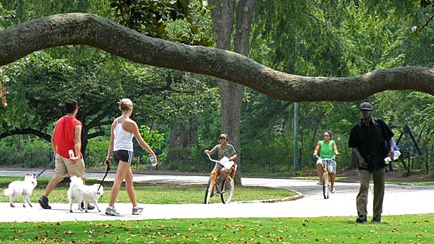 Yes, there are free things to do in Atlanta!
Some of my suggestions make for awesome and inventive dates, so romantics take note!
• Head to Piedmont Park and take in a festival, play tennis, have a picnic or just walk around the area and take in the lush foliage.
• Go to the High Museum on the first weekend of the month -- if you hold a Bank of America card and are a student or resident of Fulton County, it's free!
• Pretend it's 1996 -- when the Olympics were held here! -- and run through the Olympic Rings fountain at Centennial Olympic Park.
• Get a dose of history and take in the Martin Luther King Jr. Historic site.
• See how the other half lives (or at least the head of this state) and tour the Governor's mansion.