What are the best spas in Atlanta?
Answers from Our Experts (3)
While Atlanta is certainly a world-class city, no matter what time of year you decide to visit, there's something about the place to stress you. Come in spring, it's the pollen. Venture there in the summer, it's the heat. Stop by any other time, it's the grueling traffic. Thankfully though, the Georgia capital counters those worries with exhilarating spas all around town. Forbes Travel Guide Four-Star Remède Spa Atlanta, which has 10 spacious treatment rooms, does everything from micro-exfoliating pedicure to champagne-accompanied couples massages. Not too far from Remède are two other palaces of pampering, Four-Star The Ritz-Carlton Spa Buckhead and The Spa at Mandarin Oriental, Atlanta. And if you ever make your way through I-20 congestion, you'll find serenity-filled The Ritz-Carlton Lodge, Reynolds Plantation Spa, a place where bamboo lemongrass body polishes and Southern sweet tea wraps are delightfully done about 70 miles away from Atlanta's anxieties.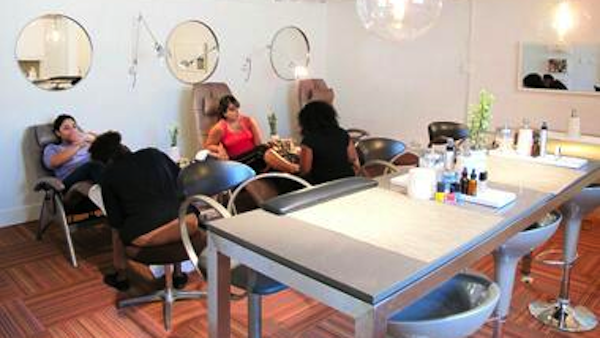 Depending on what you're looking for, you've got plenty of options for great spas in Atlanta. Because the summer season is upon us, we're all in search of a good waxer -- because those seem to be the mot difficult, albeit personal, spa services to identify. One fantastic place for waxing is Wax, owned by Myka Harris Barbato. What makes them great is how particular they are to detail, plus they do non-strip waxing here which is extremely difficult to find in Atlanta.

The estheticians here also impossibly thorough -- they use the kind of magnifying glass that diamond jewelers use to see if they missed any wayward hair. I've never seen this or experienced this at another salon; I challenge you to find that elsewhere!

You'll pay a bit more here than others, but the professionalism is well worth it. Brows start at $35 (eyebrow cleaning after initial visits are only $15 and tweezing is $20!) They also do tinting, eyelash extentions, bikini and brazilian waxes. Also neat is their Buff Bar. It's hard to get in to -- so you'll want to make an appointment -- but it'll be the experience your finger nails and toes have been craving. Pedicures happen in a stainless steel bowl -- no bacteria here! -- and they do gel pedicures here too!

For some, getting a spa treatment is relaxation enough, but there are some experiences that pamper beyond compare. Get the star treatment at the spas within these luxurious hotels in Atlanta.

Four Seasons Hotel Atlanta. The Spa at Four Seasons is ridiculously relaxing. Forbes Travel Guide 2013 agrees with a five star rating for its neoclassical tower located in Midtown.

The St. Regis Atlanta. The spa, called Reméde, is just that – the remedy for all that ails you (especially if that includes an overworked and tired body). De-stress with the Buckhead Escape body treatment.

Mandarin Oriental Atlanta. The spa at the Mandarin Oriental hotel is a retreat from the world. Covering two floors of the hotel, it is tranquility at its finest. The couple's suite is a truly decadent experience.

The Ritz-Carlton Spa, Buckhead. From spectacular massages to skin and body therapies, the Sweet Tea Body Buff and Georgia Red Clay Body Wrap are two menu items that are unique to Atlanta.