What are the best attractions in Austin?
Answers from Our Experts (2)
There's so much to see in the beautiful and quirky capital city of Texas. If you only have limited time in Austin, you'll have to pick and choose how and where you'd like to spend your time.

If the weather's warm, grab your swimsuit and a towel and head to Barton Springs, Austin's man-made natural swimming pool. It's spring-fed from the Edwards Aquifer and remains between 68-71 degrees Fahrenheit year round. The cool, crisp water provides much needed respite from the Texas heat in the summer.

When the sun starts to set, find a spot on the Congress Bridge to watch the largest urban bat colony fly out into the Austin sky. The Ann W. Richards Congress Avenue bridge houses up to 1.5 million bats, and they fly out on warm nights (think March-August) in search of food.

Get a taste of small town Texas at The Broken Spoke on South Lamar. Here you'll find cowboys and cowgirls, two steppin' and authentic country music. The Broken Spoke has even been frequented by country superstars like Willie Nelson and George Straight. If you work up at appetite on the dance floor, be sure to try their famous Chicken Fried Steak.

On South Congress, you can find a beautiful view of the Texas State Capitol, as well as great shopping (think clothing and antiques), open-air markets, and great restaurants. Take a break at South Congress's trailer food park and try some of the trailer treats like cupcakes, crepes, subs, fried chicken, Thai food, and shaved ice.

A trip to Austin isn't complete without a visit to Sixth Street. It's the Bourbon Street of Austin, and you can expect to find themed bars, souvenir shops, street performers, and plenty of people. Whether you're looking for an upscale restaurant or a dirty dive bar, you can find it on Sixth Street. Just be sure to bring your party pants.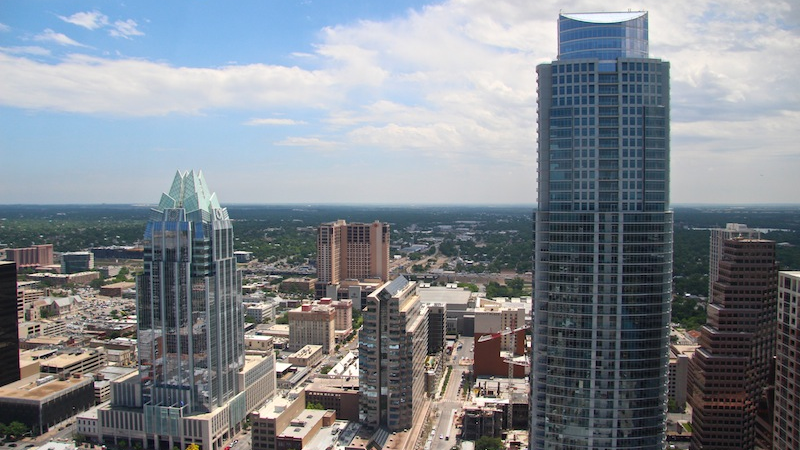 photo by Veronica Meewes
Though millions of people flock to Austin annually for the various music festivals that take place throughout the year, I always tell guests that the best way to get a true taste of Austin is to visit between fests!

The Texas State Capitol is a great place to start. This oldest surviving state building is centrally located downtown, where Congress Avenue and 11th Street intersect. It is free to enter and browse all the portraits of TX governors in the rotunda or (quietly) spin while looking up at the domed ceiling.. or opt for a guided tour! If you plan ahead and pick up some snacks at Royal Blue Grocery beforehand, the grounds would make a great place for a picnic!

South Congress is a must-see for out-of-town visitors. Known mostly for its shopping and people-watching, the strip has become even more of a foodie destination in the past several years as well. Weekends are the most fun and colorful, and First Thursdays turn the place into a bit of a block party each month. There are shops a-plenty and several great restaurants, but don't forget to check out the food trailers and artists selling their wares from outdoor booths!

We are lucky enough to have access to nature right within city limits. The Barton Creek Greenbelt has many different entrances throughout Austin which lead to great trails for running, hiking, and mountain biking, as well as swimming holes (when we are blessed with enough rain to keep them full!) The Ladybird Lake Hike and Bike Trail is a 10 mile trail located right downtown and always bustling with joggers, bikers, and dogwalkers. Enter nearby Zilker Park to rent kayaks, canoes, or stand up paddleboards to take out on Lady Bird Lake, or fly kites, play sand volleyball, disc golf, ultimate Frisbee, or any number of sports on its 351 acres, which overlook the city skyline. Barton Springs is also a must-see: the three acre, spring-fed pool remains 68 degrees throughout the year, so it is not uncommon to see locals swimming laps in January!

The Congress Avenue Bridge connects downtown to South Congress, and it is also home to the world's largest urban bat colony. Tourists line up on the bridge and at the adjacent viewing area to watch millions of Mexican bats take flight for food when the sun goes down. The mass bat exodus takes places between around June and October, usually between 8 and 8:30pm. And for your convenience, there is a bat hotline for updates: (512) 416-5700 ext. 3636

To say UT football culture is a big part of Austin would be an understatement. Pack your burnt orange and some cowboy boots if you plan on catching a game. And even if you can't score tickets, everyone knows the real party happens all around the stadium, where tailgaters set up early in the morning for some serious barbecuing and cheering around outdoor big-screen-TV set-ups.

Once the best spot in town to see a vaudeville show or catch a silent movie, the historic Paramount Theatre is now home to film and comedy festivals, artist and author talks, musicals, plays, film premieres and more. The summer classic film series is a great way to beat the heat and appreciate classic cinema on the big screen. Make a full date night out of it by catching happy hour beforehand at nearby Annie's, Second Bar and Kitchen, Roaring Fork, or the Omni.

Built in 1886, the grand Driskill Hotel on 6th and Brazos was home to many politicians, cattle and oil barons over the years. The lobby and bar/lounge area are all prime spots for lounging and admiring the very Western art while enjoying a cocktail. The employees are usually eager to tell you about the historical underground alleys where politicians would sneak in their female company, or spin tails of the many alleged hauntings that have occurred here.

Circuit of the Americas opened in November of 2012 to the pomp and circumstance of the US Formula 1 Grand Prix. An observation tower, open to the public, provides a 360 degree view of the circuit, as well as views of downtown Austin. The Austin 360 Ampitheater sits at the base of the tower and hosts national touring acts throughout the year.