What are the best kid-friendly restaurants in Chicago?
Answers from Our Experts (4)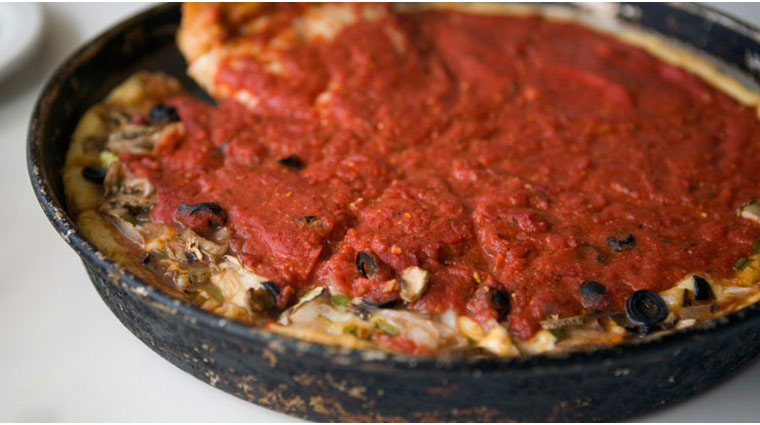 ©iStock/CurtPickens
Chicago has many fun, casual eateries where you won't be embarrassed to bring young kids. Sure, the city is home to many celebrity chefs and world-class restaurants; The Windy City can still make a mean deep-dish pizza and Chicago style hot dog. When it comes to family-style restaurants, both playful atmosphere and simple yet delicious food make them appealing. From Ed Debevic's and the Rainforest Café to Portillo's, Gino's East and Wishbone, no kid of yours will leave unsatisfied.

1. The faux '50s eatery, Ed Debevic's, has been known for its inordinate amount of kitsch since it opened in 1984. After your purposefully sassy host seats you, everyone at your table is forced to wear a deli hat. Your kids will also get a kick out of waiters and waitresses dancing on the countertops. Most importantly, though, no-frills burgers and shakes are inexpensive and family-friendly.

2. Equally as lively in aesthetic is Portillo's, a massive hot dog and burger joint that opened in 1963. Because it's not a formal dining experience, your kids can munch on some of Chicago's tastiest fast food unbothered.

3. Gino's East serves butter crust deep-dish pizza of Chicago fame, and children get their very own Kids Corner menu. The wonderful pizza is something adults will also and the unassuming atmosphere, well, that's something everyone appreciates once in a while.

4. Don't forget about Rainforest Café. Though it's not particularly cheap for being so gimmicky and family-friendly, this recreated jungle is sure to stimulate the senses. Sometimes thunderstorms occur-trees shake and the lights flicker-while lions roar and frogs ribbit as you eat your American style fare.

5. Wishbone, though it does not serve burgers like the others, is just as accessible for kids. They call their cuisine Southern reconstruction cooking-North Carolina style food with a dash of Creole spices, to be exact. Located one block from Harpo Studios, this restaurant prides itself on catering to kids who continue to frequent Wishbone as they get older and remember it fondly.
Chicago is home to thousands of restaurants. Some of the most kid-friendly options in town include The Rock and Roll McDonalds, Rainforest Café, Ed Debevics, Dave & Busters, Bubba Gump Shrimp Co., and the restaurants at Navy Pier.
In a city taken with its love of cuisine, there are plenty of places that excel at serving to the younger clientele. One of the city's best restaurants for kids is Sixteen at Trump International Hotel & Tower Chicago. This is a great place for families since it offers a delicious kids' menu, in addition to a daily gourmet menu for parents. The view from the 16th floor will certainly keep both parents and their kids entranced for the whole meal.

Should you choose to venture out of the hotel, however, there are a slew of kid-friendly restaurants in the River North area. A national favorite is the Rainforest Café, which transports diners from the concrete city jungle to the Amazon jungle. Across the street is a Chicago favorite, Ed Debevic's. Known for its sassy waiters and delicious hamburgers, it's a great destination for both food and entertainment.

Across the street from Ed Debevic's is the famous home of Chicago deep-dish pizza, Gino's East. Known for its cornmeal crust and deep fillings of sauce and cheese, it is a Chicago staple not to be missed. Another wonderful dining option for slightly older kids is the Hard Rock Café. Showcasing the music of thousands of talented musicians and their historic memorabilia, this is a great spot for the rock artist in the family.
Whenever I'm out with friends with wee ones, Wishbone is at the top of the list, and it's pretty high on the list without kids in tow, too. The theme is southern reconstruction—think jambalaya, po'boys, pulled pork—and the children's menu offers significantly more options than most places. The noise level is buzzing—great for masking any unwanted fuss, but not so loud that you feel like you're at a theme park.

For breakfast and lunch, Lakeview's charming Bakin' & Eggs is a neighborhood go-to. The generous dining room has room for high chairs and stroller parking, and the menu is packed with crowd-pleasing sandwiches and breakfast fare (frittatas, french toast, burritos).