When is the best time to visit Chicago?
Answers from Our Experts (15)
Anyone who lives in the city will undoubtedly say the summer months are the best time to visit Chicago, as locals often suffer through bitter, bone-chilling winters. The coldest months in Chicago are January and February, where the wind-chill factor can plunge into double-digits-below-zero degrees Fahrenheit. Summers are on the other extreme - hot and humid. Despite the humidity, though, the city is a summer playground for city dwellers who flock to the beach and the many street fests. Spring and fall are also very pleasant, if a bit short sometimes: Spring realistically falls somewhere between March and June (though it can be in the 50 to 60 Fahrenheit range through May), while autumn usually sweeps in from September to November.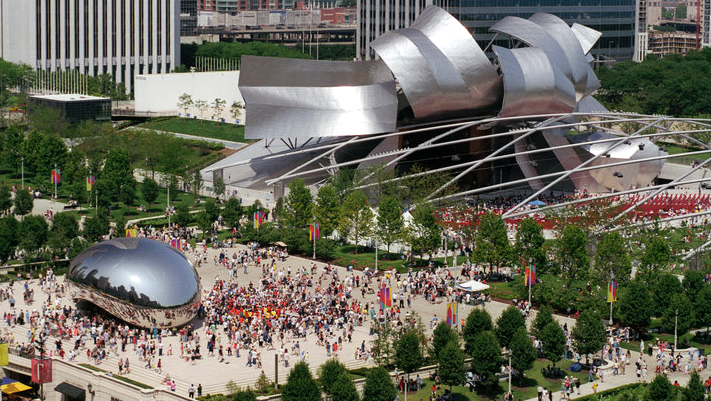 Millennium Park
Anyone who's read anything about Chicago weather knows that the city endures brutal winters. Therefore, the optimal time to book a trip to the Windy City is when the temperatures rise during the summer months. Chicagoans can't wait for summer — you'll find throngs of people out and about along Lake Michigan's waterfront, hanging in the parks, shopping at outdoor farmer's markets and brunching out in the open air.

Summertime is also when you can truly take advantage of Chicago's outdoor music scene. Millennium Park hosts regular outdoor concerts led by a variety of artists, and the Pitchfork and Lollapalooza music festivals are hugely popular with both locals and visitors.
I grew up traveling to Chicago throughout the year to visit relatives just outside the city, and I have to say, the summer trips always stuck out as my favorite. There's a palpable energy in the air on long summer days. It's best experienced at some of the Windy City's famous festivals — my personal favorite is the Taste of Chicago, a multi-day party in Grant Park that draws food trucks, pop-up restaurants and dozens of vendors offering their take on Chicago-style hot dogs, pizza and cheesecake, plus other specialty items. Lollapalooza and Pitchfork Music Festival also draw big crowds during the summer, but if you'd rather avoid the huge crowds, I recommend taking a leisurely stroll through the Lincoln Park Zoo or spending an afternoon at North Avenue Beach.
The best time to visit the city is the summertime with all the festivals, concerts, boat tours, sporting events, and outdoor activities.
Every season in Chicago has something special to offer a traveler. In winter, visitors enjoy ice skating in Millennium Park; in summer, it's tough to beat a nice day at the Lake Michigan beach. However, summer and winter can have extreme temperatures and can occasionally be unpleasant. Because of that, early fall and late spring are some of the best times to visit Chicago. The weather then is typically quite temperate and very pleasant and makes exploring the city a true delight.

Walking along the lake on a warm fall afternoon, enjoying a cocktail on an outdoor terrace, or experiencing an outdoor movie in the park are all best suited for a warm day. Chicago is a terrific walking city as much of it is easily accessible by foot. Winter hardly encourages long walks and in the summer it can be just as uncomfortable in the heat. Because of this, it's best to come in the transition months when the temperature is just right and more enjoyable.
If you like to get bundled up in your Uggs and coat, I think Chicago is fun when there's snow. I think spring, when things are blooming — particularly the tulips along Michigan Avenue — is beautiful. Fall is also really nice.
I like Christmas. I know everyone likes summer, but it gets really hot. Chicago's not really fun January to March or April, and we don't get much of a fall. But Thanksgiving to New Years is when you've got your Christkindlmarket, the parades, all that stuff. It's cold, but you've got your hot chocolate. To me, it's perfect —very Americana mixed with city.
It's definitely autumn. It's cliché, but it's really beautiful here. There are tons of deciduous trees that change color, and then they start raining the leaves everywhere. There are a lot of trees here. It's just really vibrant red, orange, yellow. The afternoons can be super, super warm, and it's a little bit cooler in the mornings. It's just really beautiful.
I like autumn. I think Chicago is so beautiful in the autumn, bar none — when the leaves are falling. Since our summers get so hot, I like when there's that that fresh, crisp weather and that little chill gets in the air. The leaves start to change, and you can pull out your sweater, walk through the park and see the extraordinary foliage change. It's a really beautiful time of year.
The best time to visit Chicago is definitely the summer. In the winter, I do probably the bulk of my traveling. I try to kind of coordinate things to do as little traveling as possible in summer to enjoy Chicago. Then January, February and March, I sign up for every possible trip where I can go to somewhere warm. The first year we debuted my spirit, Hum, when we decided on which cities we were launching, they were completely based on the weather. So it was Miami, L.A. and New Orleans in the wintertime, and the summertime is Chicago and New York. Being an entrepreneur lets you connect your lifestyle to how you want to build your business.
I love the fall — late August, September before it's too cold. There are still a lot of festivals going on. It's not too hot. You can get the weekly neighborhood festivals. It's beautiful. You can swim in the lake and sit outside, the terraces are all open. Gorgeous.
Summer is great because you can obviously go outside more and go swimming. But I like October and November the best. It really doesn't start getting cold here until late November and early December. If you don't like the cold, you're pretty safe to come here in October or November. It's beautiful with the leaves changing. Spring is pretty much nonexistent here.
It's obvious, isn't it? It's the summertime. We are the greatest city in the world in the summertime. It's amazing. There's so much going on. I always say that the weather in Chicago is like a doorperson at a hot nightclub: It keeps all of the riff-raff out. If it was that beautiful all year long, we'd be so overpopulated it'd be unlivable. There are so many more people are here during the summertime. It's so busy and crazy, but I love it.
Favorite time of year is a toss-up between spring and fall. But I will say fall because by the time summer ends, I just can't wait for fall. I love the first day I get to wear a sweater and a hoodie and everything. It just smells good outside in the fall.
The best part about Chicago is that it never shuts down. There are no dead months -- not even in the depths of winter. So no matter what time of year you visit, there's always something going on.

But there's nothing like Chicago in the summertime. Following a kind of ying-yang mentality, Chicagoans praise the sun in the winter months after so graciously tolerating so much winter. By June, al fresco seating is in full effect at just about any food or drink establishment with a scrap of concrete, and festival after festival (after festival, after festival) takes place in neighborhoods and downtown parks alike. As Chicago's weather calendar is very true to reality, the peak summer months can get quite stuffy for those unaccustomed to Midwestern humidity. But the fringe months -- May into June and September into October -- are some of the loveliest to experience, both for temperatures and the gorgeous colors.