What are the best local dishes in Hong Kong?
Answers from Our Experts (2)
For a real taste of Hong Kong, start with these foods:

Congee This comforting rice porridge is eaten around the clock and garnished with all kinds of meat, fish or vegetables. To breakfast like a local, have it with a side of fried dough strips, called yau zha gwai.

Char siu and other roast meats Char siu, or barbecued pork, is one of the glories of Cantonese cooking. You'll see slabs of of pork belly and other cuts hanging next to crispy-skinned geese and chickens in countless shops and restaurants around the city.

Dim sum is not a dish, of course — it's a meal. But it's a showcase for some quintessential HK eats, including char siu bao (bbq pork buns), rice noodle rolls, har gau (steamed shrimp dumplings), and sticky rice wrapped in lotus leaf.

Egg tarts Forget about your cholesterol levels and bite into this favorite treat. The flaky crust is rich, the egg yolk custard center even richer.

Wonton noodle soup A classic quick lunch, this dish is all about texture. The egg noodles have a snappy, almost squeaky quality, and the delicate wonton wrappers are plump with sweet shrimp (and sometimes pork, too).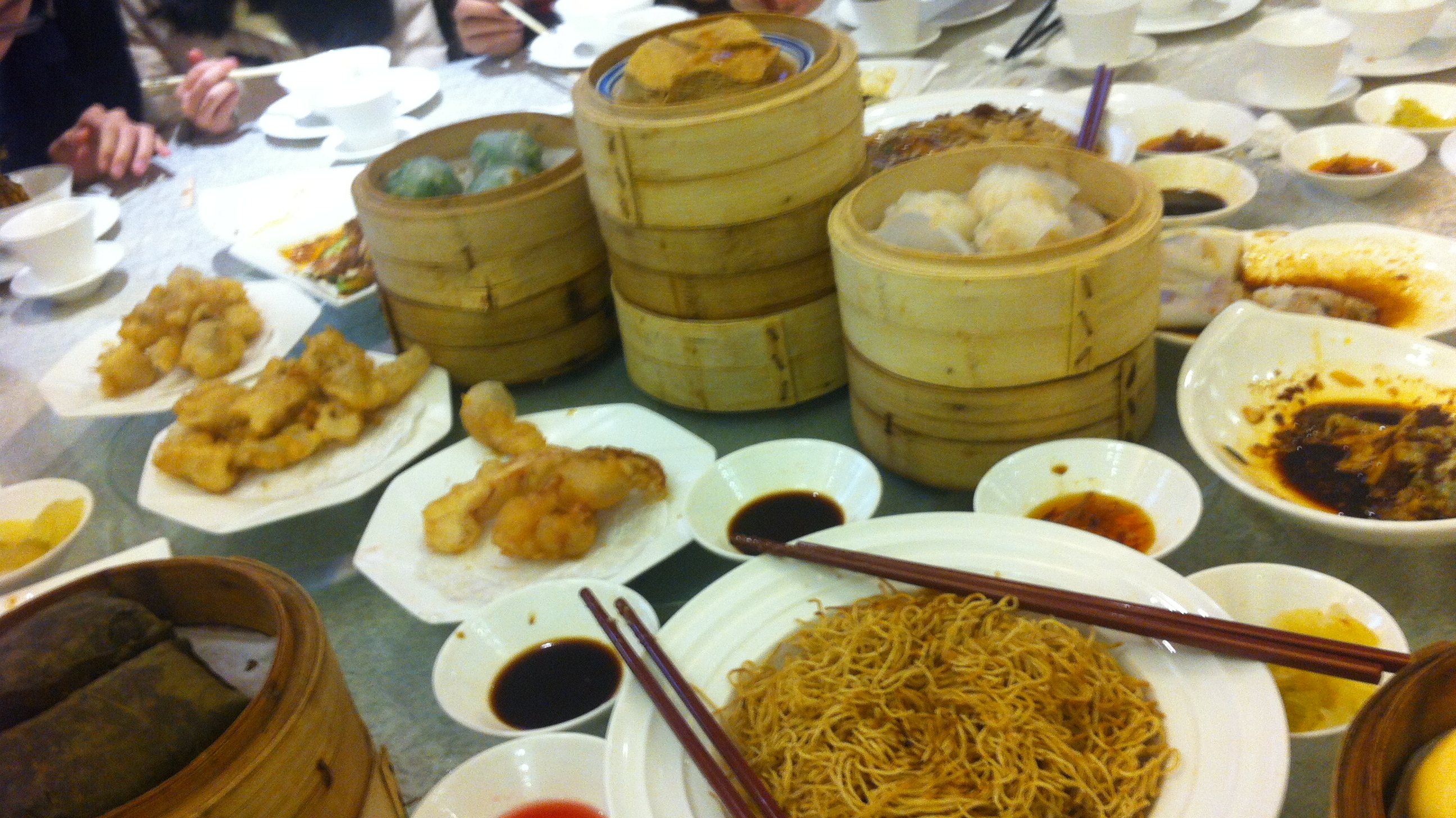 Among the many different types of cuisines on offer, don't forget to try some delicious local classics while you're here, as well. Most notable dishes fall into the following categories:

Dim Sum: You can't come to Hong Kong without going for dim sum (pictured) at least once. Consisting of dumplings, buns, pan-fried foods, and plenty of other dishes cooked and served in bamboo steamers, you'll be able to find dim sum presented in all kinds of ways, from being wheeled on trollies from table to table in old-school, hole-in-the-wall restaurantss, to sprinkled with gold flakes at high-end, world-renowned establishments. Some examples of dim sum include char siu bao (barbeque pork bun), har gao (shrimp dumplings), xiao long bao (Shanghainese-style pork dumplings) and chicken feet.

Hot Pot: While not unique to Hong Kong specifically, everyone enjoys sitting around the bubbling broth once cooler weather hits. Hot pot typically consists of a variety of soup bases with plenty of raw ingredients diners cook themselves by putting them into the pot which sits over a hot plate. Typical ingredients include seafood and beef balls, thin cut slices of meat, plenty of vegetables, and even more innovative options depending on where you go.

Meat, meat, meat: ...from lap cheung (preserved sausage) to char siu (barbeque pork) to crispy pork belly to beef brisket noodles. You'll often see lap cheung or various roasted meats — including poultry, as well — on display in the front the windows of various local shops and restaurants.

Pastries: The city has its own distinct style of bakeries, with classic tasty offerings such as egg tarts (a tart with an egg custard filling), pineapple bun (crisp and sweet outside with a sticky filling) and wife cake (more savory than sweet, with a filling of almond paste and winter melon and an exterior made flaky with pork lard). Have a cup of Hong Kong-style milk tea with your snack to complete the experience.

Seafood: While little of the culture remains, Hong Kong did make its beginnings as a humble fishing village. Head to Aberdeen, Lamma Island or the waterfront of Sai Kung for a veritable seafood feasts; you'll be able to see the fish and shellfish in tanks in many of these establishments--that's just how fresh they are. Don't miss hairy crab season in the fall, where dishes featuring the crustaceans turn up in restaurants all over the city.