What are the best rooftop bars in Hong Kong?
Answers from Our Experts (3)
At these bars, you won't just have a view of Hong Kong's legendary skyline — you'll be part of it.

Ozone On the 118th (and last) floor of the ICC building in Kowloon, this bar at the Ritz Carlton is the world's highest. It goes without saying that the view is unrivaled; on a clear day, you can see over the top of Hong Kong Island to the South China Sea.

RED Bar This sprawling, casual spot above the IFC mall is perfect when you need a shopping break, or want to kill time before catching a ferry.

Sevva On the 25th floor of the Prince's building, this swanky complex holds a restaurant, bar and cake boutique. But the L-shaped terrace lounge, outfitted with comfortable couches, harbor views and a close-up with the iconic HSBC building, is the real draw.

Sugar Those who work in the towers of Tai Koo and Quarry Bay head to this sleek, 32nd-floor deck to unwind with creative cocktails. There's usually a DJ, too.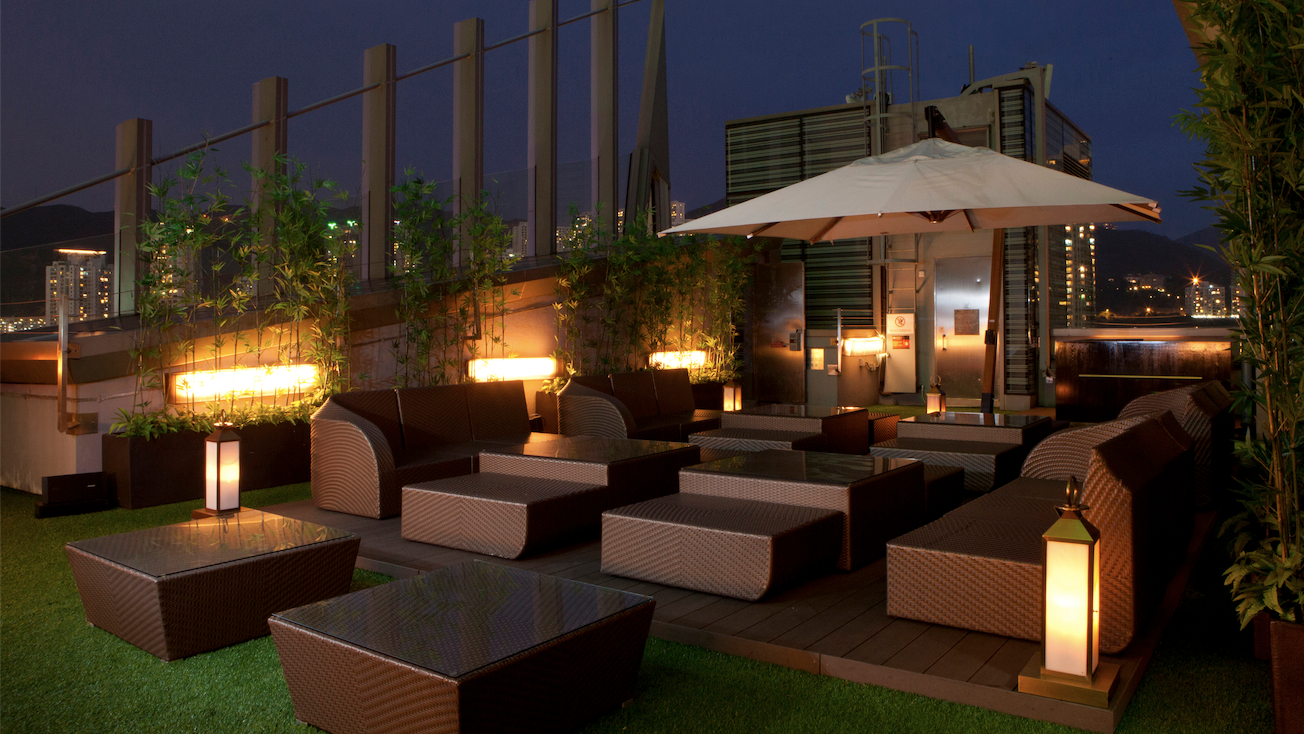 Courtesy of Mamoz
Rise above the hustle and bustle at one of these high-up, al fresco terrace and rooftop bars around the city.

Armani/Prive: Mostly frequented by local banker and lawyer types, this bar's interior may be nothing out of the ordinary... but step out onto the terrace and it's a whole different story. Only a short walk away from nightlife hub Lan Kwai Fong, Armani/Prive provides a nice break from the crowds. Enjoy the chilled-out music and woodsy decor — complete with plants growing in the terrace wall — while enjoying an Asian-inspired cocktail or glass of wine.

Hooray Bar: This laid-back bar in Causeway Bay has a fifth floor terrace with a stellar view, and serves casual yet quality eats like pizza and surf 'n' turf barbeque. A good spot for a nightcap after taking advantage of the district's many boutiques and shopping malls.

Mamoz: Also located in Causeway Bay, Mamoz (pictured) is on the 27th and 28th floors of Cubus, which is filled with plenty of other high-end bars and restaurants. Hold off the sense of vertigo while standing on its glass floor or soaking up the view through the full-length windows on the first floor, or head up to its rooftop terrace. The bar serves up fancy bar tapas and understated yet exquisite cocktails like local favorites the Clover Leaf and the Fancy Cider, or even the Tear Rock (which is served in an ice sculpture) if you're feeling adventurous. The atmosphere is complmented by live DJs on weekends.

Ozone: Ozone is about as high as you can go — located at the top of the tallest hotel in the world (on the 118th floor, to be specific), this bar is nothing to sniff at. Enjoy views of the harbour from the balcony over Asian-inspired snacks and a cocktail.

Wooloomooloo Prime: Part of the Wooloomooloo collective of Australian-style steakhouses, with branches across the city including in Central and Wan Chai, Wooloomooloo Prime is on the 21st floor of Tsim Sha Tsui mall The One. Its terrace provides sweeping views of Victoria Harbour, Hong Kong Island and Tsim Sha Tsui which you can enjoy over a steak or some seafood along with a classic cocktail.
Finding a bar with alfresco seating isn't as easy as you'd think in Hong Kong, but there are a handful of great finds for lounging under the stars.

Milan, Tokyo, Dubai – Giorgio's popular Armani/Prive nightclub is also in Hong Kong and its connected roof top terrace feels like a chilled oasis of sofas in the middle of the CBD's towering buildings. Order a Lychee Bee.

SEVVA is Bonnie Gokson's version of alfresco drinking, with the restaurant's huge terrace packing in Hong Kongers and tourists after work. While it's not cheap and the service can be a bit lacking, the views overlooking downtown Hong Kong are breathtaking. The perfect place for a glass of champagne with out-of-town friends.

In Wanchai, Wooloomooloo the steak house has a stylish roof terrace that shows you a different view – looking east towards Happy Valley Racecourse and beyond.

Scirocco is Soho's best alfresco drinking hole, with a smattering of tables serving up delectable tapas from The Med, as well as cool white wines and cocktails. Just upstairs from the area's most popular Staunton's Bar and Grill, it's an easy place to meet friends and eat before a big night out.

It's well worth making the trip out to Taikoo to experience Sugar, the rooftop bar at East Hong Kong. Sleek, with some great tunes drifting out on the breeze, it's a great excuse to get out of downtown and it's open until 2am.

Following Hong Kong's bizarre laws on public space, Red's alfresco area is now open to anyone who wants to sit down there, whether they drink at Red or not. But it's still a handy, casual place to take your ringside seat for Victoria Harbour, which is mesmerizing any night of the week.