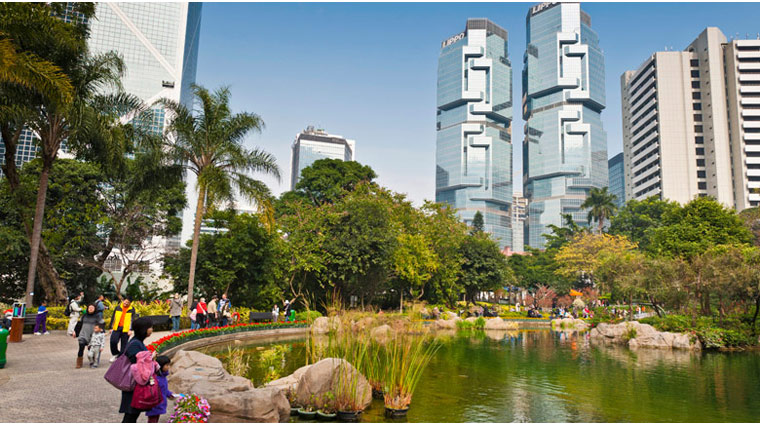 Compared with other major cities, it's easy to imagine Hong Kong as something of a cultural desert, with its creative soul smothered in dunes of cold, hard cash. But look closer and you'll see that the theory doesn't hold up. Recent times have seen a surge in the city's cultural ambitions, as evidenced by a proliferation of new galleries; the arrival in 2008 of a high-profile international art fair, ART HK; the opening of Hong Kong's first local auction house, Atting House, which focuses on Asian contemporary art; and the arrival of Art Basel Hong Kong in 2013, the first Asian iteration of the international art fair. Today, the city ranks as the world's third-largest art market after New York and London, thanks to headline-grabbing auction sales fueled by the Chinese contemporary art boom just to the north.

There's still work to be done. The city suffers from a chronic dearth of venues, particularly for music and theater. Nonetheless, the government is slowly making headway in its plans to build a vast, multi-disciplinary cultural complex in West Kowloon, while a growing number of independent arts outfits are finding innovative ways to make their mark on the local scene. Case in point: The organizers behind October Contemporary, an annual month-long citywide event promoting Hong Kong contemporary art, started in 2007. There are other events that have evolved into revered annual traditions, such as the ArtWalk (a citywide gallery showcase that drew 70 participating galleries in 2013) and the Hong Kong International Film Festival, which started in 1977. All this means that while Hong Kong culture isn't exactly in-your-face, there's a growing scene that's just waiting to be discovered. Go and see it for yourself.

On January 21, 2014

Ed Ng answered the question:

On January 21, 2014

Ed Ng answered the question:

When is the best time to visit Hong Kong?

Chinese New Year is a great time to visit Hong Kong. The weather is cooler and the streets are quieter as most locals are out of town. There are no lines; and when you do run into crowded areas, it actually adds to the fun because everyone is out enjoying the festive season. Finding a table in Hong Kong's best Chinese restaurants is also easier during this time.

I'm on the road much of the year; so major public holidays are the only time I get to enjoy my office. Since we set up our office in Bangkok two years ago, I've been spending a third of my time in Thailand and have loved exploring their culture.

On January 21, 2014

Ed Ng answered the question:

What are the best things to see and do in Hong Kong?

1. Venture up to Victoria Peak for the best view of Hong Kong.

2. Be sure to take the Star Ferry to enjoy the views from either side of the Victoria Harbour.

3. You should enjoy a typical local Hong Kong meal in a cha chaan teng (a tea food hall).

4. I like wandering around Hollywood Road, which is dotted with antique stores. I rarely buy anything from Hollywood Road, but I like to stroll and browse the neighborhood — just to stop to have a chat with the shop owners or simply soak up the local culture and rich atmosphere.

5. You have to sample dim sum at Hong Kong's famous Fook Lam Moon restaurant in the Wan Chai district. Fook Lam Moon serves very traditional and authentic dim sum, unlike some of its counterparts. And the quality is very consistent.

On October 10, 2013

Andre Fu answered the question:

What are the best places for dim sum in Hong Kong?

Island Tang — the restaurant itself has kind of a modern Art Deco Shanghai spirit to it, so on that level it's fairly appealing. It's got a small menu of fairly exquisite dim sum. It's very honest food, but that's the beauty of it. Kee Club is also great for dim sum.

On October 10, 2013

Andre Fu answered the question:

What are the best restaurants in Hong Kong?

I like Sang Kee, which is honest Cantonese food. I order the chicken prepared with spring onions. There is Da Domenico, which is Italian, and has great grilled calamari. Then, there's Spices; it's an Asian restaurant — a mixture of Thai and Vietnamese. It's in Repulse Bay and offers alfresco dining, which is very pleasant, especially on a sunny day. I like to get the crabmeat salad with avocado.

On October 10, 2013

Andre Fu answered the question:

What are the best things to see and do in Hong Kong?

1. One of the nicer things to do is to go to the south side of the island. You can take a car and just drive by South Bay, Deep Water Bay and Repulse Bay — that long string of beaches. A lot of people come to Hong Kong for a few days and they don't realize that on the other side of the city it's so leisurely and picturesque. It might sound obvious, but a lot of people do miss that, especially when they're here for business.

2. In Kowloon, there's the Kadoorie Hill. It's basically a small hill of residential properties that has been developed over the last 50 years, so there's some post-war architecture and some houses built today. A lot of it was built in the 1960s and '70s. It's really amazing because Hong Kong is a city with a lot of brand new buildings and high-rises. When you have a mountain of these low-rises alongside landscape, it's really interesting.

3. There's a restaurant called Yardbird, which is located on Bridges Street in a Bauhaus-style white building with black window frames. It's a very urban yakitori experience. It's quite edgy, very much encapsulating the modern spirit of Hong Kong.

On July 31, 2013

Madeline Gressel answered the question:

What are the best hiking trails in Hong Kong?

Hong Kong is a hiker's dream: hilly, scenic, temperate, and highly accessible by public transport. Few tourists take advantage of the tropical paradise outlying the city center, but those who do are richly rewarded with green mountains, turquoise seas, and gorgeous beaches that can't be reached any other way (except by yacht, of course). Go on...take a hike.

Dragon's Back: This is the classic Hong Kong beginner's hike, and it hits all the marks: scenic, accessible, and ends in a beach. True to its name, the hike runs up and down the humps of a hill range overlooking Stanley Bay. The hike is relatively unstrenuous, and you'll be rewarded at the end by Shek O beach, where you can swim, tan, and eat at the delicious Thai restaurant, Happy Garden. Accessible from the number 9 bus from Shau Kei Wan.

MacLehose trail: This New Territories trail is considerably harder than Dragon's Back, with considerably better rewards--which only increase as you push onwards. The entire trail is 100km long, but you can choose a section and go from there. Start at the Pavilion in Sai Kung Country Park (accessible by mini bus or taxi from Kowloon), and hike downwards until you reach Sai Wan beach. Sai Wan is nice enough, and there's a freshwater rock pool with a waterfall about ten minutes walk away. But push onwards, over a steep hill, to the next bay, Ham Tin, which is even more beautiful and serene. Get lunch at one of the cute eateries here, and then, if you're not too exhausted, climb over the next hill to Tai Wan-- Hong Kong's most beautiful beach.

The Peak: Less of a hike and more of a walk, Victoria Peak is a great place to experience the nature of Hong Kong without leaving the city. You can either hike all the way up from Central, past elegant apartment compexes and mansions, or take the tram up, and then circle the Peak on Lugard and Harlech roads. The scenery is lovely, and the whole walk takes only about an hour. Then reward yourself with lunch or walk back down.

On July 31, 2013

Madeline Gressel answered the question:

What is the hottest nightclub in Hong Kong?

Like any big city, Hong Kong's hippest club is constantly changing. But here are some perrenial favorites:

Hottest crowd, Boujis: There's a definite emphasis on exclusivity at this outpost of London's celebrity den, but once inside, the crowd, the vibe, and the musica are all quite fun.

Hottest music, Volar: Technically a members-only club, Volar has a tough door. Inside, there's usually a top international DJ, and recently, the newly-renovated club hosted hip-hop icons Dr Dre and Kendrick Lamar. People flock to Volar not to see and be seen, but to dance.

Coolest vibe, Insenses: Ask a Hong Kong DJ what their favorite club is, and they'll likely name Insenses. This insider favorite distinguishes itself with wildly enthusiastc DJs and patrons alike, both there to get down. It's a place to come and feel like a local. The space is miniscule, but if you get too hot, there's a sizeable outdoor terrace where you can enjoy a cool drink.



On July 31, 2013

Madeline Gressel answered the question:

What are the five best food experiences in Hong Kong?

Hong Kong is known for its strong and unique food culture, and there are certain experiences that you just shouldn't miss.

Dim Sum: Dim Sum literally means touching the heart, but in practice, it's a delicious meal of savory and sweet dishes (not always so small), like noodle rolls, dumplings, fried squid, and sauteed vegetables. It's also a serious staple of Hong Kong cuisine and family life. Dim Sum was traditionally often served from carts which circled the dining room, but that's harder to find these days. For the dim sum cart experience, try Maxim's Palace in Admiralty, or Lin Heung Kui, in Sheung Wan. For a more elegant experience, go to the Four Seasons' Lung King Heen, often called the best Chinese food in the city.

Duck, Duck, Goose: Hong Kongers love their BBQ poultry. The best place for goose is the very delicious, very celebrated Yung Kee. For Peking Duck, try Peking Garden, where you can also watch the chef deftly hand-pull lo mein noodles. It's like magic.

Lamma Seafood: Hong Kong is full of fresh seafood, but for the full experience, head to quiet Lamma Island, where you'll eat overlooking the lapping ocean as you eat. The prices are good and the menu is enormous, featuring lobster, clams, prawns, whole grilled fish you choose from a tank, scallops in cheese, and more. Rainbow is a trusty bet, and offers a free ferry to the island from Central, upon reservation.

Fine Dining: It's worth splurging in a city that boasts some of the world's top restauranteurs. Some combine an exceptional meal with a fabulous setting, like the Asia Society's AMMO, where you can enjoy sublime Asian Fusion in what feels like a tropical glasshouse, overlooking the jungle.

Dai Pai Dong: Perhaps the most classic Hong Kong dining experience is the Dai Pai Dong, an outdoor stall where you can enjoy steaming plates of Cantonese food al fresco. The prices are unbeatable. Sadly, the stalls are fast disappearing. For a selection of food, try Stanley Street in Central, or Temple Street in Jordan.





On July 31, 2013

Madeline Gressel answered the question:

What are the best art galleries in Hong Kong?

Hong Kong is filled with so many celebrated galleries that "best" really depends on what's showing when you're there. It helps to pick up a local guide and see what's on. Alternately, a ramble down Hollywood Road from end to end offers an interesting cross-section of art.

Here are some good bets to get you started:

Sundaram Tagore Gallery is the oldest, and only, gallery that trafficks in deeply crosscultural art. The results are often breathtaking. Look for international masters of beauty like Sebastiao Salgado, Hiroshi Senju, Edward Burtynsky and Annie Leibovitz.

Para/Site strives to showcase local art talents, such as Adrian Wong and Samson Young, and some larger names (think Ai Wei Wei) in non-profit conceptual exhibits designed to make you think.

Above Second is Hong Kong's new, cool kid on the block. Their monthly exhibits focus on genre-bending street and pop art from around the world.

White Cube This Hong Kong outpost might not have same the amazing design (a white cube) as its celebrate London parent gallery, but it definitely has the same high caliber exhibitiions. Gilbert and George and the Chapman brothers are recent features.

Duddell's The newest addition to Hong Kong's art scene is Duddell's, an art gallery meets restaurant meets artists' salon meets bar. Gaze at the art while enjoying gourmet Cantonese cuisine designed by Chef Siu Hin Chi of the Michelin starred T'ang Court, and then stay for a drink outside, or a debate on the meaning of contemporary art. This is modern Hong Kong.



Next