What are the best spots for happy hour in Houston?
Answers from Our Experts (1)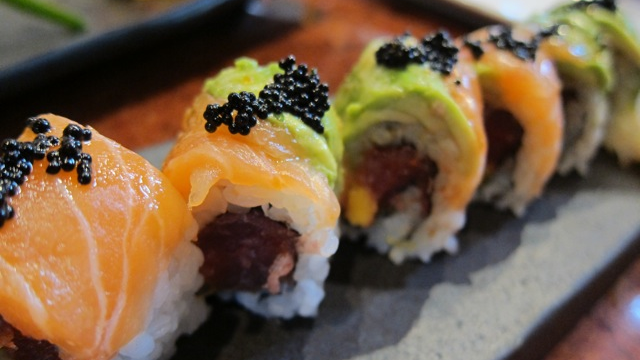 Photo by Mai Pham. Pictured: Tropical sushi roll by Kata Robata
There are so many Happy Hour choices in Houston that choosing one is as easy as selecting a specific neighborhood and pointing your finger.

Over in the Washington Corridor, Benjy's on Washington happy hour from 4 p.m. to 7 p.m. is one of the best, its lounge and upstairs deck filling up to the brim by around 6 p.m. as the after-work crowd and pre-party crowd stop in for a great happy hour menu of gourmet specialty pizzas and other appetizers for $6 -- think pork potstickers with kimchi and sesame ponzu, chicken and mushroom lettuce wraps, mushroom fontina pine nut truffle oil pizza -- as well as a great selection of $6 cocktails, along with beer, wine and mixed drinks for $3 to $5. Other solid spots in that area include Soma Sushi, Coppa Ristorante Italiano and The Blue Fish on Washington.

Inside the loop and around lower Westheimer and the Montrose area, Uchi Houston offers their awesome Sake Social Hour from 5 p.m. to 6:30 p.m., with smaller tapas style appetizers discounted for $3 to $6, and sake and beer specials. Try their machi cure, their bacon tataki, and their walu walu while sipping on a nigori sake. Pistolero's -- the new tacos and tequila joint, and sister restaurant Royal Oak also offer excellent happy hours. Get 2 for $6 full-size gourmet tacos, $5 rocks and frozen house margaritas, $4 sangria $1 off all drafts at Pistolero's form 3 p.m. to 7 p.m.; and enjoy tons of $5 food specials -- dumplings, spring rolls, pepperoni pizza, fried pickles, stuffed jalapenos -- along with drink specials at Royal Oak from 4 p.m. to 8 p.m. Monday through Friday. Anvil Bar & Refuge, one of Houston's best cocktail bars, also just started doing happy hour from 4 p.m. to 5 p.m. with half off their cocktails list. And the cool artsy Mexican restaurant Cuchara just started offering 10 items for $5 from 5 p.m. to 8 p.m. nightly.

In Highland Village, the Galleria, and Uptown Park, RA Sushi Highland Village has a popular happy hour from 3 p.m. to 7 p.m. with rolls, sushi, and drink specials. At Master Chef of France Philippe Schmit's Phil's Wine Lounge on Post Oak Blvd, enjoy $7 pizzas, half off select wines by the glass by Sommelier Vanessa Trevino-Boyd, and drink $3 to $6 drink specials from 4 p.m. to 6:30 p.m. Award-winning restauranteur Robert Del Grande's RDG+Bar Annie next door offers $6 specialty cocktail and bar bites during their happy hour, from 4 p.m. to 7 p.m. Truluck's on Westheimer also offers an excellent happy hour in the lounge, with live music on certain nights, and half off appetizers and cocktails from 4:30 p.m. to 6 p.m. daily.

In the River Oaks/Upper Kirby area, hit up Kata Robata for a great happy hour consisting of bar bites like their pork belly buns and tropical fruit sushi roll, along with beer, wine, sake and specialty cocktail specials. Fleming's Steakhouse on West Alabama is also a great happy hour spot, offering their 5-6-7 menu -- five choices for six dollars until 7 p.m. every day -- their prime burger fantastic. Another option is Eddie V's in the West Ave Complex, which offers happy hour nightly from 4 p.m. to 7 p.m. with a large selection of appetizers and $2 off drinks and wines by the glass. Triniti Restaurant is also a posh spot for happy hour, featuring appetizers like the Tuna Poke and Grilled Oysters for $4 each, or 3 for $10, along with $5 specialty cocktails, $3 select beers and $5 wines from 4 p.m. to 7 p.m. Mockingbird Bistro, hidden away on a side street on Welch, offers $5 drink and appetizer specials at the bar, along with their famous to-die-for $9 American kobe beef burger. Haven and Cove also offer $6 bar bites and $2 to $6 drink specials.

Downtown, spots like newcomer Batanga offer $3 to $4 specials on wine, beer, and mojitos, along with great nibbles like Castilian style pork ribs, patatas Batanga, and chicken pintxos for just $4 during happy hour from 3 p.m. to 7 p.m. Line & Lariat inside the Hotel Icon offers $5 Texas-centric bar bites like the Mini Pork Tostadas, Fried Texas Oysters, Bacon-Wrapped Dates, and discounted beers from 4 p.m. to 11 p.m. At sushi spot Azuma Downtown on the lobby floor of the Rice Hotel, enjoy $5 to $8 happy specials kobe beef tacos, sashimi teaser with three sauces, green bean tempura, and chili shrimp, yakitori, and sushi rolls with $2 to $5 drink specials. MKT Bar at the Phoenicia Specialty Foods downtown also has craft beer $3 bottles, $4 draft pints, $5 boutique wine by the glass, and $6 appetizer specials. And over near the convention center, The Grove at Discovery Green offers $3-$5 bites including like BBQ Glazed Pork Meatballs with Buttermilk Dressing, Kobe Beef Hot Dog Bites, along with $2 to $5 beer and cocktail specials like their Raspberry Margarita or Pomegranate Screwdriver.

In Midtown, places like Piola Italian pizzeria offer discounted whole pizzas starting at 4 p.m. at the bar, where you can also get drink specials and complimentary passed appetizers until 7 p.m. Brennan's is another great happy hour spot: They offer a 7-7-7 menu that includes seven cocktails, wines, and appetizers for $7 from 2 p.m. to 7 p.m. daily. Not too far away in the Medical Center, Trevisio hosts a social hour from 3 p.m. to 7 p.m. with bar bites like meatballs in red sauce, garlic parmesan chicken wings for $5 to 8, or hand-tossed pizzas for $ 7 to $10.

Outside the loop, places like Peruvian hotspot Latin Bites offers one of the best happy hours in the Memorial area with $5 Latin cocktails, including margaritas, mojitos, sangria, pisco sours and caipirinhas, along with $3 beers and $5 wines. Hot and cold bites are also 50% off. Down in the energy corridor to the West of Houston, Rattan Asian Bistro offers up an excellent selection of pan-Asian bites during their festive happy hour that includes everything from sushi rolls to Thai-style clams, to sesame crusted tempura tuna, along with 2 for $2 and 2 for $3 nigiri sushi. Wash it all down with drink specials that include beer for $2.50, $5 wines by the glass and top shelf cocktails for $7.

In Memorial City and CityCentre, happy hour goers can enjoy Perry's Steakhouse & Grille's newly renovated bar area while noshing on half-off selections from their bar menu, wine and martinis and from 4 p.m. to 6:30 p.m. Mondays through Fridays. At Straits Asian Bistro, enjoy the breezy cabanas outside or the slick bar/lounge with $3 to $6 drinks, and $5 Asian-inspired bites like their Singapore Satay Sticks and Hoisen BBQ Pork Sliders. From 5 p.m. to 7 p.m., Bistro Alex at the Hotel Sorella offers 20% menu items; Monnalisa Bar also offers $5 cocktails and $5 bites during this time. For sports enthusiasts, Houston Texans Grille entices with half-off selected appetizers, like the boneless wings, mini burgers, chicken quesadillas, and $3 to $4 drink specials.