What are the best places to eat in Istanbul?
Answers from Our Experts (2)
From traditional bakeries to modern restaurants, here are our Forbes Travel Guide editors' picks for the best places to eat in Istanbul:

1. Kandilli Suna'nın Yeri. No trip to Istanbul is complete without enjoying a proper rakı balık meal — rakı is the local aniseed-flavored alcohol, and balık means fish — and there's no better place to do it at then Kandilli Suna'nın Yeri, located just across the Bosphorus from Bebek. Don't miss their famous fava bean spread, fried calamari and grilled sea bass. You can cross the Bosphorus either by public ferry or sea taxi.

2. Karaköy Lokantası. Turquoise-blue tiles covering the walls and rod-iron fixtures add to the classic appeal of the family-run restaurant in Istanbul's Karaköy district. Start with a few cold and hot appetizers to share, then order a homemade yogurt. For a main course, don't miss the hünkar beğendi (Sultan's Delight), tender cooked meat atop a creamy eggplant puree.

3. Mikla. Turkish celebrity chef Mehmet Gurs runs this top-notch restaurant offering both local- and Scandinavian-influenced cuisine. You'll love the food, but might fawn over the spectacular views of the Bosphorus from the restaurant's elegant outdoor terrace just as much.

4. Münferit. Münferit serves modern takes on classic Turkish dishes in a sleek setting. The menu is filled with mouthwatering fare like baked porcini with melted cheese and truffle; there's a great wine list, too. You'll also find one of the city's hottest late-night bar scenes here on the weekends.

5. Datlı Maya. You'll be greeted with a blast of warmth from a large oven and the smells of freshly baked bread when you walk into Datlı Maya, a repurposed commercial simit bakery specializing in traditional Turkish food like pide and lahmacun with a bohemian twist. Be sure to add a salad to your meal — it's one of our favorite dishes on the small menu.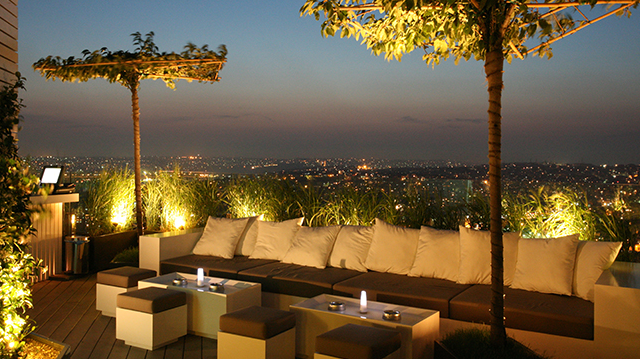 Rooftop Terrace at Mikla (Mecit Gulaydin)
One of my favorite things about Istanbul's dining scene is the unbelievable views from some of its top restaurants. Between the Bosphorus and the scattering of rich historical sites throughout the city, there's no shortage of picture-perfect vistas.

360 Istanbul is set atop a building in Beyoglu, and true to its name, it provides 360 views of the city. Large windows offer those sitting inside grand vistas, but you'll want to be seated on the balcony. The menu is filled with traditional Turkish fare and the cocktails are a must — the mojito I ordered is forever ingrained in my memory.

Mikla restaurant is another one of my favorite Istanbul spots. Perched at the top of the Marmara Pera hotel (where I stayed during my trip), chef Mehmet Gürs combines Turkish and Scandinavian cuisine for dishes such as North Aegean octopus with cauliflower and arugula cream. Yet again, the views of some of Istanbul's most famous sites aren't to be missed — including the Hagia Sophia, Topkapi Palace and Blue Mosque — and the restaurant's rooftop terrace bar is great for a pre- or post-dinner drink (or two).