What restaurants does Mandarin Oriental, Las Vegas have?
Answers from Our Experts (1)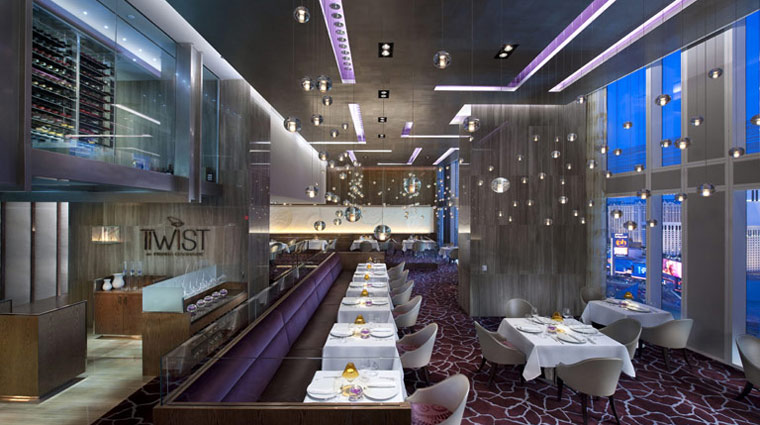 Mandarin Oriental Hotel Group
To whet your appetite, Forbes Travel Guide Five-Star Mandarin Oriental, Las Vegas contains two restaurants and a café. At Twist by Peter Gagnaire, located on the 23rd floor, renowned French chef Peter Gagnaire puts a literal modern "twist" on traditional flavors at his only U.S. restaurant, boldly experimenting with texture, taste and temperature. For dinner, you have a choice of à la carte dining, the three-course tasting menu or Gagnaire's Spirit six-course tasting menu, which comes complete with wine-pairing options. With dishes like the Idaho Kobe-style beef, or the roasted chicken breast stuffed with almonds and pistachio paste, in addition to the six-part Signature dessert, you'll want to sport your finest business-casual attire while digging into Gagnaire's sophisticated cuisine.

Step onto the Five-Star hotel's 3rd floor and you'll get a taste from around the world at MOzen Bistro. While it features classics from the East and West, the real focus is its Asian menu, including zesty Indian delicacies and savory Thai dishes. All of the courses are served small so that after three to four plates, you'll truly satisfy your taste buds. You can dine comfortably here in casual attire for breakfast, lunch or dinner. No matter your choice, both restaurants provide one special perk of staying at the luxury 47-story hotel: floor-to-ceiling windows, which provide a dramatic view of Vegas' bright lights and surrounding mountains. If you'd rather skip the view and dine with a tan, the Pool Café will serve you in one of the 20 private poolside cabanas for breakfast until 10:30 a.m. and lunch until 5 p.m. With chilled items like smoothies or cucumber soup, you'll beat the Las Vegas heat.