What are the best things to do near Vdara Hotel & Spa?
Answers from Our Experts (2)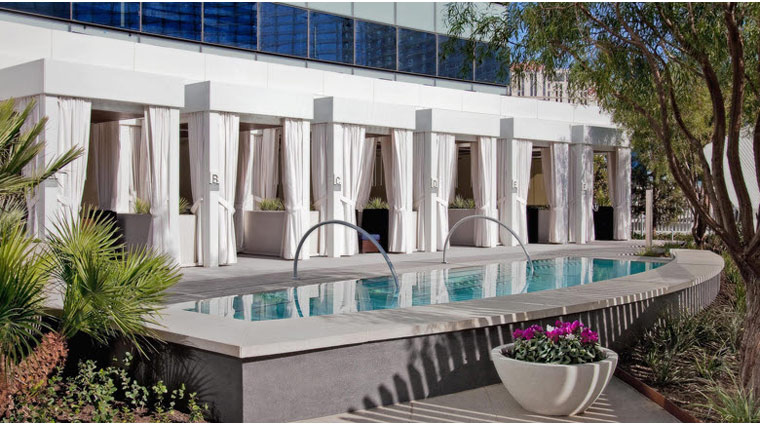 © 2011 MGM Resorts International
We don't blame you for wanting to rest in your luxury suite or lay out near the pool at Vdara Hotel & Spa, but it's almost imperative that you take advantage of your frenetic surroundings when you stay at Vdara. Because of the luxury hotel's central location, you'll find plenty of only-in-Las-Vegas activities to enjoy around the corner. Here's our list for the five best things to do near Vdara:

1. Reach new heights. Ask the concierge staff to arrange a helicopter ride over the Grand Canyon, which is arguably the most exciting way to see the inspiring massive landscape. Though the helicopter flies 1,000 feet lower than the airplane tours, you can choose an intimate chopper with either quiet technology or big windows.

2. Hit the Strip. World-class hotels, restaurants, clubs and casinos make up the famous 4.2 mile stretch. Vdara is one of the many hotels on the Strip, so swanky nightclubs, fine dining, blackjack tables and extravagant shopping awaits you. There is truly nothing like the Strip, which constantly buzzes with kinetic energy. After just walking down the Strip, you'll understand its appeal.

3. Indulge in fine dining. It's easy to be overwhelmed by the sheer amount of the fine dining options on the Strip, but whatever you choose promises to delight. At the award-winning Joel Robuchon Restaurant, for example, you can eat some of the best French fare in the country in a beautiful dining room setting. There are dozens of celebrity-chef headed restaurants, such as Picasso and Le Cirque, mere blocks away from Vdara Hotel & Spa.

4. See a show. ARIA Resort & Casino, Vdara's sister property, is home to a Cirque du Soleil theater that currently plays Zarkana. Selecting tickets in the theater's Golden Circle or Banquette sections will score you a luxe, sofa-style seat.

5. Dance your heart out. Las Vegas' nightclubs are notorious for being flashy and outrageous. At ARIA Resort & Casino, you can go to Haze Nightclub, Gold Boutique Nightclub and Lounge or The Deuce Lounge. Plus, you're on the Strip, so every great, internationally known Las Vegas nightclub is in close vicinity.
ARIA Resort & Casino is only steps away from Vdara and offers entertainment, dining and nightlife options. The Shops at Crystals is connected to ARIA, and features an unprecedented collection of renowned retailers (including Fendi, Gucci, Prada and Versace) as well as art galleries. Enjoy tea service at Mandarin Oriental, Las Vegas, or take a short walk to the famous Bellagio Fountains or the Conservatory. And of course, taking a tour of the CityCenter Fine Art Collection is a must for guests, starting with Nancy Rubin's gravity-defying sculpture, Big Edge, right in front of Vdara.