What five things do we love most about Vdara Hotel & Spa?
Answers from Our Experts (2)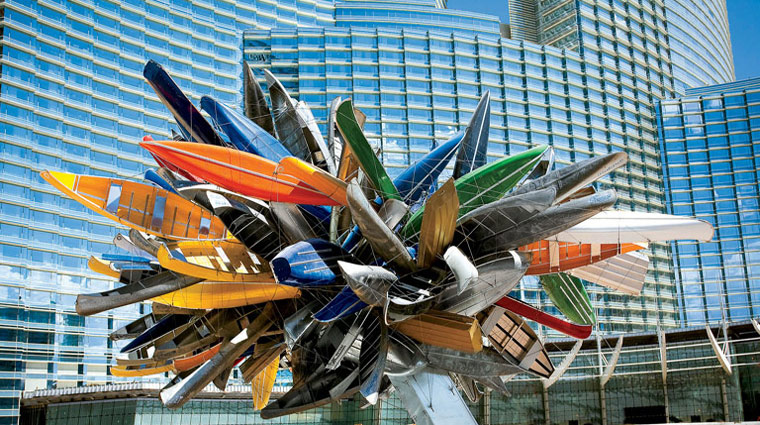 © 2011 MGM Resorts International
There's plenty to love about Vdara Hotel & Spa, and none of it has to do with the typical gambling and partying you'll find at most Las Vegas hotels. In essence, Vdara serves as an escape from the city, while still being located close enough to the excitement if you're curious. Here's our list of five things we love most about Vdara Hotel & Spa:

1. No smoking allowed. Here, at Vdara, you can enjoy the benefits of an international, all-suite luxury hotel without being exposed to smoke at all. We know that smoking and gambling kinda go hand in hand in Las Vegas, but let Vdara be your clean air respite.

2. Boutique hotel charm. A welcome change of pace from the amount of bustling, giant casino hotels that you'll practically trip over in Las Vegas, the Forbes Travel Guide Four-Star hotel achieves a nice residential vibe in equal parts due to being an all-suites hotel and having no casino.

3. Modern madness. Vdara's décor can be described as both modern and bright with its clean lines, pops of color and base palette of grays and blacks. Your average suite will include a dark wood, linear bed frame, dark couches, a small glass coffee table and modern lighting. Throw in a bright green throw blanket and matching leather chair and you've got Vdara's chic design sensibility.

4. Views worth taking in. Wall-to-wall windows in many of the suites present a clear view of the Strip as well as of the mountains in the distance. The 57-story tower located within CityCenter, while being a stunner itself, is in a great location from which to observe other spectacularly designed buildings.

5. It's not a gamble. As mentioned, the Las Vegas hotel offers no casino within its walls, which speaks to the type of hotel it wants to be: classy and secluded. We appreciate the break from the noise of shuffling cards and flashing lights. Hopefully, you will too.
Suites at the Vdara include a kitchenette, which is nice for longer stays, and bathrooms are quite spacious with a separate shower and large deep-soaking tub. The huge windows in the guest rooms provide sweeping views of Las Vegas and the surrounding desert landscape — you'll find yourself standing at the window for longer than usual simply taking in the view. And if the sun is too bright, blackout shades can be drawn via a handy central control panel. The design of the suites is sleek — boxy dark wood furnishings and white linens — which lends the space a clean and fresh look that's comforting to return to. The spa at this hotel is also well worth a visit — it calls itself boutique but hardly feels small, with a smoothie bar and salon next door, plenty of treatment rooms and relaxation spaces, and the option to enjoy a treatment in a spa cabana by the Vdara pool. My favorite thing about this hotel, though, is that it's smoke- and gambling-free, with a focus on being green, so it feels like a healthy haven in the midst of the Las Vegas Strip.