What is the interior design of Delmonico Steakhouse?
Answers from Our Experts (2)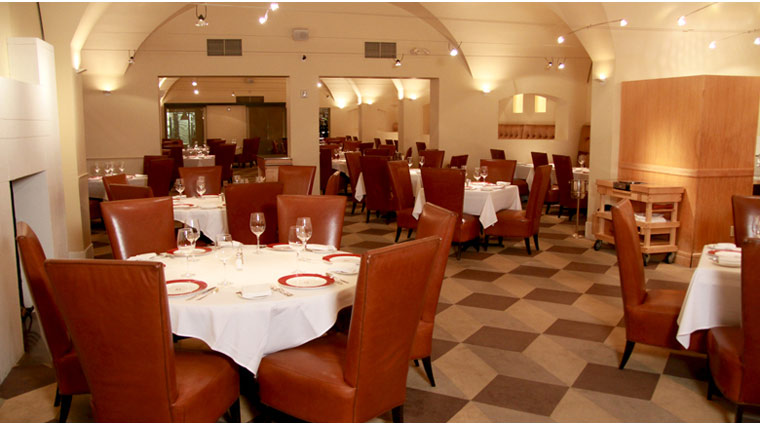 ©FiveStarTravelCorporation
Delmonico Steakhouse has a bright, charming interior design. Throwing out the assumption that all steakhouses have to be outfitted in dark tones, Delmonico strays toward a simple yet vibrant décor. The main dining room's vaulted ceiling curves up between the columns of the room, and the tables, walls and ceilings all have a gold-and-brown hue to them. The lounge area feels wide open, with groups of low-to-the-ground chairs huddled together to create an increased sense of space. If you look up to the middle of the ceiling here, you'll see a tall opening with a handful of globe lights hanging down. And the walls aren't exactly walls — floor-to-ceiling windows and doors fill the front wall of the lounge, which exudes a pleasant gold hue that's offset by the clean lines of the windows and chairs. The lounge doesn't have the same columns as the main dining room, which helps contrast the rooms even further; whereas the main dining room includes pockets of privacy and feels more intimate, the lounge focuses on openness and shared space. But between the two spaces, we think you'll be able to find an area at Delmonico that works just right for you — and even if you don't, there's a special table on the other side of the wine cellar and even a chef's table that can help make any meal that much more special.
Delmonico Steakhouse was designed by architectural firm Stubbins & Associates. The restaurant has an elegant Tuscan look created by interior designers Ann Holden and Ann Dupuy of Holden & Dupuy of New Orleans. The restaurant was designed using a palette of earth-colored tones, and features barrel-vaulted ceilings and comfortable velvet banquettes. The dining rooms seats 320 people, and 60 seats are available at the circular bar.