What's the interior design of The Spa at Mandarin Oriental Las Vegas?
Answers from Our Experts (1)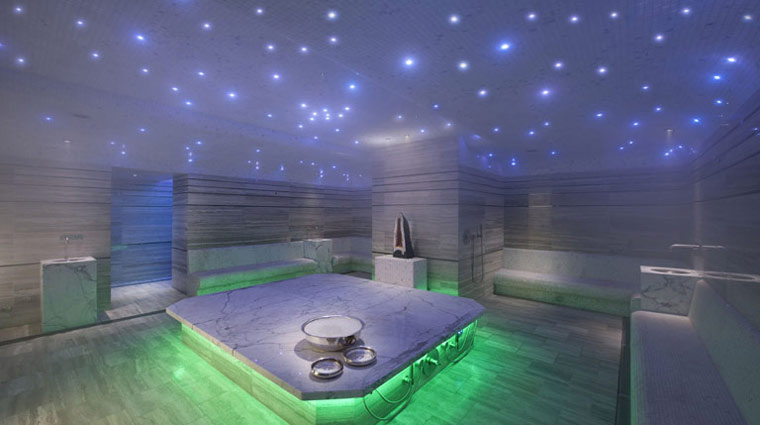 © Mandarin Oriental Hotel Group
Well-known designer Adam D. Tihany created the interior of The Spa at Mandarin Oriental Las Vegas with 1930s Shanghai in mind, a modern and decadent time during which the city was referred to as the "Paris of the Orient." Dim lighting immediately sets an exotic tone when you walk into the eighth-floor reception area, where you can sit in elegant chairs made of Italian silk and gaze at oversized framed artwork of gorgeous Asian spa muses, who also grace the walls elsewhere in the spa. A rich color palette that includes browns, greens, golds and reds, add warmth and sophistication. The spa opened in December 2009, so it's a fairly new facility that's immaculately maintained.

The Forbes Travel Guide Five-Star 27,000-square-foot spa spans two floors, and downstairs is where you'll find the locker rooms, which are made of dark wood and natural stone accents that lend it a calm and modern feel. Rose petals scattered on the shelves and counters add a sweet touch. Within the locker room area, you'll find steam rooms, saunas, Experience Showers (which have lights, aromas and sounds) and an Ice Fountain that dispenses ice to cool you off. Don't miss the Vitality Pool, which is heated to about 104 F; you can relax on its steel lounges while champagne-like bubbles brush your body. Though you may prefer to rest on one of the contoured benches made of iridescent mosaic tile that radiate heat in the Laconium Room, which is kept at a smoldering 140 F.

The temperature-controlled Tepidarium chaise lounges are also a nice way to melt stress away. In the nearby relaxation lounge, sink into a lounge chair, which is more like semi-reclined bed. You'll have some privacy, thanks to the shoji-style screens between the beds. Climb into a bed, snuggle under the plush red blanket and peer out the large windows, whose views of Las Vegas give the space a sexy, cosmopolitan feel. It's everything we'd picture a glamorous "Paris of the Orient" to be.