What are the best attractions in Las Vegas?
Answers from Our Experts (3)
There are things to do in Vegas besides gamble, we swear. There's even free things do. The Bellagio, for example, is full of attractions that keep visitors streaming through the property each day. There's the world-famous fountain shows, where every 15 minutes and carefully choreographed water shoots from Lake Bellagio in sync with songs such as "Viva Las Vegas" and "Luck Be a Lady."

Indoors, the Conservatory is an indoor garden under the atrium, fragrant with fresh flowers. The scenery changes with the seasons. Last Spring saw a Dutch influence with a giant windmill and many tulips; every Chinese New Year the animal whose year it is gets a prominent figure in the Asian-inspired garden.

Look up when you get to registration to see the beautiful Chihuly glass flowers on the ceiling. They flowers span across the lobby in front of the desk, as if they're floating above you on a pond.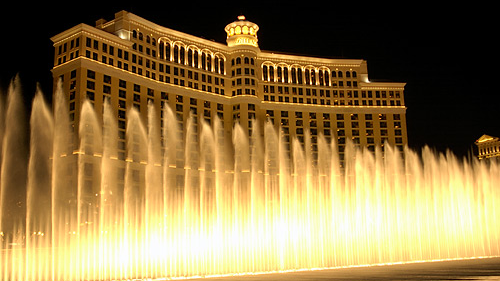 Fountains at Bellagio. Photo: Bellagio
They call Las Vegas the Entertainment Capital of the World for a reason. You can have fun without spending a cent with these free attractions.

Head over to the Fountains at the Bellagio in front of the resort for dancing waters, music and a show that changes all the time. The choreographed fountains dance to opera, classical and standard music with a little light show thrown in at night. You can see this breathtaking treat every half hour from 3 to 8 p.m. and every 15 minutes from 8 p.m. to midnight Monday through Friday and every half hour from noon to 8 p.m. and every 15 minutes from 8 p.m. to midnight Saturday and Sunday.

Then step inside the Bellagio to see the Conservatory & Botanical Gardens, an indoor garden of exotic plants and flowers on display for 24 hours, 365 days a year. Plants, flowers and trees arranged by more than 140 horticulturists show off the best of the season in intricate detail. Look for gazebos, ponds, bridges, jumping fountains and more. Take a leisurely stroll to discover the treasures within and maybe find inspiration for a garden of your own. The display changes to reflect the holidays, Chinese New Year, spring, summer and fall.

Head to Downtown Las Vegas to the five-block Fremont Street Experience to find the pedestrian promenade with its free concerts and canopy with light and sound shows. Nearly a dozen free concerts, parties and special events take place every month at the First and Third Street stages. Viva Vision shows above on the canopy feature 2 million lights and 550,000 watts of sound and special effects. Shows begin at dusk and run on the hour until midnight.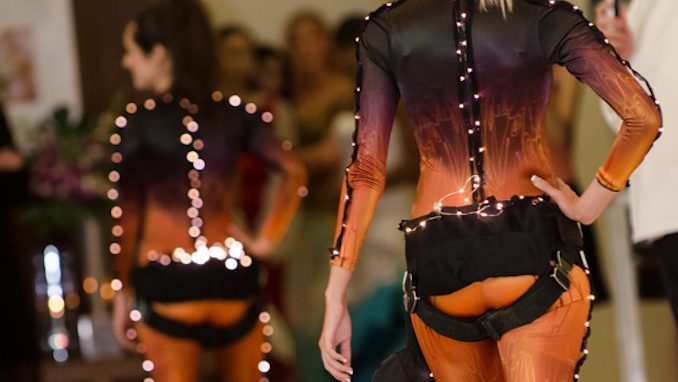 This oughta keep your attention for at least 15 minutes: Since it opened in 1999, thousands have dined at Aureole in Mandalay Bay, many intent on watching chef Charlie Palmer's famed Wine Angels in action. "As seen on Oprah," these ladies have the sole task of locating then fetching bottles of wine ordered by patrons and getting them safely (and unbroken-ly) into the waiting hands of the restaurant's sommeliers. All that time, the ladies have worn black skintight jumpsuits, which are said to have been inspired by the movie Mission: Impossible. But after 14 years, skintight is about to make way for skintighter.

Following a 14-day competition among designers, Bunker Hill Bradley's new outfit debuted Las Vegas Fashion Week, adorned with 20 feet of LED "angelic" lights each displaying more than 100 bulbs. An ode to the Tuscan sunset and made from recycled material, the winning design begins with pastel yellow and fades into tangerine orange, burgundy and grape purple and ends with solid black at the ankles. Plus, a gold, scroll-like pattern inspired by wild grapevines overlays the color scheme. Press your nose reeeally close to the wine tower if you can't make it out—man, they love it when people do that. In Mandalay Bay, 702-632-7200, MandalayBay.com.