What are the best souvenirs to buy in Las Vegas?
Answers from Our Experts (2)
Las Vegas is one of the world's great souvenir shopping spots, with offerings from cheesy to collectible. A great gift for yourself and all your friends would be playing cards. These come in two varieties: personalized, like "Larry's Casino," sold in the many general Strip souvenir shops, and actual decks from individual casino hotels, sold once they get worn and are taken out of circulation at the tables, in the casino shops. There is something magical about playing with a logo deck that won and lost fortunes at Caesars or the Mirage. The Field of Dreams sports memorabilia store in the Forum Shops regularly hosts celebrity and athlete signings several days a week, where you can get items personally autographed for you by everyone from Pete Rose to Evander Holyfield, much more memorable than just buying an autographed item. Also in the Forum Shops is Antiquities International, which has been there for over 20 years, and often has old fashioned mechanical slot machines for sale – along with county fair style Fortune Telling machines and other novel collectibles. Several casinos have magic shops selling easy to use professional tricks, something hard to find in most places. Bonanza Gifts, on the corner of Las Vegas Boulevard and Bonanza, loudly claims to be the world's largest souvenir shop and it is easy to believe – if in doubt just go there and look around.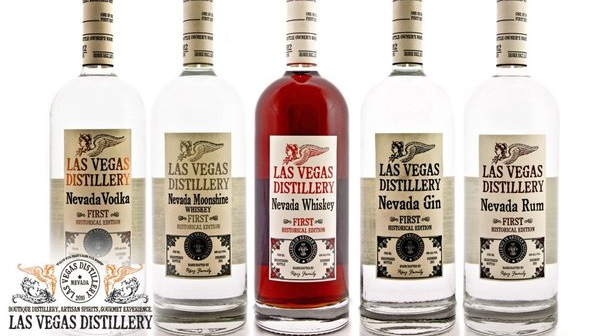 Sure, they'll appreciate the sunglasses with the attached Elvis sideburns or the porcelain "What happens in Vegas stays in Vegas" paperweight, but no Sin City souvenir is quite so welcome as booze. But before you start raiding your hotel room mini-bar, take a quick ride to a local liquor store or Albertson's supermarket, where you'll find Las Vegas Distillery's portfolio of locally made craft spirits, including Nevada vodka, whiskey, moonshine, rum and gin, as well the utterly unique Rumskey, a sort of rum/whiskey hybrid. Unlike some cheap products with a Vegas-y label slapped on them (trust me—no Champagne is made in Las Vegas), these spirits were distilled right in Henderson, Nevada, from products found all over the state, such as Winnemucca grains, locally grown botanicals and handpicked juniper berries. In fact, it's the first legal distillery since Prohibition! Distillery owner George Rácz will soon open a tasting room and store, so you can try before you buy, and maybe even tour the distillery.