What is the best way to see Las Vegas in one day?
Answers from Our Experts (2)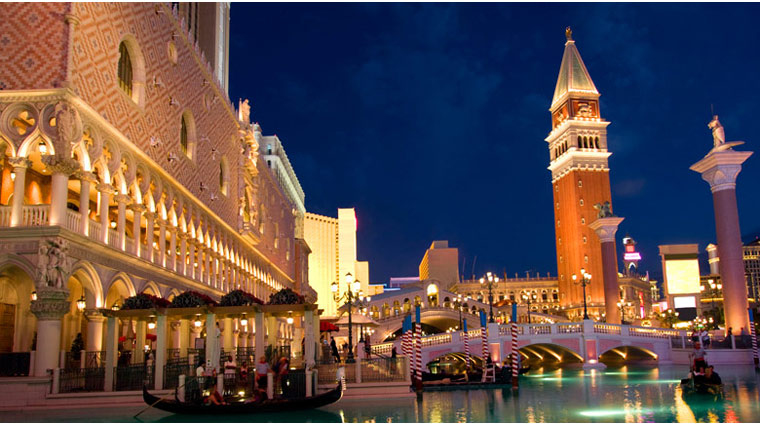 ©iStock/vladone
The Strip, a.k.a. Las Vegas Boulevard, is the engine that keeps Las Vegas chugging along, and it's a requisite if you have limited time in town. The four-mile street takes you around the world in a matter of hours. See a miniaturized version of New York City, catch views from Paris's most recognized landmark and travel gondolier-style through the Italian Renaissance.

Regardless of where you're staying, it's easiest to begin at one end of the Strip and make your way from there. Cabs are nearly as common as slot machines on Las Vegas Boulevard, so you'll have no trouble finding one (though you will have to go to a hotel entrance taxi line to get a cab to stop). For a cheaper option — albeit pricey as public transportation goes — the high-tech (driverless) monorail can get you through the Strip in less than 15 minutes.

Start at Mandalay Bay Resort and Casino and head north, taking the indoor walkway to Luxor. While you're there, enjoy a morning poker lesson before hopping on the monorail to Excalibur, which puts you Strip-central in no time. From here, pick and choose the casinos that appeal to you. High-stakes gamblers will enjoy the enormous and extravagant mega-resorts such as The Venetian Resort Hotel Casino, Caesars Palace and Wynn Las Vegas (and the perks that accompany such invited guests). Whereas the smaller casinos, such as O'Sheas and Slots-A-Fun, tend to have better payouts and lower minimums. Once you've gotten your gambling fix — and unfortunately come to understand that the house always wins — it's time for some exceptional people-gawking. Where else can you watch showgirls mingle with card sharks, and bachelorettes dance the night away in little more than lingerie?

For a bit of romance, meander through the Conservatory and Botanical Gardens at Bellagio or entice your inner child as you browse the perfectly polished Ferrari-Maserati collection at Wynn Las Vegas. Depending on what you're in the mood for, there are, of course, a slew of big-name restaurants to have dinner. Cap off your Vegas day with a Cirque du Soleil show. With so many to choose from, you're unlikely to go wrong, but our vote goes to O at Bellagio. If you've got anything left in your wallet by midnight, the tables are always open.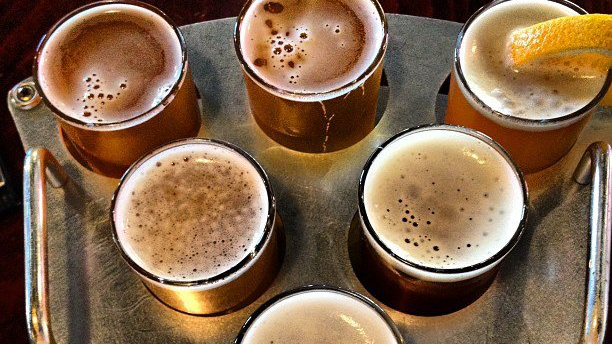 You've done Vegas by car, by foot ... one time even by accident (hey, it happens). But how about Vegas by beer? With the aid of a hired car (or a very patient and obliging designated driver), it's possible to see Las Vegas from a different point of view—through the bottom of a pint glass. In no particular order, here are the 10 best suds spots to hit.

- Joseph James Brewery – Las Vegas' sole production-only brewery (closed to the public, no taproom or restaurant) opens its doors once a month for a $5 public tour and tasting. Stalk them on Facebook and Twitter to snag a spot. Or, if you miss the boat, find their craft brews locally at Khoury's Fine Wine & Spirits.

- Tenaya Creek Brewery – It's worth a trip deep into the heart of suburbia just to check out Tenaya Creek's year-round portfolio, seasonal brews and rotating guest taps.

- Big Dog's Draft House – Brewmaster Dave Otto frequently hosts Big Dog's Brew School, but if you miss it, aim for one of Big Dog's many beer fests with live music and incredible food. Be sure to try the award-winning Red Hydrant Ale.

- Sin City Brewing Co. – Some shopping trips just go better with beer! Look for microbrewery Sin City's kiosks in the Canal Shops at the Venetian, at Planet Hollywood and at their largest location, on Flamingo Road. Just four staples and the occasional seasonal—neat and to the point!

- Chicago Brewing Co. – It's almost as much about the food and gaming as it is about the beer at this suburban happy hour haven—and there's nothing wrong with that. Eat, drink and (hopefully) be lucky.

- Triple 7 Brewing Co. – A Downtown Las Vegas staple withing Main Street Station, serving up almost as much Las Vegas hostory as it does tasty beverages. Do try the Hefeweizen or the latest Brewmaster's Reserve.

- Barley's Brewing Co. – Sip brewer Bubba's solid and dependable brews while watching the man work through huge windows into the brewery, a.k.a. "the Beerquarium." Trust the year-round brews to get the job done, but inquire about his seasonal creations and brewing classes. It's the oldest brewery in town!

- Boulder Dam Brewing Co. – If you fancy getting out of town, Boulder City is just outside the Valley, down by Hoover Dam, Lake Mead and the Colorado River. A Powder Monkey Pilsner goes down mighty nicely after a day of wakeboarding, kayaking or ziplining.

- Ellis Island Brewing Co. – Friendly and low-key are just two of the best things about this hideaway, which offers all manner of gaming, bingo, keno, karaoke and bar eats, in addition to its U.K.-inspired brews. If the mood strikes you, and it's nearing Christmas, try the famous egg nog. After a few beers and karaoke, of course.

- Gordon Biersch – Many of Las Vegas' brewers cut their teeth at Gordon Biersch. If nothing less, stop by for a pint to pay your respects over a pint or two. And try the garlic fries.

Extra Credit:
They're not breweries or even brewpubs, but where beer is concerned, these bars cover a lot of ground, nationally and internationally.

- Aces & Ales – Open 24/7, but Tuesday after work is the time to hit this casual locals favorite for the night's featured brews and dinner special. SNAFU—the Southern Nevada Ale Fermenter's Union—meets here monthly if you need a refresher.

- Public House – Nestled within the Venetian, the rotating direct-draw cask or "real" ales are the highlight here for beer geeks, not to mention the more than 200 brews on tap and in bottle. Carve out plenty of time for a proper visit.

- Freakin' Frog – A seemingly humble college bar, but one boasting the most serious and sizeable of beer bibles—the largest beer selection in the country, in fact. It's owned by a University of Nevada Las Vegas beverage professor, so prepare to be schooled!

- Velveteen Rabbit – Local craft brews are well featured at Downtown Las Vegas' newest craft cocktail and beer bar. Looks for brews by Joseph James, Big Dog's and Tenaya Creek to be prominently featured, including some limited-release brews, such as the Baby J's German Chocolate Cake Stout by Joseph James Brewing Co.

Keep up with all the members of the Nevada Craft Brewers Association here.