Where is the best Las Vegas shopping?
Answers from Our Experts (3)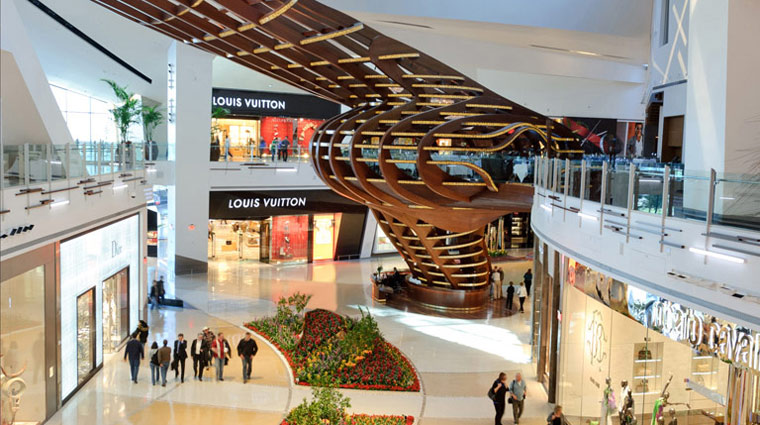 ©Aria
Las Vegas may be in the middle of the desert, but it's an oasis for shoppers. Of course, Sin City goes over the top and redefines high-end shopping in the casinos that double as malls. You'll find both a Ferrari-Maserati dealership and Alexander McQueen's second U.S. boutique at the Wynn Las Vegas Esplanade. The Encore Esplanade upped the ante with the addition of edgier, high-end shops like In Step and Shades, where a new pair of sunglasses will have you rockstar ready in no time.

Across the street from the Wynn and Encore is the two-story Fashion Show mall, which mixes high-end department stores (Neiman Marcus, Saks Fifth Avenue, Nordstrom) with more affordable retail therapy (Macy's, Dillard's). The mall tries to live up to its name: An 80-foot-long catwalk in the middle of the space hosts fashion shows and other private events.

It may not have a runway, but CityCenter's Crystals Retail and Entertainment complex is designed to look like an outdoor park. However, this park is all about that other kind of green: It teems with high-end retailers like Louis Vuitton, Tom Ford and Miu Miu and a number of equally glamorous places to dine. For more über-luxe fashions, make a beeline for the Shoppes at the Palazzo, where you can outfit yourself in Burberry, Barneys New York — Vegas's first — Jimmy Choo and Christian Louboutin. Head down the Strip to Via Bellagio for more high-priced power players, including Fendi, Prada, Gucci, Tiffany & Co. and Chanel.

For a shopping spree that is an experience unto itself, visit the Forum Shops at Caesars Palace. Follow the cobblestone faux-Roman streets into shops like Harry Winston, Baccarat and Versace. When you need a break between stores, stop and watch the free Atlantis Show. It brings Roman gods and a simple story to life with animatronic "actors" who spring to action every hour. Afterward, you'll be ready to tackle Dior.

Fashionistas will be in heaven because there is great shopping all over Las Vegas. My top picks include going to Crystals at CityCenter to see both men's and women's Dolce & Gabbana stores, checking out all of the latest runway looks at Stella McCartney and then popping into Jimmy Choo for a pair of heels before grabbing dinner at Mastro's Ocean Club (located on the second floor). It's the perfect way to end your evening. Enjoying a meal (I recommend the Scottish salmon fillet and garlic mashed potatoes!) with live music is an added bonus. I also recommend going to The Forum Shops at Caesars Palace for more high-end designer fashions such as Christian Louboutin, Salvatore Ferragamo and David Yurman. And if you go next door, the shops at Via Bellagio will blow you away with stores such as Fred Leighton and Breguet. You'll also find upscale shopping at Fashion Show Mall and if you go across the street, both Wynn and Encore esplanades will tickle your fancy. Splurge at Alexander McQueen, Chanel, Hermès, Chloé and much more.
I shop like a guy. Seriously. I know my sizes, I know exactly what gaps I need to fill in my wardrobe, I know my budget and I know my stores: For day-to-day and work-wear, it's Old Navy; for clubbing, it's H&M; for swanky soirees and restaurant openings, it's White House | Black Market; and for everything that goes on my feet, be it a pair of tall, sexy boots or casual sandals, it's Clarks. So I do all of my shopping at Town Square. The outdoor mall rambles across a huge campus just south of Mandalay Bay, complete with kid zones and green spaces. Here, you'll also find a giant AMC Theatres, restaurants a-plenty (I recommend Double Helix Wine & Whiskey Lounge, Yard House and Meatball Spot), a country nightclub (Stoney's Rockin' Country) and a Coffee Bean & Tea Leaf, where I take so many meetings and do so much of my writing and editing that I call it my "other office." Much of Las Vegas' exciting activities happen indoors, so it's refreshing to stroll down Town Square's charming-even-though-they're-faux neighborhood streets, even if it's just to buy a new pair of sandals or a cute cardigan. Now, if only they had a Goorin Bros. Hat Shop ...