Where is the best shopping in Las Vegas?
Answers from Our Experts (2)
While Las Vegas is filled with temples of retail such as Crystals at CityCenter and the Forum Shops at Caesars Palace, that houses the likes of Louis Vuitton and Chanel, I'm not the kind of girl who finds shopping to be a leisurely activity. I am of the school of get-in, scoop up as many clothing items as possible, pile them high for a trip to the dressing room, hate everything, get out.

So on the off chance that I would like to go buy pretty new things for myself, there's nothing better than a marathon shopping session at either of the Premium Outlets, one each located just North and South of Las Vegas Boulevard. There are off-rack outposts of Diesel, Old Navy, Gap, Calvin Klein and Banana Republic at each, so you'll find lots of familiar shops with killer deals. They're about equidistant from their respective ends of the Strip; the main difference between the two is that the one North is an indoor mall while the one South is outdoors.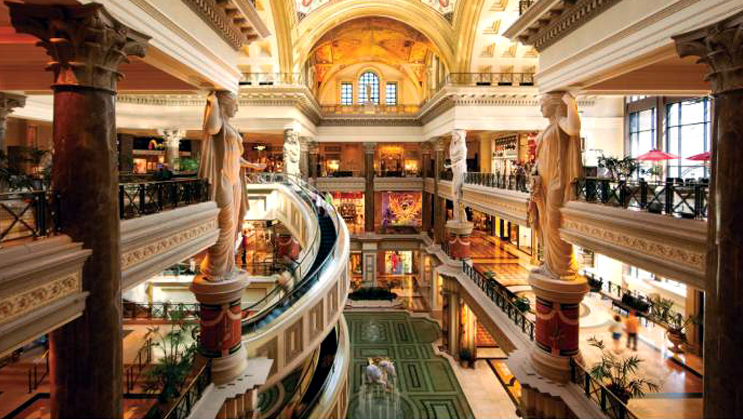 Photo: Forum Shops at Caesars
The boutiques of Las Vegas read like a walk down Fifth Avenue, Rodeo Drive and the Miracle Mile combined. Shoppers can find everything from the high-end boutiques such as Lanvin and Tom Ford to the second largest H&M and a Forever 21 department store right in Vegas.

Head to Crystals for the most chi-chi shopping in Vegas. Here find Louis Vuitton, Hermes, Prada and Versace along with the only Tom Ford and Lanvin stores in Las Vegas. Harry Winston, Van Cleef & Arpels and Tiffany & Co. all add some sparkle.

At the Forum Shops at Caesars, high-end meets moderately priced. Look for Jimmy Choo and Christian Louboutin nestled next to a massive H&M and Intermix. Designer names such as Michael Kors, Marc Jacobs and Valentino can all be found here.

Over at Fashion Show mall, the big department stores rule. Neiman Marcus, Saks Fifth Avenue, Nordstrom and a huge Forever 21 can be found here. Staples such as Express, Banana Republic, Ann Taylor and French Connection give shoppers a wide variety of places to visit.