What are the best cocktails to try in London?
Answers from Our Experts (3)
London's cocktail scene is ever evolving: there are hot new bars opening all the time that are guaranteed to expand your drinking horizons, whether you're a flatliner fan or a daiquiri devotee. Here are three cocktail experiences you won't want to miss.

'Flying firecracker' at Opium Bar & Dim Sum Parlour
Start your evening with a bang at the Opium Bar & Dim Sum Parlour. The team at this new Chinatown nightspot – hidden up a rickety staircase behind a mysterious green door – knows a thing or two about innovative cocktails. The 'flying firecracker' blends gin, maraschino liqueur, absinthe, grapefruit juice, liquorice bitters, gunpowder tea and juniper syrup...and is served with a surprise.

The 'classic' at Vertigo 42
The specialty at this sky-high establishment is champagne, so you'd be foolish not to indulge in the 'classic' – champagne served with cognac and an Angostura-soaked sugar cube – as you gaze out over the City of London and beyond.

Whatever the mixologist creates for you at BYOC
Book a time slot at this tiny basement joint in Covent Garden, take along an unopened bottle of your favourite tipple and watch resident mixologist Dan Thomson work his magic with an amazing range of mixers. You'll be asked whether you prefer your cocktails sweet or sour and to choose a liqueur flavour and base spirit and away you go. Make friends with the people at the next door table and increase your cocktail options even further.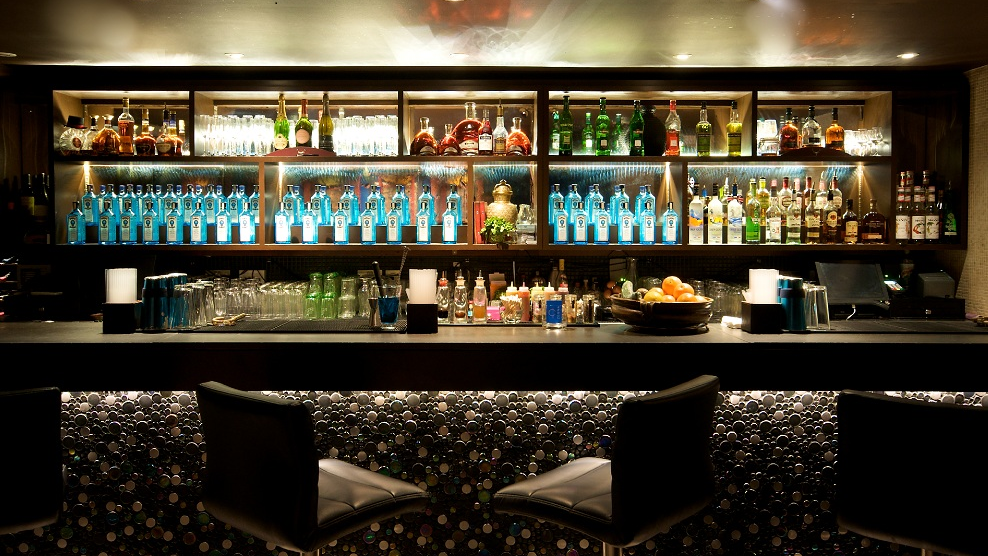 Richard Heald, Zenna Bar
Often considered the cocktail capital of the world, London is awash with deliciously inventive blends of spirits and mixers. Here are three of the city's most interesting concoctions.

The Martini in DUKES
Internationally-renowned for its sublime Martinis, DUKES Bar was a regular hangout of Ian Fleming – the creator of the Martini-loving James Bond. While there are a variety of martinis on offer, we recommend the Fleming 89 Martini, created in partnership with London perfumery Floris to celebrate the spirit of Bond.

The Iliana in Zenna
As an Indian-themed bar in the heart of Soho, Zenna uses subcontinental spices like cardamon and lemongrass to create a range of unique concoctions. And the highlight is Illiana (The Golden Dragon). Billed as the spiciest cocktail on earth, it contains three types of rum, orange curacao, orgeat syrup, lime and orange juice and just one drop of a 'secret spicy sauce' that will blow your head off! In fact, it's so hot it comes with a side cocktail called a Fire Extinguisher; a mix of gin, gomme syrup, lemon juice and soda.

The Flintlock in Zetter Townhouse
The cocktails created here by the legendary mixologist Tony Congliaro are heavily inspired by the region's rich history of distilling bitters and herbal remedies – and in no concoction is this more apparent than The Flintlock. A heady mix of Beefeater 24 gin, dandelion and burdock bitters, gunpowder tea, Fernet Branca and sugar, it tastes like no other cocktail in the capital.
Where to start? The city's mixologists and bartenders don't mess around when it comes to devising, shaking and serving up a delicious cocktail. My personal favourites, the ones I daydream about from time to time, are as follows:

Earl Grey Martini at Quo Vadis

A smile-inducing mix of Earl Grey Bombay Sapphire, lemon, sugar and egg white, whipped up to deliver a sweet, smooth, citrus and frothy delight. My failsafe, post-work tipple of choice.

26-28 Dean Street, Soho, W1D 3LL

Byrrh Harvard at Zetter Townhouse

This cosy, quirky lounge is made for heading to for late night drinks and deep and meaningfuls into the early hours. The warming Martel Cognac, Byrrh and orange bitters in the bar's Byrrh Harvard, is the drink to be supped on such occasions.

49-50 St John's Square, EC1V 4JJ

Market Tipple at Met Bar

A tall drink made for late summer afternoons – preferably after some serious retail therapy on nearby Oxford Street. A delicious mix of Tapatio Blanco Tequila, dried English lavender, heather honey, lemon juice and that all important creamer, egg white.

19 Old Park Lane, W1K 1LB