What are the best food gifts to buy in London?
Answers from Our Experts (4)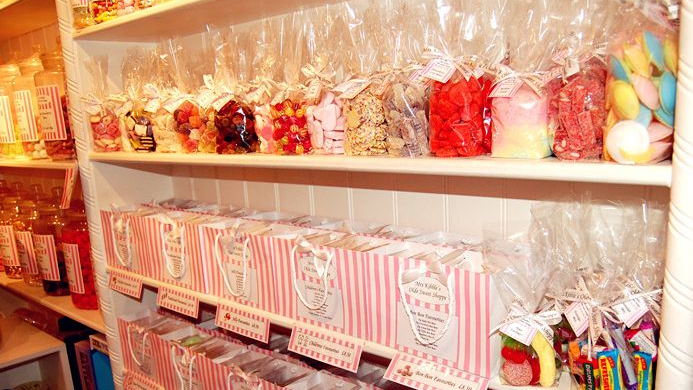 Mrs Kibble's Olde Sweet Shoppe

If the flight wasn't so long and export restrictions, a little, well, restricting, I'd urge you to pick up all manner of edible treats to enjoy at home, such as a block or two of our delicious artisan cheese with some freshly baked breads, or a slice of crumbly cake from one of the city's fine producers. Rather than miss out, I suggest you have a good taste of that while you're here and pack some of these to enjoy at home, or gift to deserved friends, colleagues and loved ones:

Tea: It's no secret us Brits are partial to a cup of tea: from good ol' English Breakfast to aromatic Earl Grey; a light afternoon Darjeeling or downright smoky Lapsang Souchong. Whatever you're blend of choice there are plenty of tea shops dotted around the city to pick up some leaves of your own. The Tea House in Covent Garden, Postcard Teas in Mayfair, or Twinings on the Strand all boast gift-worthy selections.

And what is a cup of tea without a British biscuit to dunk in it? I recommend this foodie souvenir, more for the lovely tins they come in, although the biscuits inside are rather delicious too. Fortnum & Mason on Piccadilly or Harrods, Knightsbridge have great selections of flavours and designs with a proper 'British' feel about them.

Confectionary: For the sweetest souvenir of them all, head to one of London's traditional sweet shops which echo Dickensian times and have jar upon jar of colorful fizzy, chewy, popping and suckable sugary delights on display. Hope and Greenwood, Mr Simms Olde Sweet Shoppe, Mrs Kibble's Old Sweet Shoppe and Hardy's Original Sweet Shop all boast a tooth-achingly good choice.


Food in London has come on leaps and bounds in the past couple of decades and pretty much any type of food gift you can think of can be bought here. But there are some things that London does particularly well, so I recommend the following top three buys:

Tea
London loves tea and this has to be the quintessential British foodie gift to take home with you. Head to Fortnum and Mason on Piccadilly to buy Fortnum's blends such as the Royal Blend or the Earl Grey Classic. You could even stop for afternoon tea here, one of the best in town.

Cheese
British cheese can claim to be among the best in the world and there are literally hundreds of different types available. At Neals Yard Dairy in Covent Garden you'll find only cheeses made on British farms and can choose from hard cheeses such as Appleby's Cheshire and Wensleydale, soft cheeses such as St Jude and Tunworth, blue cheeses like Shropshire Blue and Stichelton, and washed rind varieties including Gubbeen and Stinking Bishop.

Gin
There were once dozens of gin distilleries in London and after a long period of decline, this thoroughly British drink is back in vogue. Sipsmith kicked it all off in 2009, the first copper-pot distillery to open within the city limits for almost 200 years. Visit for a tour and leave with a bottle of London Dry Gin.
For most people, buying luxury food gifts in London means heading to Harrods or Fortnum & Mason to pick up a pre-packaged hamper. But if you want to take home something a little more original, simply follow these three steps.

1. Start at the gourmet food shops
London is home to a plethora of gourmet food shops — and many are at the heart of tourist hot spots. So when you're at the London Eye, visit Konditor & Cook in Waterloo for delicious vanilla fudge; while you're looking around Covent Garden, check out Neal's Yard Dairy for its fine British farm cheeses; and as you're on your way to St. Paul's, pop into the original Twinings tea shop on The Strand.

2. Move on to the food markets
Every weekend, London hosts a number of farmers markets — you'll find many listed here — and this is always a great way to pick up tasty traditional treats. From jams to jellies, cakes to candies, and pies to porridge, you'll find plenty of delicious gifts to take back home. And if you can't wait for the weekend, you can also try your luck at a midweek market in areas such as Borough and Swiss Cottage.

3. Finish in the supermarket
Finally, fill out your collection with a trip to the supermarket. Here, you can stock up on deservedly popular local food items such as English mustard, lemon curd, Marmite, smoked salmon, Hobnobs and English ale. In other words, these are authentic products designed not just for tourists, but for average Londoners.
If you've got the self-control to make it home with the food items you buy during your stay in the capital, then your friends and family have a treat in store. If such self-control is beyond you, simply tell your loved ones that their gifts were confiscated by customs – just make sure there are no stray crumbs in your luggage to give the game away.*

As a huge cheese fan, my number one tip has to be Neal's Yard Dairy, the UK's best known fromagerie. You'll find cheeses from 70 farms around the UK and Ireland at the company's branches in Covent Garden and Borough Market. Among the highlights of the extensive list are the Isle of Mull cheddar and stichelton, one of England's few unpasteurised blue cheeses. The staff are knowledgeable and friendly so don't hesitate to ask their advice on what to try and buy.

Tea isn't strictly a food, of course, but it would be criminal not to include such a crucial symbol of Britishness in this list. Fortnum & Mason have been selling the stuff since 1707 so you can be sure you're buying the best. There are over 100 blends available, many of them in gorgeous decorative caddies. Alongside tea, the famous Piccadilly store sells other great food gifts ideas such as confectionary, jams and biscuits, as well as hampers for travellers in a particularly generous mood.

Finally, if you're from a country that will let you carry home meat products in your luggage, then The Ginger Pig's pork pies are a must. Thick-crust pastry, succulent pork (the company gets all its meat from Yorkshire) and flavoursome jelly make up this classic British snack. Visit The Ginger Pig counter at Borough Market or one of the company's stores – there are branches in Shepherd's Bush, Marylebone and Hackney. Their chutneys and preserves make a great accompaniment, so consider adding them to your gift list too.

*On a more serious note, it's worth pointing out that many countries restrict which foods and drinks you're allowed to carry in with you, so check before you buy.