What are the best historic hotels in London?
Answers from Our Experts (3)
Historic hotels offer some of London's best accommodation. I've already mentioned one top historic establishment in this previous post on the capital's best hotels, so although I won't repeat myself by writing about it here too, Claridge's certainly makes it onto my list of the best historic hotels in London. Here are a couple more.

When The Langham opened in the 1860s, it caused a stir with its modern toilets, bathrooms and lifts. These are things we take for granted these days, but the hotel is still wowing its guests with its elegant design, fine dining options (Roux at the Landau sees father-and-son team Albert and Michel Roux Jr working together again for the first time in 19 years) and excellent health club. The location is also enviable, convenient for Marylebone, Soho and Mayfair.

Another great choice is The Dorchester, which overlooks Hyde Park from its grand location on Park Lane. The hotel dates back to the 1930s and boasts an illustrious history, including visits by royals and an impressive list of famous names. Prince Philip had his stag do here before marrying the then Princess Elizabeth in 1947. The Dorchester is renowned for its restaurants, which include the three-Michelin-star Alain Ducasse and Cantonese bar and eatery China Tang. The staff to guest room ratio of three to one means that if you're fortunate enough to be staying here, chances are you'll be very comfortable indeed.
London is home to some of the world's most famous hotels, with names that every traveller knows and admires. Many of these are historic hotels, which have been offering the great and the good bed and board for more than 100 years.

One of the oldest is The Langham, which opened in 1865. Things have moved on a little since then and today you'll find elegant yet homely rooms and impeccable five-star service. Downstairs is Albert and Michel Roux Jnr's fautless restaurant Roux at the Landau and there's also a 16-metre indoor pool in the basement.

The recently revamped Savoy opened in 1889 and was the first hotel in the city to have en suite bathrooms to every room. Today it offers river views from its sumptuous suites and some of the best hotel bars in London, including the stylish American Bar.

Over in Mayfair, Claridge's (founded 1812, but rebuilt in 1898) has some of London's largest suites, decorated with timeless glamour. Here you'll also find one of Gordon Ramsey's most highly regarded restaurants and the 1930s-inspired Fumoir bar.

And finally, there's The Ritz, which opened in 1906 and most recently hit the headlines as the place Margaret Thatcher lived out her final days. Many of its super-luxury rooms look out over Green Park and the Palm Court is arguably the very best place in town to take afternoon tea.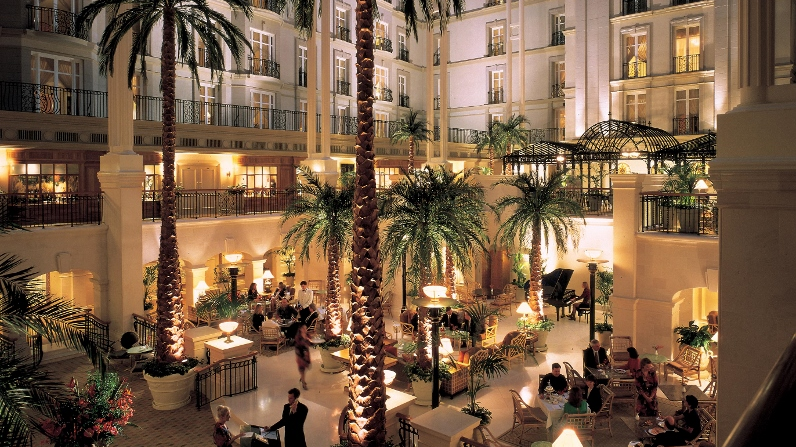 The Landmark London
London is blessed with a plethora of luxury historic hotels, with the city's most famous names including The Savoy, Claridge's and The Dorchester. Here are three other hotels with fascinating histories.

The Landmark London
Originally built as a Victorian railway hotel – one of the grandest in London – this hotel has had a long and chequered historiy. After being used as a base during the Second World War, it later functioned as a military office building and then a railway headquarters. But in the 1990s it finally reopened as a luxury hotel, boasting 300 rooms and suites and a fine winter garden – a covered central courtyard festooned with palm trees and offering various fine dining options. It's now heralded as one of London's most prestigious accommodation options.

The Great Northern Hotel
First opened in 1854, this King's Cross railway hotel was one of the first five-star options in the British capital. Having just re-opened in 2013, following an extensive refurbishment, it can now claim to be one of the most luxurious boutique hotels in London. Its 91 rooms bring to life all the effortless grace of the building's illustrious history.

The Wellesley
Another historic boutique hotel with a rather different heritage is The Wellesley. Located within a renovated 1920s townhouse, the architecture and furnishings here are all about the art deco style. It offers absolute contemporary luxury but with all the glamour of the prohibition era.