What are the best Indian restaurants in London?
Answers from Our Experts (3)
London is home to literally hundreds (possibly thousands) of Indian restaurants, from local curry houses dishing up classic curries to upmarket dining rooms serving Michelin-starred Indian cuisine. Here are my top three, depending on your budget:

On a budget: Sartaj
This traditional curry house in Seven Dials, Covent Garden serves all the usual British-Bangladeshi classics, from chicken tikka masala to bhuna, madras and jalfrezi. Order the "family naan" to get the biggest naan bread we've ever seen draped over a centrepiece on your table. You won't leave hungry.

Midrange: Cinnamon Soho
This is the third restaurant from Vivek Singh of The Cinnamon Club and Cinnamon Kitchen and offers his perfectly pitched modern Indian cuisine in laidback contemporary surroundings. Start with the "balls" – a selection of crab, beef, potato, vegetable and scotch eggs balls with dipping sauces – before moving on to a main course of Tandoori chicken with cashew nut korma or the Laal maas, a fiery Rajasthani lamb curry. The wine list has some good choices and the cocktails are delicious.

Splashing the cash: Quilon
Michelin-starred Indian cuisine remains a rarity in London, but Quilon, near St James Park, has had its star for six years and continues to set the bar for upscale Indian dining. The menu of southwest coastal Indian cuisine features dishes such as curry leaf and lentil crusted fish, and pink pepper chilli prawns – delicious and quite unlike anything you'll have had elsewhere.
Think Indian dining is all about take-away curryhouses? Think again. Here are three London restaurants that offer something a little different to the standard subcontinental fare – and they have all been awarded with Michelin stars.
With a menu of traditional northwestern Moghul dishes – that means lots of fish, game and bread cooked in a tandoor oven – served within a sleek and sexy setting, Tamarind offers another perspective on Indian dining.
Located in upmarket Belgravia, Amaya has a casual approach to fine dining – food is served as prepared (there are no courses) and specifically designed for sharing. Using a range of traditional grilling techniques and a variety of tasty marinades, it's a sumptuous side of the subcontinent.
Literally translated as 'kitchen', this Chelsea favorite is located within a beautiful century-old townhouse and serves up spectacular set menus that blend European influences with Indian staples. Think wild mushroom naans, blue cheese seekh kebabs and lemongrass foie gras.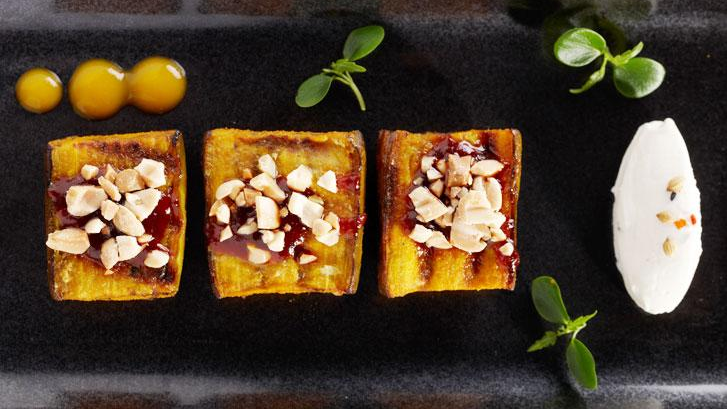 London is home to a plethora of great Indian restaurants, here's a trio to tantalise your tastebuds:

Cinnamon Club: Food that makes you go 'mmm'. Cinnamon Club is fine dining in Grade II surroundings, without any pretence. With celebrity chef and bestselling cookbook author Vivek Singh at the helm, the food focuses on bringing alive local produce using traditional Indian techniques. The result boasts tender meats, infused with smoky and aromatic spices – made to be accompanied by a good whiskey or full bodied red; enough delicious vegetarian dishes to ensure those that way inclined walk away feeling loved and full, and top class service to make one want to return again and again (and tell their friends about it). Sister restaurants Cinnamon Kitchen and Cinnamon Soho, are also worthy your attention.

Cinnamon Club, The Old Westminster Library, 30-32 Great Smith St, London, SW1P 3BU.


Moti Mahal: Due to its Covent Garden location, Moti Mahal is a great restaurant to head to for some fine Indian cuisine before or after the theare; lunchtime too, for some mid-shopping respite. Head Chef Anirudh 'Ani' Arora has put together a menu which echoes time spent living and travelling around India and researching the Grand Trunk Road – a 16th century route connecting Varanasi, Delhi, Amritsar and Pakistan. Diners tastebuds are taken on a similarly exciting journey – although, in the leather banquettes and white cotton-clothed tables, a far more comfortable one. Be sure to try Moti Mahal's spicy Gin Shikanjvi cocktail; with red chillies, black peppercorns and cumin, it's a perfect pre-feast appetiser.

Moti Mahal, 45 Great Queen St, London, WC2B 5AA

Potli: Located a little off the beaten track between Hammersmith and Chiswick, but this 'Indian Market Kitchen' is definitely worth the trek. Opened in 2011 by old friends and business partners Jay Ghosh and Uttam Tripathy, Potli's ethos is to honour and showcase the dishes their grandmothers and mothers made at home, through a variety of different regions, and their respective differing flavours. The menu is split into six market areas: Chowpatty beach, Mumbai; Chandni Chowk, Delhi; Chowrenghee Lane, Calcutta; Aminabad in Old Lucknow; Fountain Chowk, Ludhiana, Punjab; and Charminar Market in Hyderabad, recognised for their speciality for street food, tikka masala, roadside snacks, Tandoor dishes, biriyani and breads. The results are inventive, generously portioned, well priced and, most importantly, very delicious indeed.

Potli, 319-321 King St, London, W6 9NH