What are the best kids activities in London?
Answers from Our Experts (5)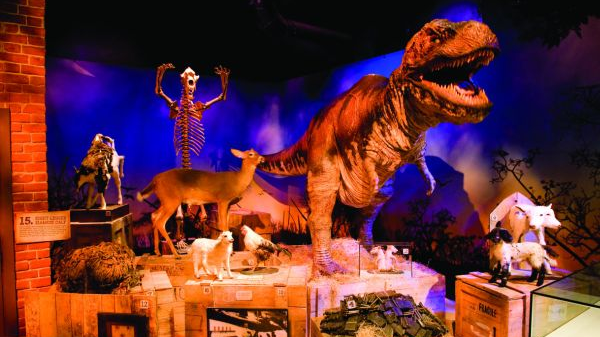 Ripley's Believe It or Not!
Set in the heart of London's bustling Piccadilly Circus, Ripley's is home to six floors of weird and wonderful worldly items, based on the travels and discoveries of the famous adventurer, Robert Ripley. From a mind-boggling mirror maze to a life-size model of the world's tallest man it offers much in the way of food for thought.

London Zoo
Lions, tigers and bears, oh my! OK, that's not strictly true; there aren't any bears at present, unless you count Winnie, a statue of the black bear that was there in the 20s and inspired AA Milne's infamous book series… But there are 17,500 (at last official annual count) other animal inhabitants at London Zoo to keep you entertained: giraffes, penguins, gorillas, giant Galapagos tortoises, meerkats, pygmy hippos…

SEA LIFE London Aquarium
With over 500 species of sea life spread over three floors, from minute tropical fish to 2.8 meter sharks; floor-to-ceiling tanks allowing you to get nose-pressingly close; and stations allowing little fingers to touch and feed, there's much at the London Aquarium to entertain children of all ages. For the brave, there's also a Family Snorkelling with Sharks experience.

Science Museum
A chance for the little ones to learn the history behind some of the world's greatest inventions and adults to reminisce about the one-time must have gadgets and technology of their youth. The IMAX cinema showing 3D and 4D films, interactive self discovery sections and a colourful, crawlable are just for babies and toddlers, are among the highlights. What's more, the Science Museum is one of the few kid's attractions that's – bar the cinema showings – completely free.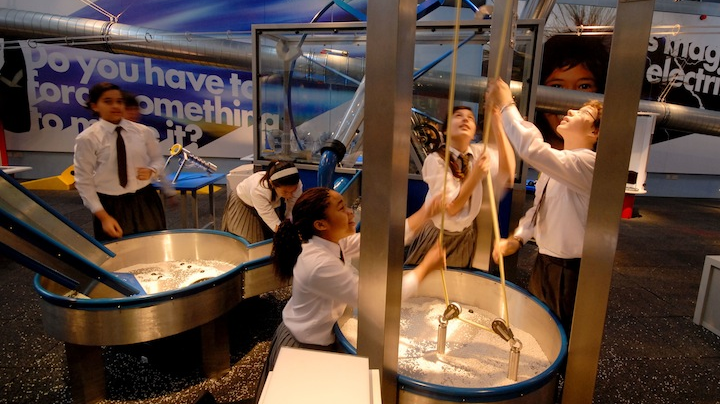 Science Museum
With so many attractions and activities to choose from, London is a fantastic place to visit with children. Here are a selection of things to do with children, from the very little to the not so small.

Giant spotting
The dinosaur skeletons on display at the Natural History Museum are a sight to behold, as is the life-size model of a blue whale in the mammals gallery.

Walk like an Egyptian The Egyptian mummies are one of the British Museum's most popular displays. The idea that inside these artifacts are real people who lived thousands of years ago is fascinating and a little scary all at once.

Make a splash
London Duck Tours use the same amphibious vehicles that transported Allied troops to France during the D-Day landings in their entertaining tours of London. A drive around the city's top sights is followed by an exciting splash into the Thames and the very peculiar sensation of taking a river cruise in a bus.

Go experimental
The Science Museum's Launch Pad gallery is full of interactive exhibits for kids to play with. From displays that show carbon dioxide turning straight from a solid into a gas to the magic of thermal imaging cameras, there's something here to excite the imagination of every child.

Up and away
For kids, the London Eye is about more than just great views. This is a ride on the biggest Ferris wheel they've ever seen and it's a thrilling experience from beginning to end.

The great outdoors
London also has lots to offer in terms of outdoor pursuits for children. My seasonal favourites are summertime swimming in the ponds at Hampstead Heath and ice-skating at the many rinks that pop up all over the city around Christmas time. The one at Somerset House is the prettiest.
London has plenty of attractions for kids, some specifically designed for them, others that will appeal to all ages from the very young to the far older. Here's my pick of the best family-friendly attractions:

Museums
The Museum of Childhood in Bethnal Green is home to the V&A's collection of children's toys and artefacts including dolls houses and teddy bears, while the Foundling Museum has a more serious feel, telling the story of the 25,000 children who passed through this building when it was a hospital for foundlings. The Natural History Museum has a dinosaur gallery with an animatronic TRex and a giant Diplodocus skeleton – sure to delight kids of all ages.

Parks
Let off some steam in Regents Park, where you'll also find London Zoo, or take a walk in Richmond Park to see the deer herd. Coram's Fields is a seven-acre free playground which is open to children and their accompanying adults only.

Attractions
Take the kids on the London Eye for a ferris wheel ride over London's landmarks, or join the Thames Rib Experience for an exhilarating speedboat ride along the river. If your kids are older than 10 and taller than 1.2 metres, take them for a walk over London's most iconic dome, at Up at the O2.
Kids love a boat ride, and with so much of London historically built to "face" the River Thames, taking to the water gives you the view of the Tower of London, Somerset House, and even the Houses of Parliament that their builders' originally intended.

The Thames Clipper service connects Westminster with Greenwich and beyond, all day, every day. The service is even used by some London commuters. There are stops en route at Tate Modern and the Tower of London, but alight at Greenwich to explore one of London's original "clippers", the masted Cutty Sark, which reopened to visitors in 2012 after a calamitous fire almost destroyed it. A hop-on, hop-off day ticket on the Thames Clipper—known as a "River Roamer"— costs £13.80 for adults, £6.80 for kids. You get a 10 percent discount if you flash your Oyster Card.

London also has an extensive canal network, dating to the days when many of the suburbs were industrialized. You can sail from Camden Lock through Regent's Park to Little Venice with the London Waterbus Company. A round trip costs £10.30 for adults and £8.40 for kids.
London is a fantastic destination for families with children, whether they're bouncing babes or tutting teens. Here are just three things you can try:

Explore some museums
One of London's greatest attractions is that museums are free. It's perfect when you have kids with short attention spans, as you can head into a museum or art gallery without committing to spending the whole day there. But it's worth remembering these museums are only free because they can rely on voluntary donations and cafe/gift shop sales, so you shouldn't leave without making some kind of contribution!

Head to the West End
Big, loud and action-packed theater productions are a sure fire way to entertain kiddies, and throughout the year London's West End serves up some magical and memorable child-friendly shows, from The Lion King to Matilda. But things get even better if you visit during August or September, as Kids Week (which actually runs for three weeks) means under-sixteens get in free. When a standard ticket to a West End show can cost in excess of $100, that's not to be sniffed at.

Visit the Museum of Childhood
A perfect stop for all the family, the V&A Museum of Childhood offers interactive playtimes for the kids and rose-tinted tours for the parents. With exhibits dating from the 1600s to the present day, it harks back to a time of wooden rocking horses and ragged teddy bears while also incorporating more modern gadgets and gizmos. The free exhibitions, including storytelling sessions and arts and craft classes, are excellent.