What are the best places for high tea in London?
Answers from Our Experts (5)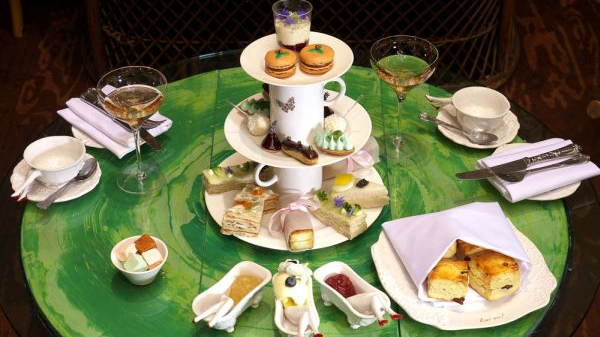 Copyright: Sketch
Who doesn't like to indulge in a feast of freshly brewed tea, dainty sandwiches, clotted cream-packed, jammy scones, and pretty little cakes? This traditional English pastime has evolved somewhat since its Victorian roots, and – no longer just the reserve of the elite - can be enjoyed in a variety of ways at a plethora of places throughout the city. Here are some of the best, to name but a few:

The Modern Pantry: It may not boast the glitz of The Ritz, but The Modern Pantry knows a thing or two about serving up a delicious afternoon tea. In bright, contemporary-clean surroundings, the laid-back experience involves Great Taste Award-winning Newby teas, served in silver pots – or Caravan Coffee if one prefers – and three tiers of sandwiches, scones and cakes, offering interesting twists on the norm: think generous tea-smoked salmon, avocado and yuzu mayonnaise sandwiches, scones filled with clotted cream and gooseberry compote, and light lemony polenta cakes… worth the £5 upgrade to include the white peach bellini aperitif. £20 without bubbles.

The Ritz: For all out, gilded opulence, The Ritz's infamous afternoon tea is the choice for well-dressed traditionalists (jackets and ties are obligatory, gents). With 17 different loose teas to choose from, six flavours of precisely cut finger sandwiches, freshly baked fruit and plain scones, cakes and pastries, there's plenty to keep one entertained all afternoon and filled for most of the evening. Due to its popularity, I recommend booking as early as possible. From £45 per person.

Sketch: The playful, fairy tale surroundings of The Parlour at Sketch makes for a great afternoon tea escape. A selection of beautiful sandwiches, colourful cakes and deliciously light patisserie treats you'll want to capture on camera before taking a bite. £34 per person.

The Athenaeum: So good is the afternoon tea here, this family-run Mayfair hotel scooped the prestigious Tea Guild Top London Afternoon Tea accolade for it in 2012. Ranging from £29.50 to £43.00, this typically English tea includes all the traditional ingredients: finger sandwiches, scones and various cakes. Sugar lovers should reserve the Regents Park Honey Tea: three tiers dedicated to the sweet stuff (honey roasted ham, Honeycomb Marquis, Lavender and Honey Macaroons, Honey Cheesecake…) with a jar to take away and enjoy at home.

To do high tea in style, you really need to be in a top Mayfair hotel, and there's nowhere in London with the cachet of Claridge's. Tea in this Art Deco hotel is taken in the Foyer and Reading Room, with a pianist for company, masses of black and herbal teas to choose between, and a never-ending supply of finger sandwiches and freshly-baked pastries and scones. There are four of sittings, but tea guests are never rushed or made to feel like they have outstayed their welcome. Claridge's classic tea costs £45 including service.

The phrase 'tea at the Ritz' just trips off the tongue, and this is another regal West End hotel that should definitely be on the shortlist. High tea in the gilded rococo surrounds of the Palm Court a lavish affair, with teapots and cutlery all in fine silver, replenished plates of sandwiches, petits fours and scones—if you book one of the early slots (11.30am and 1.30pm), you can certainly skip lunch. You almost expect to bump into Hercule Poirot at any moment. Tea at the Ritz also costs £45 per person.

These are London's marquee tea venues, so you will need to book way ahead—months in advance for popular periods like high summer or Christmas. Dress up for either—a jacket and tie is required at the Ritz.
You can't talk about afternoon tea in London and not mention Claridge's, the Mayfair hotel that's been a royal favourite since the 1860s. There are four sittings of this tradition-soaked meal each day, but even so it's booked up until September. Tea is served in the glamorous Art Deco environs of the Foyer or, for those seeking a more intimate vibe, in the Reading Room. Choose between over 40 loose leaf teas and herbal infusions, then tuck into two types of scone, finger sandwiches and a selection of delicious cakes. There's a champagne tea too for those wishing to take their experience up one more notch on the luxury scale.

My first ever afternoon tea experience, a special treat at the age of 11, was at Fortnum & Mason. The historic store has been selling tea for over 300 years and this pedigree shows in the expertise of the staff and fine quality of the 81 single origin teas and blends on offer. The gorgeous, light-filled St. James's Restaurant, where tea is served, underwent a major refurbishment last year and was reopened by the Queen as the Diamond Jubilee Tea Room. It was impressive on my first visit to Fortnum's and is even more so now. The Fortnum's Afternoon Tea – with its traditional fingers sandwiches, scones, cakes and pastries, plus a selection from the cake carriage – will delight traditionalists, while the Fortnum's Savoury Afternoon Tea will satisfy those with less of a sweet tooth. Also available is the Fortnum's High Tea, which substitutes a choice of various fish and egg dishes for the sandwiches.

If you love afternoon tea but prefer a less formal setting the Dean Street Townhouse is for you. Tea at this funky Soho establishment is served in a comfortable sitting room off the main dining room in a more flexible fashion than at most London hotels. Opt for the Townhouse Tea, which includes everything you'd expect, or build your own, selecting various elements of a traditional tea from the a la carte menu. More unusual options are also available, such as sausage rolls and even macaroni cheese, though if you want to do it tea properly, the latter is probably best avoided.
The 7th Duchess of Bedford found the long wait between lunch and dinner simply too much to bear and invented a meal to fill the void. So began the oh-so-English tradition of afternoon tea and today London is the epicenter of this increasingly popular pastime.

Afternoon tea at the Royal Horseguards more than lives up to this illustrious pedigree, served in the elegant lounge on delicate bone china cakestands atop crisp white linen tablecloths.

A pot of tea of your choice is served first – and there's certainly plenty to choose from. I plumped for the Royal Horseguards Unique Blend, a black tea flavoured with subtle strawberry and cream notes. It tasted summery and fresh and was the perfect accompaniment to the food.

Afternoon tea always starts with sandwiches and the Royal Horseguards kept things suitably British, serving up roast beef with horseradish, smoked salmon, cucumber and coronation chicken. We then moved on to warm scones served with Cornish clotted cream and homemade strawberry jam – something I had forgotten just how much I enjoyed.

We finished by tucking in to the top layer of the cakestand, which was filled with a range of handmade cakes and pastries. These included a pastry filled with decadent chocolate and a particularly memorable mini violet cupcake.

We left with a waddle, agreeing that dinner could certainly wait. The Duchess would be pleased.
You can't leave London without trying a traditional English afternoon tea. Here are three of the best luxury options.

The Goring Is Tops
It's hard to top the award-winning afternoon tea at Forbes Travel Guide Four-Star The Goring. You can take your tea either in front of the fireplace in the lounge or on the sunny terrace. Choose from a wide selection of teas (or even coffee if you prefer) and enjoy a stack of delicate finger sandwiches and melt-in-the-mouth sweet treats. But make sure you save room for the highlight: a freshly baked (and still warm) scone, served with homemade jam and Devonshire clotted cream. It's no surprise it was honored with the U.K. Tea Guild's Top London Afternoon Tea Award for 2013.

The Berkeley's Style
An afternoon tea designed for fashionistas, The Berkeley's Prêt-à-Portea offers a range of loose-leaf teas alongside cakes that have been designed by some of the biggest names in fashion. So when you want Yves Saint Laurent's 'Cabas Chyc' green Victoria sponge cake handbag or Manolo Blahnik's 'Neurotica' pink polkadot cake, there's no better way to add a touch of style to your afternoon.

The Dorchester's Themes
Here's an afternoon tea that changes depending on when you visit The Dorchester. Come in spring to enjoy a range of flowery treats in honor of the Chelsea Flower Show, or head here in summer for a Wimbledon-themed tea with cakes shaped like grass tennis courts and bright yellow balls.

Claridge's Classic
The ultimate in afternoon tea, Claridge's offers a quintessentially English menu in a stunning Art Deco setting. Choose from almost 40 kinds of tea and enjoy a stack of delicate finger sandwiches and sweet, buttery pastries. But make sure you save room for the highlight: a plate of freshly-baked raisin and apple scones, served with spiced jam and Cornish clotted cream. Yummy!

Sanderson's Mad Hatter
The perfect option for lighthearted luxury, this themed afternoon tea is a surreal trip down the rabbit hole involving menus hidden in vintage books and teapots decorated with cartoon queens. But it's the menu that really makes this work, as it includes homemade ham and cucumber sandwiches, delicious herb-buttered scones and a distinctive 'Tick-tock' Victoria sponge cake.

Apsleys Alternatives
The glass-roofed Venetian-style dining room of Apsleys is the perfect place for a spot of tea. Besides offering a classic afternoon tea that melts in the mouth, its delicious gluten-free and dairy-free versions make it the best option in the capital for those with strict dietary requirements.