What are the best things about fall in London?
Answers from Our Experts (2)
London usually stays warm until around the end of October, making fall a good time to visit if you want to make the most of outdoor activities such as exploring on foot and taking in the city's gorgeous green spaces. Arts events such as the Liberty Festival (date TBC) – which showcases leading deaf and disabled artists and companies – and the Mayor's Thames Festival (6-15 September) – which specialises in huge scale riverside spectaculars – will keep culture vultures happy, while Open House London (21-22 September) offers an amazing opportunity to sneak a peak inside some of the city's most iconic buildings. The Pearly Kings and Queens Society Costermongers Harvest Festival (29 September) is a quirky tradition that sees London's 'other royal family' parade through the streets of the City dressed in their instantly recognisable pearl button-encrusted suits.

Later in the fall, Guy Fawkes, or Bonfire Night, is a very welcome distraction from falling temperatures. Celebrated on 5 November each year with bonfires and firework displays, Guy Fawkes commemorates the failure of a Catholic plot against the Protestant monarch James I in 1605. If you're planning a trip to the capital in November, this quintessentially British event should not be missed.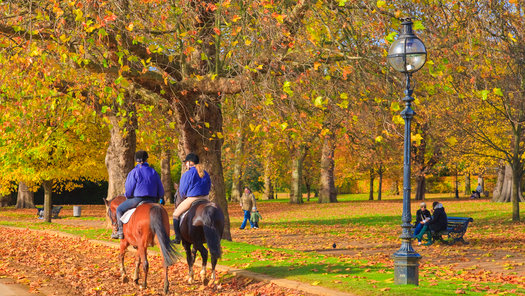 Hyde Park in Fall, Pawel Libera
Whispering breezes, reddening leaves and shortening queues makes fall an ideal season to experience London. Here are three other reasons why you should wait until (as the Brits say) autumn for your visit.

Guy
This peculiarly British event occurs every November 5, and involves locals celebrating the thwarted 17th century plot to blow up the Houses of Parliament by burning effigies of its chief conspirator Guy Fawkes on a big bonfire. Throw in funfairs, toffee apples and elaborate fireworks, and it's an event not to be missed. And if that hasn't quenched your thirst, you can enjoy more fireworks later in the month with the Lord Mayor's Show – a traditional ceremony stretching back more than 500 years.

Jazz
London is famed for its summer music festivals, but perhaps its most colorful music event doesn't occur until November. The 10-day London Jazz Festival sees thousands of performers and music fans descend on the British capital to blow away those gray clouds. You'll find shows in iconic venues across the capital – from the Southbank Centre to the Royal Albert Hall to Ronnie Scott's – featuring the cream of the British, European and American jazz scenes.

Sport
Every November, London hosts the ATP World Tour Finals – the final event of the men's tennis calendar, involving the top eight players in the world. But that's just the start. Fall also offers the chance to take in a range of other major British-invented sports like football/soccer (with the Premier League underway), cycling (the Tour of Britain is in September) and rugby (the Autumn internationals are in November).