What are the best things about spring in London?
Answers from Our Experts (3)
Spring is a great time to visit London: the days are longer, the temperatures are generally warmer, the gardens, parks and green spaces are blessed with cheerful blooms; and the energy this brings to the residents is infectious. It's also the calm before the peak summer period, when the streets - especially around the main shopping areas – can be swarmed, queues for key attractions relentlessly long, and demand for theatre tickets at a high, making packing in lots of impromptu sightseeing and activities into your break that little bit trickier.

Spring also marks the start of a multitude of outdoor events and festivals - from the Shakespeare's Globe Summer Season of open air theatre (April 23 - August 18) and London Literature Festival (May 20-September 8) to the Chelsea Flower Show (May 21-25) - and temperatures to flock to the many roof top bars and pub gardens; although pack an umbrella in case of an impromptu spring shower.
London may be the biggest and busiest city in the UK but wherever you are in the capital you're never far from a patch of greenery. In the springtime London's parks, commons and garden squares come to life: office workers on their lunch breaks crowd onto benches and picnic on any patch of grass they can find. Daffodils and tulips pop up all over the place and the smell of freshly cut grass hangs in the air, while blossom dropped by trees blows down the streets like snow, piles of the stuff collecting in the gutters before being washed away with the next shower of rain.

The weather changes quickly in London in the springtime. Mornings that feel like the arrival of summer are followed by afternoons that are blustery and grey. You wear an overcoat to work one day and a summer dress the next. You never know what you're going to get.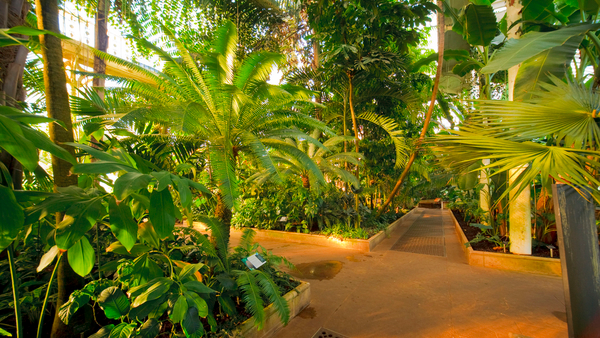 Kew Gardens in Spring, Pawel Libera
Spring is a wonderful time to be in the British capital. Here are just three reasons why.

Enjoy nature
London is littered with green spaces, from Royal Parks to urban farms, so there's no better time of year to see the city's nature come to life. While the world-famous Chelsea Flower Show takes place in May, perhaps the best natural attraction in springtime is Kew Gardens. Created in 1759, it's home to the world's largest collection of living plants, and in spring you can enjoy nature trails that take in its vast collection of open-air crocuses, daffodils and bluebells. If the springtime weather is as unpredictable as usual, you can take shelter in one of the attraction's gargantuan – and often sweltering -– glasshouses.

Take in a show
Providing it isn't Easter Weekend, spring is one of the best times in London to catch a show. Not only is there less of a crush for tickets than in the summer, but this also means you'll find a cheaper deal for dinner and a show – with maybe even a hotel thrown in! Add to that the fact that many West End shows premiere in the spring, allowing you to be an early adopter of a new hit, and there's no better time to go.

Do some good
London is a charitable city, and no more so than in spring. Not only can you take part in the London Marathon in April – the world's biggest race, and the single largest fundraising event on earth – but there is also the nationwide Swimathon Weekend soon after, then the Pink Ribbon Walk (in aid of breast cancer) in Marble Hill Park in June. And if you prefer to spectate rather than participate, you can also turn on your British TV in March to enjoy Comic Relief – the world's most profitable telethon.