Where is the best shopping in London?
Answers from Our Experts (6)
Everyone knows about Harrods, but London offers much more shopping than that iconic store. For some of the best shopping, head to the Mayfair neighborhood. Bond Street is lined with luxury shops. Go there to hit Chanel, Burberry and Alexander McQueen in one trip. Explore the rest of the tony area to purchase a flirty frock at the flagship Temperley London, a gorgeous glass vase at Lalique, glittering diamonds at the U.K. flagship Graff or a glamorous gown from new Mayfair merchant Oscar de la Renta (the brand's first London store). For a bunch of designer threads — like Diane von Furstenberg and Givenchy — under one roof, check out the popular Selfridges department store.

In posh Belgravia, the shopping-spree-worthy spots sit along Elizabeth and Motcomb streets as well as Pimlico Road. Milliner-to-the-royals Philip Treacy owns a hat shop where you can get your own bona fide British fascinator. For more accessories, pick up playful purses from Lulu Guinness and exquisite beaded jewelry from Erickson Beamon (fans include Michelle Obama and Gwyneth Paltrow). Another royal-family-approved store, H.R. Stokes, creates personalized letterpress stationery that would make a nice souvenir.

Knightsbridge's Sloane Street is packed with even more luxury shopping, especially international brands. Yves Saint Laurent, Bulgari, Dior and Fendi all reside there. And if you must visit the massive Harrods — whose seven floors cover 4.5 acres — you'll find it in Knightsbridge.
London has shopping of all shapes and sizes. Here is my pick of the best places to flex those credit cards:

Malls
If you want everything under one roof head to Westfield Stratford, Europe's largest shopping mall. Every big name from Adidas to Zara can be found here, although most stores are more high street than designer - think H&M, Hollister and Topshop. Westfield London, in Shepherd's Bush, has a slightly more high-end feel, with one end of the mall devoted to names such as Gucci and Tiffany.

High street
Oxford Street is London's most famous high street and is home to the flagship store of British stalwart Marks and Spencer, the temple to all things fashion that is Selfridges and middle class mecca John Lewis. Don't miss the massive Topshop on Oxofrd Circus.

Designer boutiques
New Bond Street is lined with high-end stores such as Chanel, Burberry and Salvatore Ferragamo. Just around the corner on Savile Row you'll find the best men's suits made anywhere.
In Knightsbridge, head to luxury emporiums Harvey Nichols and Harrods and in Chelsea walk the Kings Road for chic boutiques and high-end high street names – look out for the airy London home of Anthropologie.

Markets
East London is the place to head for markets selling quirky fashions. Head to Shoreditch for the Sunday Upmarket at the Old Truman Brewery for one-off clothing and funky homewares.
London is a culturally and ethnically diverse capital with a penchant for consumer culture and a long-established tourist trade. Put those elements together and you get world-class shopping:

Fashion
As one of the world's great fashion capitals, people come from far and wide to sample the city's designer outlets. Luxury labels (from Armani to Versace) tend to gather in the stylish streets of West London, particularly in Kensington and Mayfair, but more affordable names can be found in the famous Oxford Street. There are also a number of shopping malls dotted around the city, including the enormous Westfield, while small clothes stores can be found on every high street.

Souvenirs
You can't move in the center of London without seeing tacky souvenirs for sale – from inflatable London buses to Union Jack teddy bears. However, the best place to find meaningful and well-thought-out souvenirs are in the dedicated stores inside museums, galleries and various other city attractions. Alternatively, you can head to Harrods to pick up a small slice of luxury London.

Markets
London is famous for its markets, and there are stalls across the capital selling everything that anyone could ever need. In the big three alone (Portobello Road, Camden and Brick Lane) you'll find new and second-hand clothes, jewelry and fashion accessories, furniture, household goods, flowers, electrical items, toys, fruits and vegetables, replica football shirts, arts and crafts, international cuisine and much more besides. Our off-the-beaten track suggestion? Sunbury Antiques Market, a bi-monthly gathering that takes place in London's Kempton Park.
Charles De Gaulle famously declared France to be ungovernable… thanks to it having over 300 different types of cheese. If anyone is counting, Great Britain has a similar number, and London has some outstanding cheesemongers that stock the best of it.

Neals Yard Dairy has a couple of branches, one close to foodie Borough Market and the other near Covent Garden. Each sells carefully selected cheeses from the British Isles. The exact selection (and hiow each tastes) varies with the season, but always includes the best West Country cheddars, washed-rind cheeses, goats, blues, and more. It is the best place to buy Brit cheeses in London. You are encouraged to taste and talk to get a sense of what exactly you want before buying.

La Fromagerie casts a wider net for its supplies. The selection is really strong on cheeses from France and Italy: Castelmagno, Gorgonzola, goat's cheeses from the Loire, and much more all sold from a specially chilled cheese room. La Fromagerie is an excellent source of advice on cheese and wine matches: with their help, you could plan yourself a perfect picnic.

Androuet, in Old Spitalfields Market, has a narrower selection, but it's also impeccably sourced. The last aged Comté I bought from there was the best I've ever tasted.

Wherever you buy, remember to let the cheesemonger know if you are planning to take it home; they will wrap it properly for the journey.
On a short trip to London? Then you'll find all your shopping needs fulfilled in the West End. Begin right at the centre at Oxford Circus where Topshop, Nike and United Colors of Benetton surround it with their multi-floor flagship stores, then work your way along the main strips and back streets leading off it.

Selfridges, a five minute walk away, is a must-visit, with high street and designer fashion (from All Saints to Vivienne Westwood), handbags, shoes, beauty, fragrance, homewares, confectionary and much, much more to lose yourself in. Keep your eyes peeled for the easy to miss sign to St Christopher's Place on the way, where a narrow alleyway of little boutiques opens up to a central courtyard circled with cafes and restaurants (for luxuriously thick hot chocolate, swing by Apostrophe).

Alternatively, a stroll down Regent Street alone could easily meet your gift or personal treat needs: head to Hamley's for the kids; Penhaligon's for a beautifully packaged fragrance for that tricky to please aunt; Godiva to sweeten up a loved one; Anthropologie for the dog-sitter…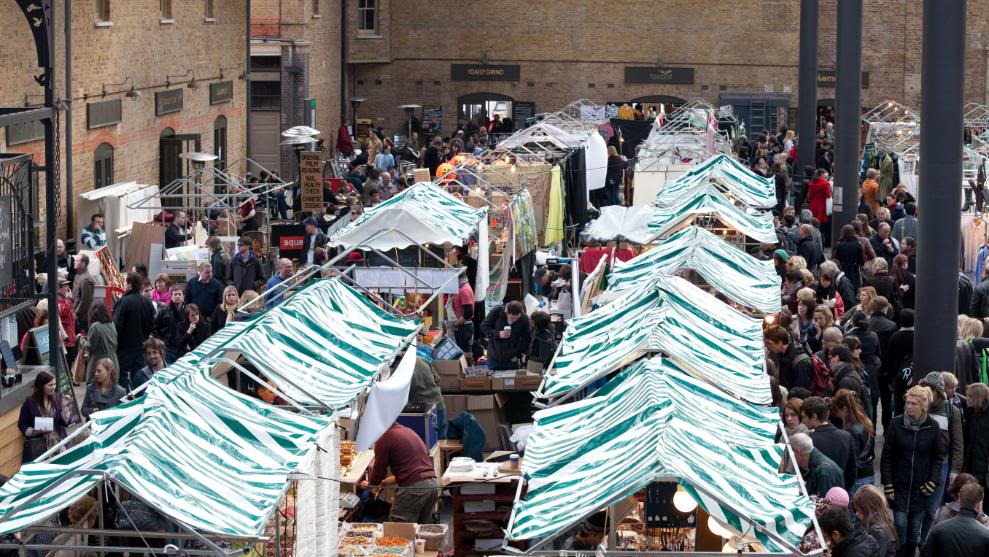 undefined
You can tell a lot about a place by its markets, and London has some of the best in the world. Borough Market is the place for food and drink, head to Portobello Road for antiques and vintage fashion, and find all three at Spitalfields Market depending on the day of the week, plus bric-a-brac, accessories and collectable vinyl.
Nearby Brick Lane has an enormous number of shops selling vintage clothing and accessories, while Covent Garden and Carnaby Street both have an excellent selection of high street retailers. They're an altogether funkier and more pleasant shopping experience than other high street destinations such as Oxford Street.
That said, Oxford Street is still the place to go for department stores (Selfridges and John Lewis are my favourites), as well as Top Shop's London home.
You'll find designer fashion and big brands on Regent Street and Bond Street, men's tailoring on Savile Row and Jermyn Street, and antiquarian books on Charing Cross Road.
If you're into shopping centres, Westfield London and Westfield Stratford City, with their combined total of over 500 shops, will keep you entertained for hours.
And London's quirkiest shop? It has to be the petite north London establishment that sells Sylvanian Families figurines and nothing else.