What five things do we love most about Montage Beverly Hills?
Answers from Our Experts (1)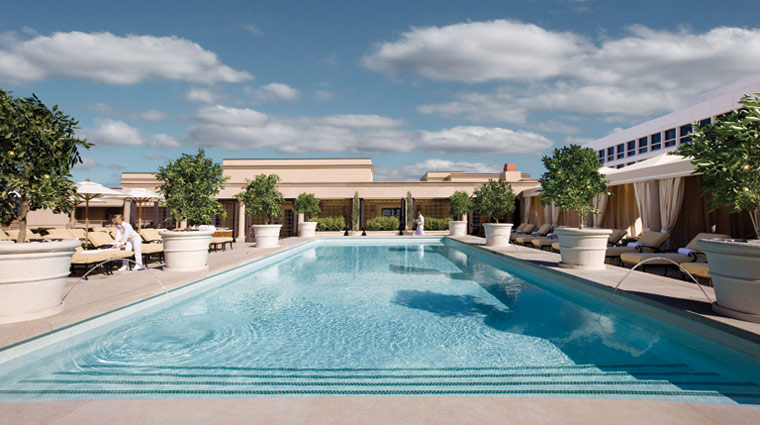 ©MontageBeverlyHills
There's much to love about Montage Beverly Hills. From the Spanish-colonial-revival architecture to the fantastic location right near Rodeo Drive, the Five-Star hotel is the sort of place you'll want to return to again and again. Here are the five things we love most about this Beverly Hills hotel:

1. The restaurant. We must first mention the hotel's restaurant, Scarpetta. Chef Scott Conant brings his acclaimed restaurant (from New York and Miami) to Beverly Hills. For dinner, request to sit at the Chef's Counter, which is located inside the immaculate kitchen, where you're able to watch Scarpetta's cooks whip up modern Italian fare just inches away. On Sundays, the kitchen is transformed into a prix-fixe brunch buffet that's easily one of L.A.'s best. For $68, dine on all-you-can-eat seafood, pasta, farmer's market salads, carved meats, omelets and waffles, and much more. You'll even find unusual treats like foie gras ice cream sandwiches. Upstairs, you'll need a reservation to enjoy a Macallan scotch at the speakeasy-like Ten Pound.

2. The spa. The two-story, 20,000-square-foot Spa Montage is a different kind of sanctuary. Here, you're pampered to the point of surrendering to your own personal providence. You will especially love the coed mineral pool, as well as the Jacuzzi, steam room and sauna in the large locker room.

3. The rooftop pool. The best thing about the rooftop pool is that it's open 24 hours. It's an extra-large saline pool that's usually void of children doing repeated cannonballs. You might opt for a private poolside cabana equipped with an LCD TV and DVD player. And always say yes to the complimentary lime slushie shots being passed around. The view of the Hollywood Hills is amazing and the adjacent Conservatory Grill is a great spot for lunch.

4. The Garden Suites. We love the Garden Suites. Open up the double doors, step onto your fully furnished patio and take in the view of the lovely Beverly Canon Gardens. It doesn't get any better than this in Beverly Hills.

5. The green effort. The final thing we love about Montage Beverly Hills is its conscious sustainability efforts. The hotel earned LEED (Leadership in Energy and Environmental Design) Gold Certification, thanks in large part to its eco-friendly construction practices. But even the little things count: All in-house computers are defaulted to print double-sided and the hotel boasts an 83 percent recycling rate of site waste — these are just two examples of the countless ways Montage Beverly Hills is doing its part to be green.