What are the table settings like at Circa 55 Restaurant?
Answers from Our Experts (2)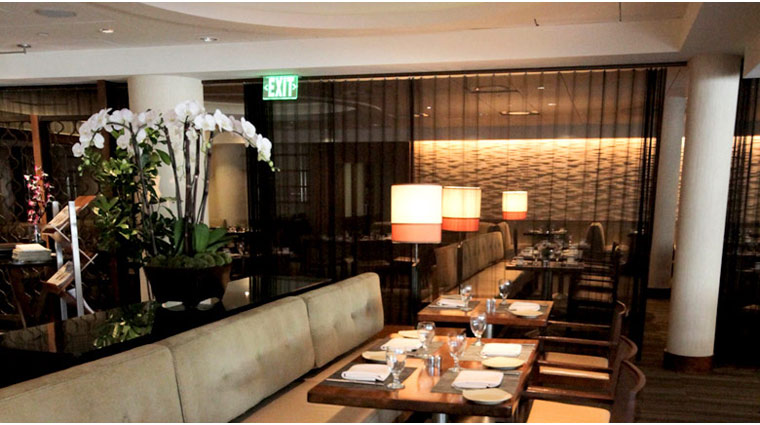 © The Five Star Travel Corporation
The table settings at Circa 55 Restaurant change a little depending on whether you're enjoying French toast in the retro dining room in the morning or noshing on Polynesian fare at night.

In the morning, each wooden table is set with woven dark green and brown place mats topped with a white cloth napkin folded into a neat rectangle. To the right is a white teacup, saucer and stirring spoon and behind it a glass water goblet. The silverware is placed on both sides of the napkin. Matching silver salt and pepper shakers are in the middle of the table alongside a potted plant in a square vase.

At night as the sun sets in the west, the dining room is dimly lit and candles are added for ambience, while subtle music plays through dinner. Additional flatware is also added for dinner service and the fine glassware is made by Libbey and Schott Zwiesel.
Our furnishings are retro-chic. They include Carlotta armchairs with walnut frame finish, wicker seat back and butterscotch cushions. We also have curved freestanding sofas and custom torchiere floor lamps with floating modern shapes on stems. There are wool-nylon Luna textiles in Brigantine colors, and floor-to-ceiling, ripple fold espresso-colored window treatments. On the walls are Thomas Brummett desert prints. Glassware is by Libbey & Schott Zwiesel. For evening service, candles flicker and subtle dinner music plays.