What are the best places for brunch in Los Angeles?
Answers from Our Experts (10)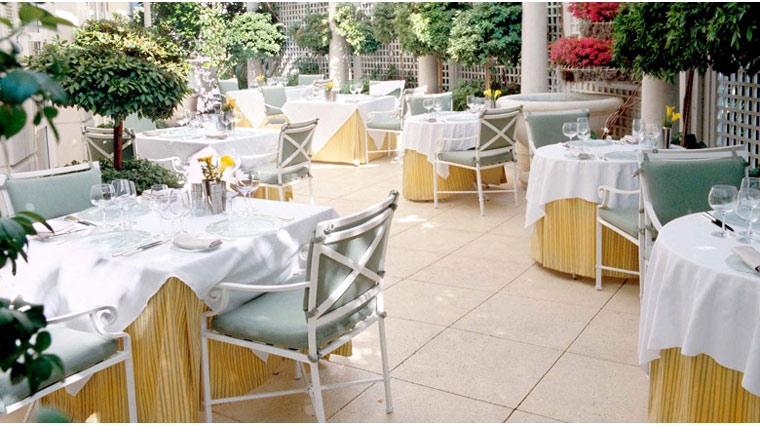 ©ThePeninsula
Los Angeles is a town all about brunch; the laid back and casual attitudes most of its residents portray, combined with year-round sunny weather, make brunch an everyday event in the West Coast locale. From the beachfront-favorite Shutters on the Beach in Santa Monica to the classic Polo Lounge Sunday brunch, this city offers the best breakfast, or lunch, you could want.

1. Yes, BLD stands for "breakfast, lunch and dinner," but the offerings here are nothing so quotidian. The pancakes aren't just boring old buttermilk; they're blueberry-ricotta hotcakes with Berkshire maple syrup. Even better, they're served until 3 p.m. on the weekend, along with the rest of the still breakfasty brunch menu, which offers such options as grapefruit brûlée and eggs Florentine. A meal as easy as the restaurant's name.

2. Jar is more like a distillation of everything a fine neighborhood restaurant ought to be: a place that offers reliably great food and service, and a warm atmosphere. The space is a little more sleek than your typical local bistro, but it's still functional. Brunch at this modern chophouse is a great alternative to the always-busy dinner service. You'll find hearty choices such as corn pancakes, pot roast hash and steak and eggs.

3. There are few more pleasant ways to spend a summer evening than by sitting in the carefully tended garden on the patio of the Polo Lounge, cocktail in hand. Located at The Beverly Hills Hotel, the Polo Lounge remains a place for deal-making businessmen. But it's just as swank to head over for a morning meal: listen to live jazz out on the patio as you bite into the sinfully rich French toast with cranberry bread, toasted pecans and banana cream.

4. For in-the-know locals, Shutters on the Beach is a frequent destination. It is Santa Monica's most beloved hotel for everything from seaside brunches and cocktails to poolside basking. On the second floor restaurant, One Pico, below lofted ceilings decorated with antique boat hulls and art nouveau lanterns casting warm light, you'll sample chef Michael Reardon's new seasonally driven menu — upscale, but never stuffy, with breakfast highlights like house smoked salmon and Belgian waffles.

5. One of Los Angeles' most venerable fine-dining restaurants, the acclaimed Belvedere at The Peninsula Beverly Hills has long catered to the city's most discerning crowd and served as a deal-sealing destination in Beverly Hills serving exceptional modern American food..
The five best Los Angeles restaurants for brunch are Scarpetta, Jar, Chaya Brasserie, Campanile and Comme Ça.
The five restaurants that are best for brunch in Los Angeles are The Belvedere, Jar, Cecconi, Red O and Geoffrey's.
I like BLD and Eveleigh on Sunset — they do a nice brunch. I think The French Crêpe Company at the Fairfax farmers market is great. I also like ¡Lotería! for its chilaquiles, chorizo and eggs, and huevos rancheros. One place I work and consult with is The Strand House in Manhattan Beach; it has a delicious brunch and floor-to-ceiling windows with an ocean view. It also has great Bloody Marys. I think MB Post, also in Manhattan Beach, does a good brunch.
I go to Urth Caffé. They have the best coffee, hands down. It's all organic. It's just a great people-watching place. The food is just so good and fresh. But the coffee — the espresso — is so delicious.
My favorite breakfast is The Griddle Cafe on Sunset, and you have to get there really early because it is packed, like there is a line out the door. Luckily, I know the door guy because I've been going there for so long, and I just call ahead of time and he sneaks me right in. House Cafe, which is in Crescent Heights, has awesome breakfast. A little local place I go to is called Jinky's Studio Cafe, and they have a lot of organic food. They have quinoa salad and a tofu scramble.
You know, the best place to have brunch in Los Angeles is Hotel Bel-Air. It's the setting and the food mixed together — I think it's perfect. You feel like you're in California. It's not like if you walk into a luxury hotel and you think you could be in Chicago. The Bel-Air is the ultimate California hotel and restaurant.
Gjelina is my go-to place. It's in my neighborhood and I like the chef Travis Lett — he does an incredible job. The food is all from the farmers market. Every time you eat there, not only do you feel like this is great food, you feel like you're doing your body good.
Petrossian — it's basically a caviar shop. But they have a brunch menu where every dish has caviar on it pretty much. You hear the word "caviar" and you immediately think expensive, but it's really well priced. So you can actually go there and eat eggs and caviar, and drink champagne. I would say it's affordable; it's not overly priced. They have this caviar flatbread there — it's a flatbread with crème fraîche on it, capers, chopped egg and caviar. It's delicious.
In Los Angeles one the best way to savor your weekend is with one of many decadent brunch offerings throughout the city.

Petrossian
The idea of an indulgent brunch takes on a whole new definition when you include some of the best caviar in the world—and that's exactly what you will find at Petrossian's West Hollywood outpost. Excite your pallate with chef Giselle Wellman's signature egg royale where out of an eggshell you will spoon soft scrambled eggs, vodka whipped cream and caviar. For a full caviar expierience, start with the Petit Petrossian where you can savor 12 gr of Transmontanus caviar, among classic accompaniments like fresh blinis; you can also order the blinis with a selection of caviar, trout roe and salmon roe. Other daytime favorites include the smoked salmon bagel with caviar, caviar scrambled eggs and brioche French toast. Pair any of these selections with a lavender mimosa or Bellini.

Scarpetta at The Montage Beverly Hills
The Forbes Five-Star hotel serves up a weekly buffet-style brunch of epic proportions. Stroll through the kitchen picking up offerings like freshly shucked oysters, yellowtail and ahi tuna sashimi and citrus cured salmon. Also find carving stations for fish, beef and lamb; omelets made to order, and fresh salad selections. Save room for freshly made pastas and made-to-order cheese plates.

M.B. Post
Before you spend your afternoon shopping or hitting the sand in Manhattan Beach, fuel up with decadent brunch offerings at David LeFevre's M.B. Post. Beginning your meal with the restaurant's signature sweet-gooey sticky bun is a must along with freshly muddled and shaken cocktails from the bar. You can also start with bacon cheddar buttermilk biscuits served with maple butter, but even better than that is to order the eggs Benedict which are served on top of them. Other offerings range from steak and eggs with broccolini and red chimichurri to corned beef cheek hash. The menu highlights what's fresh and best from local farms so offerings here are seasonal and change from time to time.

Littlefork
Chef Jason Travi pay homage to northeast Atlantic fare at his Hollywood restaurant. Starting your brunch with his maple eggs is as much a conversation piece as it is a perfect appitizer. Follow that up with any one of a few Benedicts (smoked trout, brisket or pork belly); good morning burger, in which linguiça sausage is nestled between two red corn pancakes with a runny egg on top, served with a side of maple syrup; and their lobster roll which needs no description other than the fact that it's. just. decadent. Brunch cocktails here are also worth the indulgence; the Bloody Larry is a spicy take on his sister Mary served with bourbon instead of vodka, although you can opt for that if you want.

Heart & The Hunter
You won't find any gimmicks here, just straight forward decadent farm-to-table far with a delicious Southern influence in the quaint restaurant situated just off the reception area in the boutique Palihotel. Must-have dishes are the butter biscuits served with pimento cheese, honey butter and black berries to start; their signature chicken cracklins (don't ask, just eat) fried egg, lettuce tomato and avocado sandwich; and barbequed lobster served with soft scrambled eggs and toast.