Where is the best shopping in Los Angeles?
Answers from Our Experts (5)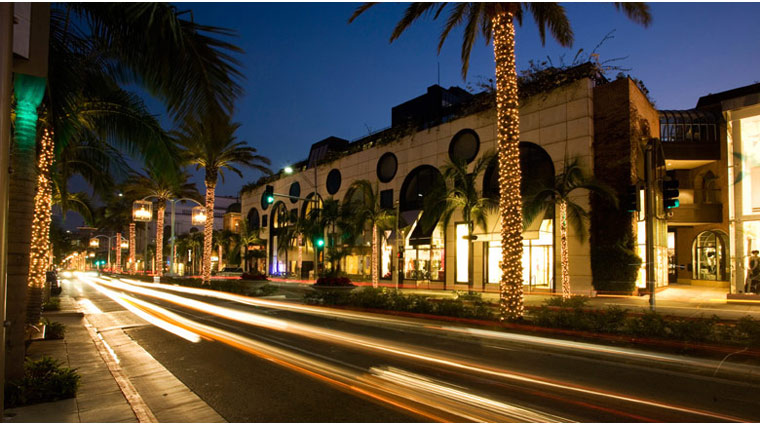 ©iStock/leepettet
You don't need a guide to tell you about Rodeo Drive; one of the world's greatest concentrations of luxury stores is all in a three-block stretch between Los Angeles' Wilshire and Santa Monica boulevards. For a younger take on the haute couture look, nearby Melrose Avenue has emerged as the new Rodeo Drive — with big-name labels such as Alexander McQueen, Carolina Herrera and Marc Jacobs, as well as hipster brands like A.P.C. and Agent Provocateur.

Located east of Beverly Hills and west of West Hollywood, Robertson Boulevard has become the main drag for celebrities and local fashionistas. Before, the paparazzi would never budge from their post outside of The Ivy, the infamous white-picket-fenced eatery; now, these shutterbugs keep a good eye on shoppers coming out of Kitson, Lisa Kline and Chanel, which have practically taken over Robertson Boulevard.

If you are looking for some L.A. flair, another great stretch for shopping is on West Third Street between the city's two destination malls, The Beverly Center and The Grove. Start out shopping at some of the high-end retailers at The Beverly Center, then cruise along Third Street for more independent boutiques. Satine, Milk and Hillary Rush are perhaps the most popular. EM & Co has lots of cute designer pieces and a fabulous collection of accessories, while luxe menswear shop Douglas Fir offers options for the male counterpart. And once you reach Fairfax, you'll hit The Grove, a Disneyland-esque mall, complete with a trolley, a fountain show and well-known stores like J.Crew and the Gap.

This Third Street is not to be confused with Santa Monica's Third Street Promenade, an outdoor mall with four movie theaters, dozens of casual restaurants and familiar shops like Banana Republic, Diesel and Anthropologie. Intersecting Montana Avenue offers one of four local Planet Blue boutiques, as well as Kiehl's, the famous skincare line.

For more eclectic shops and surfer wares, try Abbott Kinney Boulevard in nearby Venice. This formerly seedy strip of used furniture shops and dive bars has attracted trendy boutiques, including Heist — which carries American designer labels NSF and Inhabit as well as hard-to-find French designers, like Isabel Marant — and The Stronghold, which has a custom denim bar. You'll also find vintage resale shops such as Surfing Cowboys, as well as perfectly edited boutiques like Madley.

The best places to shop in Los Angeles are Rodeo Drive, Melrose Avenue, Robertson Boulevard and Montana Avenue.
Shopping is a way of life in Los Angeles. Some of the best spots include Rodeo Drive in posh Beverly Hills, Robertson Boulevard in West Hollywood, Melrose Avenue, The Grove, Santa Monica Place and Third Street Promenade, and Westfield Century City Mall (an AMC theater is also inside).
We think the best shopping in Los Angeles can be found in the following places:

1. Rodeo Drive/The Golden Triangle: Santa Monica Boulevard to the North, Wilshire Boulevard to the South, and Canon Drive to the East, Beverly Hills. The "Golden Triangle" holds more wealth and fine stores than most small countries. At its center is the world-famous Rodeo Drive and Via Rodeo, which features a replica of the Spanish steps in Rome. You will find designer stores such as Tiffany & Co., Cartier, Chanel, Bally, Gucci and other notables, as well as some of the city's top salons and restaurants.

2. Robertson Boulevard between Beverly Boulevard and Third Street, Los Angeles . This increasingly popular shopping street caters to hip Los Angeles natives and tourists alike. Featuring the exclusiveness of Beverly Hills and the cutting-edge cool of Melrose, this small stretch is where young Hollywood stars with real money shop. Here you will find Chrome Hearts, Tory Burch, Reiss, Intermix, Kitson and Maxfield's, to name just a few.

3. Sunset Plaza: Sunset Boulevard at Sunset Plaza Drive, West Los Angeles. Locals and tourists head to the famous Sunset Strip shopping area to shop at the signature boutiques and dine at this chi-chi stretch of Sunset Boulevard that is dotted with outdoor cafes.

4. Melrose Avenue between San Vicente Boulevard and La Brea Avenue, Los Angeles. East of Fairfax, this shopping area is a cluster of vintage shops, hipster wear and retro barber shops that cater to the young at heart. On the west side of Fairfax, Melrose has emerged as a high-end paradise. Stores such as Fred Segal and Kelly Wearstler's new flagship location set the bar for fashion and lifestyle.

5. Montana Avenue between 14th and 20th streets, Santa Monica. Cafes and quiet boutiques reflect the laid-back beach style of the Santa Monica community. Many of the boutiques are one-of-a-kind owner-operated ventures that cannot be found anywhere else in the world.
Generally, LA is not pedestrian friendly. Yet it's home to legendary shopping drags people think of when they think of this city—Rodeo Drive, Robertson Boulevard and Melrose Avenue. For chic little pockets of great shopping where you can actually walk boutique to boutique, and grab a bite in between, a handful of neighborhoods are a shopper's paradise.

Venice's Abbott Kinney is not only the place to find unique home wares, vintage stores, fancy bicycle shops, great restaurants and bars, it's also good for people watching. Heist, Satine Convenience Store and Milkmade are apparel boutiques not to miss. For home wares, check out A+R, Tortoise General Store and Huset.

On east Sunset Boulevard, Echo Park and Silver Lake are also pretty special. Drop into the Sunset Junction area of Silver Lake is home to great stores like Reform School and Mohawk General Store. Echo Park Independent Co-Op (E.P.I.C.) delivers a great sampling of emerging LA designers and artists.

Mid-city, West Hollywood has many great shopping streets albeit a bit spread out. West 3rd St. between La Cienega and Fairfax, Melrose Place for couture and the western part of Melrose Ave delineated by Fred Segal and Alexander McQueen. Opening Ceremony and TenOverSix are my favorites in the area for edgier finds, as well as Clare Vivier.

Hit Montana Avenue or Malibu Lumber Yard for west side retail therapy.