What are the best food gifts to buy in Melbourne?
Answers from Our Experts (1)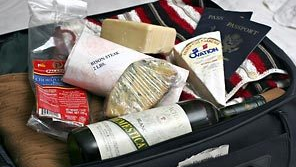 Skip bringing back Tim Tams and Vegemite, instead bring back locally sourced Victorian products from your Australian trip!

For foodies, be sure to bring some of Milawa Cheese's award winning Milawa Blue as a gift. They do a range of cow and goat milk. If you can't make it to the factory then a number of stores in the Queen Victoria Market have their cheese products for sale.

Beechworth Honey is also another popular gift and can now be found in many of the cities Woolworths, Coles, IGA and Thomas Dux Grocer stores. If you want their full range of products – including their beauty products that are perfect for female friends – you'll have you order online and visit their store in Beechworth. Be sure to try their natural moisturiser!

For coffee lovers, Melbourne is the place to find great coffee. Some of the top independent cafes in Melbourne is stocked with blends from Seven Seeds. Find their beans for sale in their cafes, Brother Baba Budan and Seven Seeds - or order from the limited selection on their online store.

For your friends who like a good drink don't forget to pick up a bottle of wine – the Yarra Valley wines are among the best in the world - or consider getting them a single-malt whiskey from the Bakery Hill Distillery – the factory is a 30-minute drive outside of the city in Balwyn North or bottles are available to be purchased at the City Wine Shop on Spring Street.

If you want to buy food gifts for children or those young at heart consider some Australian lollies or chocolate.
For chocoholics, consider gifting them with Koko Black chocolate.
For lolly lovers, step inside The Original Lolly Store and pick out from their range of hard candies and gummies, many made in Melbourne. They have branches in Fitzroy, Melbourne Central or Carlton.

Please note that many countries do not allow the importation of eggs, meat, plant, dairy or items with seeds. For the most up to date information see your countries Customs page and remember to declare items.