What is public transportation like in Melbourne?
Answers from Our Experts (3)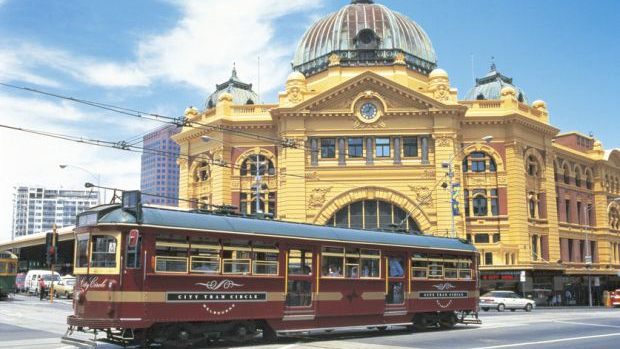 http://www.sydney-australia.biz/victoria/melbourne/graphics/melbourne-tours.jpg
Melbourne has one of Australia's best transport systems with a network of trams, trains and buses throughout the metropolitan and greater Melbourne areas.

Tickets are called Myki and can be used on all metropolitan transport.
Daily full fare tickets cost AU$7.00 or AU$1.75 for concession holders for zone 1 which includes the city. There are options for 2-hour tickets and also weekly passes (7-day or longer) for those staying in Melbourne longer.

Melbourne also offers a NightRider Bus service on Friday and Saturday night that has stops throughout the city and metropolitan areas.

For all public transport information and to plan your journey check the Public Transport Victoria website.

Other ways to see Melbourne

One of the best ways to get around Melbourne's city centre is using the City Circle Tram. The tram runs in a loop around the city with stops at many of Melbourne's major tourist attractions, as well as linking with other tram, train and bus services. The tram is free and runs in both directions with around12minutes between each tram.

Another free service is the Melbourne Visitor Shuttle which covers the inner city Melbourne, but stretches to Lygon Street (Little Italy), the Queen Victoria Market, and The Shrine of Remembrance and Royal Botanic Gardens.
Buses depart each 30 minutes between 9:30am and 4:30pm.

Melbourne has excellent public transit which consists of buses, sububan and regional trams and our much love trams.

Tram service started in Melbourne in 1885 and was originally a cable car system. By the early 1900's there were 17 lines servicing the city and inner suburbs. As Melbourne grew the limitations of the cable system became apparent and the system gradually was converted to electric trams beginning in 1906.

There are over 178 million passenger trips made per year and tram usage has the fastest growing patronage of any mode of transport in Melbourne.

One of the most visited attractions in Melbourne is the City Circle Tram. These historic 1920's "W" class trams follow a continuous loop around the Central Business District and allow visitors and locals alike the opportunity to hop on and off at their leisure.

Another unique Melbourne experience is the Colonial Tramcar Restaurant. There are three dining cars which tour the city and Melbourne's inner suburbs for lunch and dinner. The restaurant offers the best travelling views of Melbourne as you proceed through the city and the elegant southern suburbs. This is the quintessential Melbourne experience. The Tramcar restaurant is very popular and advance bookings are required.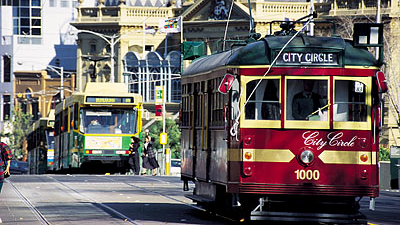 Melbourne's public transport system is relatively easy to use and offers a quick and efficient way to get around the city.

Your options are:

Trams, Trains and Buses

You'll need a Myki smartcard to travel on any public transport in Melbourne. This offers you with flexible travel options between trains, trams and buses – whether it's just for short trips, a few hours a day, or all day. Visit Public Transport Victoria for information on purchasing a Myki smartcard, and for downloadable maps and timetables.

NightRider Bus Service

This is a late night bus service that operates on Friday and Saturdays. The NightRider leaves from safe locations in the central city, making over 300 stops along ten NightRider routes. Again, visit Public Transport Victoria for further information.

City Circle Tram and Melbourne Visitor Shuffle

The City Circle Tram and Melbourne Visitor Shuffle bus get you to all the city's major attractions for free. The City Circle Tram is a free service around central Melbourne taking passengers past some of Melbourne's major attractions. The Visitor Shuffle runs from 9.30am to 4.30pm daily, stopping at key destinations.