What are the best attractions in Miami?
Answers from Our Experts (2)
There's a reason why Miami is one of the top destinations in U.S. With year-round perfect weather, endless beaches, bustling nightlife – there's something for everyone, so what's not to love? And there's much more to see than sun and sand.

Gardens
Miami's tropical climate is the perfect backdrop for lush gorgeous gardens. Take a stroll at Vizcaya Museum & Gardens, built in 1916 by agricultural industrialist James Deering, which features ten acres of formal gardens and rockland hammock, and elaborately detailed Main House built in 1916. Another site to see is Fairchild Tropical Gardens, which houses collections of rare tropical plants including palms, flowering trees and vines, and also offers concerts, festivals and garden sales. (The first Wednesdays of every month July to November are free). And if you're already at the beach, stop by Miami Beach Botanical Gardens, an urban oasis and venue for visual and performing arts.

Museums
The Miami art and museum scene offers various different cultural experiences for all ages. Miami's Museum of Contemporary Art features more than 400 permanent installations, featuring artists such as Dennis Oppenheim, Anna Gaskel, and Mariko Mori, plus eight to ten changing exhibits annually. At History Miami, now a Smithsonian Institution Affiliate, you can learn more about the history of the region as well as take city tours by bike, boat, coach, or foot. You can take the kids to the Miami Children's Museum and the Miami Science Museum and Planetarium, where they can learn and play and explore art and science hands-on.

Wildlife
From dolphins and whiles, to flamingos and parrots, to alligators and crocodiles, you'll find all sorts of creatures and critters here. You can head to the Miami Seaquarium, located on beautiful Biscayne Bay, and catch a show killer whale show, see sharks and sea lions, even swim with dolphins. Jungle Island has 18 acres of birds, reptiles, cuddly animals and tropical plants. Miami Metro Zoo is home to over 2,000 animals and 1,200 plants, which you can see via sky tram or "Safari" cart, or cycle through it. And, in 2014, the zoo will be opening its Florida: Mission Everglades exhibit.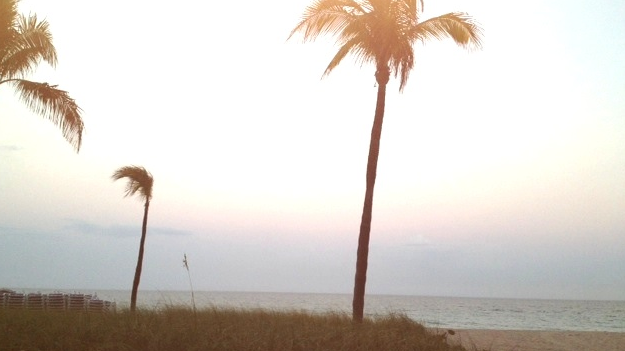 The tropical climate Miami has to offer provides lots of great attractions happening outside, especially during the fall and winter months when the temperature cools down and the humidity drops. However, the weather isn't the only thing that makes Miami what it is, there are many other valid attractions that take place indoors too.

Beaches
Miles of white sandy beaches with crystal blue water really makes Miami such a tropical paradise. And there are so many beaches to choose from. You can hit up the more crowded spots in South Beach (ideal for people watching) or try out a relaxing, secluded getaway in Key Biscayne.

Boating
Since the weather is so nice and the water is so clear (and normally relatively calm), boating in Miami is always a fun thing to do. On Sundays, you'll find lots of boats parked on the bay soaking up the sun, but you're able to hit the waters anytime. And for those who are boat connoisseurs, there is the massive Miami International Boat Show that happens every February featuring top-notch yachts, sail boats, fish boats, and just about anything in between.

Little Havana
Inside this authentic Cuban neighborhood, you'll find tons of unique places to check out including the mecca of them all, Calle Ocho, full of many shops and restaurants. On top of tasty cuisine, you'll also see cigar rolling, domino playing, and tons of live music and dancing. Carnaval Miami is also something to see, which takes place in March, with tons of outdoor music, parades, and food.

Food
Miami has grown into a bigger food town over the years, and continues to emerge even more with its new restaurants coinciding with celebrity chefs. There are staple go-tos that are loved by both locals and tourists including Prime 112 and Red, the Steakhouse, but there are other newbies that have made a name for themselves, such as Haven Lounge shelling out liquid nitrogen-infused cocktails and delicious late night food -- crab cake sliders and bangkok shrimp skewers.

Outdoor Sports
From paddleboarding to kiteboarding, Miami is all about the outdoor adventure sports. Whether you're already a pro or a newcomer who wants to test out the waters, there are lots of sports options to choose from and classes to learn from such as Miami Kiteboarding serving up both private and semi-private lessons.

South Beach
One of Miami's main hot spots for tourists and home for party-goers, South Beach plays a huge role in attracting many to the sunshine state. While it has lots of clubs with big name international DJs, it also offers some top-rated restaurants and super cool lounges. A recent renovated edition, the Gale hotel is one of the most talked about places among locals and tourists these days, thanks to their several different offerings including The Regent Cocktail Club, Dolce Italian, and Rec Room.