What are the best Miami food experiences?
Answers from Our Experts (2)
In Miami, there's nothing more satisfying than a day spent at the beach followed by fine dining. Of course, the restaurant you choose, depending on the type of cuisine you desire, is up to you but we've got some suggestions. Azul, Wish, The Capital Grille and Michy's all fit the bill for the most unforgettable food experiences in the city — and they all have something uniquely Miami to offer.

1. Azul, located inside Mandarin Oriental, Miami, continues to dominate the city's fine-dining scene with a menu heavily influenced by the bounty of fresh ingredients in Florida and with sommelier Cynthia Betancourt supervising the more than 700-bottle wine program. Don't miss dishes such as cobia crudo with sweet peppers, roasted tomato, Castelvetrano olives, agrumato powder, local citrus and almond.

2. The Capital Grille continues to rule the power-broker scene downtown. Brassy appointments, massive chairs and endless walls of mahogany scream masculinity. The purely professional service, along with the perfectly cooked steaks — the 22-ounce delmonico and porterhouse-style veal chop are signatures — and succulent seafood, both raw and cooked, are the draw for dealmakers throughout South Florida.

3. Chef-owner Michelle Bernstein created Michy's, an orange-and-white, 60-seat, Upper East Side, shabby-chic charmer, with her husband, David Martinez, in 2006 after a charismatic stint at Azul. Here, Bernstein blends classical French training with neo-Spanish and Latin American influences. Dishes range from foie gras mousse with peach marmalade and brioche crisps and jamón-and-blue cheese croquetas with fig marmalade for appetizers to "short ribs falling off the bone" and steak frites (with both béarnaise and au poivre sauces for dipping) for the main event.

4. Wish, which was designed by famous designer Todd Oldham, features only a few striped booths and skinny bistro tables, complementing a curvy Art Deco bar. Known for its assortment of outdoor tables in the umbrella-shaded garden, Wish offers a multitude of technically proficient and ingredient-intense dishes, such as pan-seared diver scallops with squash, Brussels sprouts, pancetta and maple syrup. Also quite crafty are the desserts — try the vanilla pot de crème, topped with chopped, fresh oranges and pink peppercorns. It's refreshing and delicious.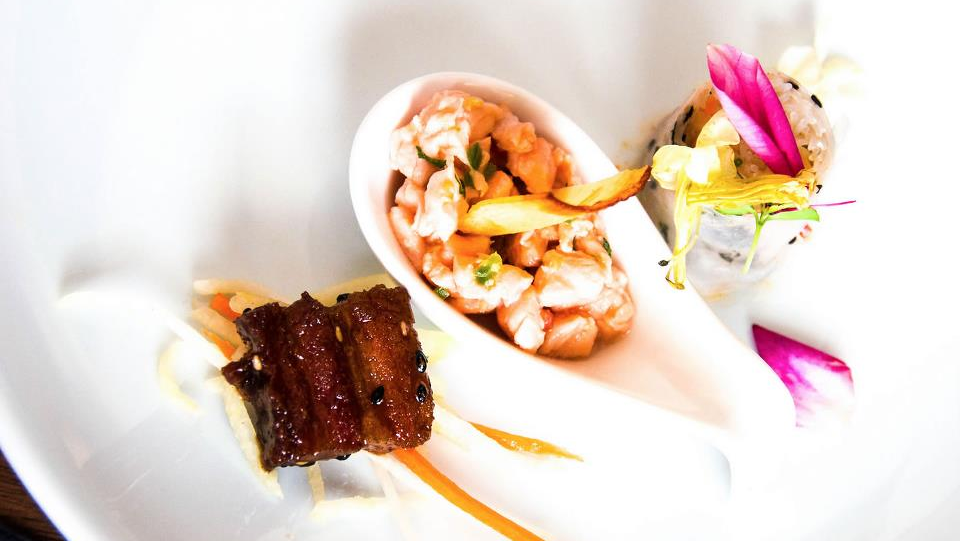 There are so many amazing restaurants here in Miami, but to get the best food experience, there are a few excellent events to take part in. For all those foodies out there looking to try something fun and exciting in the culinary world, here are the top five best Miami food experiences to dive right into.

DishCrawl Miami
Join your neighbors for a couple of hours of taste testing all the best foods in happening Miami locations in this restaurant crawl. Eaters will head to four different restaurants once signed up for DischCrawl Miami to experience some signature dishes from top local chefs, allowing them to learn more about just what's offered to the palate in this booming food town.

Miami Culinary Tours: South Beach
A fun experience for both locals and tourists, the South Beach Food Tour offers everyone a chance to get to know not just the staple restaurants in the area, but also the culture and history behind the city. You'll take an incredible culinary journey, stopping at about 7-8 places and tasting some of the best cuisine, along with getting informative background information on the city from a friendly, knowledgeable tour guide.

Miami Spice
From August 1st through September 30th, Miami diners are able to enjoy trying dishes from top chefs at fancy restaurants, all for a fixed low rate. During Miami Spice, the best-of-the-best in the restaurant industry fixes up delectable three-course menus for both lunch and dinner, and offer them at low rates starting at just $19, allowing everyone to dine at the most sough-after venues.

Taste the Nation
An evening that is packed with the most talked about chefs in Miami, gourmet food, and live entertainment, Taste the Nation is a not-to-miss food event. Over 50 restaurants pack the house, feeding guests their most delicious menu items all under one roof in efforts to help fight childhood hunger.

The Food Network South Beach Wine & Food Festival
February not only brings beautiful weather here in the Magic City, but it also shells out one of the most anticipated food events in the country. The Food Network South Beach Wine & Food Festival is a four-day food fest with celebrity chefs cooking up their favorite eats for spectators along with extravagant after parties that are criminal to miss.