What are the best restaurants in Montreal?
Answers from Our Experts (5)
While you're visiting this French-settled section of Canada, be sure to make a reservation to enjoy a French meal. These two Forbes Travel Guide Four-Star restaurants are sure to please your palate:

Known for its exquisite food presentation, Four-Star Toque! offers avant-garde French cuisine — try the princess scallops marinated in blueberry water — and 1960s décor in a convenient downtown Montreal location. It's advised to make a reservation at least a week in advance for this popular and sophisticated eatery, and while the restaurant describes its dress code as casual, eating here is certainly an occasion worth dressing up for — at least a bit. In the warm months, ladies don sundresses and men sport polo shirts and nice jeans. If you're visiting Quebec City, be sure to visit Four-Star Restaurant Initiale, situated in the Old Port district, which serves French cuisine with a modern twist. Because the restaurant procures its ingredients from local sources, you're sure to enjoy a fresh and delicious French meal. The fine-dining establishment is also pleasing on the eyes, with lots of open space and a simple but lovely cream and taupe palette. Its prix fixe menus include delicious dishes such as bass filet with white butter, artichokes and grilled leeks.
Given the recent opening of Maison Boulud at The Ritz-Carlton in Montreal, I'm quite focused on the city. I've been visiting my chef friends there for years, and I'm a big fan of a spectrum of places, including Toque!, Ferreira Café, Joe Beef and Au Pied de Cochon.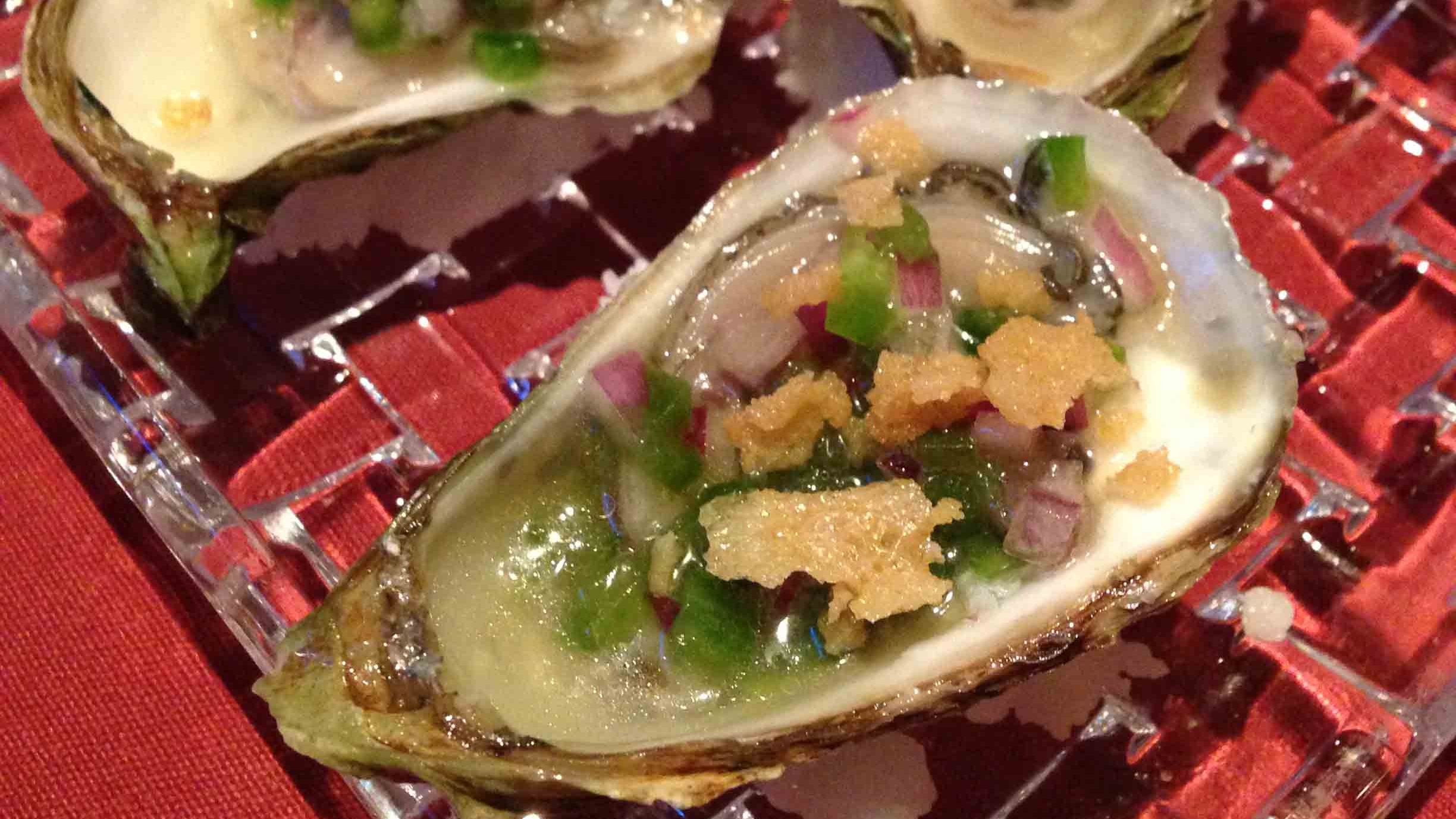 Oysters at Le Filet. Photo by Patricia Gajo

I have a personal rotating restaurant list that I frequent over and over again, that is, when I'm not busy testing out other restaurants for work. There are a solid five that I always go back to – each one depending on my mood.

When my fiancé and I need a little tête-à-tête, we head to Le Club Chasse & Pêche in Old Montreal. It has low ceilings, a handsome décor, contemporary French cuisine and a savvy sommelier. After dinner and dessert, if we feel like taking a stroll, picturesque, rue Saint-Paul is just a cobblestoned block away.

When it's time to catch up with friends, we all like gathering at Le Filet, which is run – no coincidence – by the same minds behind Chasse & Pêche. The seafood-focused menu is offered in tapas-size plates, perfect for sharing. Four words to remember: cavatelli with foie gras. In summer, the patio is the best spot in the city for late-night gossiping under the stars.

When there's an anniversary or life achievement to fete, after Milos, I now turn to Maison Boulud. There's something regal about its address in the historic Hotel Ritz Carlton – and, oh yes, the fact that celebrity chef Daniel Boulud is at the helm – that give weight to any milestone occasion.

When I don't feel like cooking during the week, I like the laidback attitude, attentive service and dependably satisfying but reasonably priced menu at Le Comptoir.

When I get a pasta craving, I head to Little Italy's Hostaria. The owner's sons, Massimo and Fabrizio, didn't fall far from the tree. They run La Bottega just across the street, which serves quite likely the best pizza in the city.
Though ultra-upscale dining certainly has its place in the Montreal food scene (the multi-course tasting menus at Toqué and Europea must be done at least once in your life) my personal favourite restaurants tend to lean toward more rustic indulgence than fussy finery. The blend of high end cuisine and a laid-back atmosphere means you can choose whether you want dress to the nines or show up in jeans, and either way you'll still feel like you fit into the five-star experiences. My picks all have a few things in common: They're all chef-owned and serve local, seasonal fare that's inventive and delicious. Here are my personal favourite, must-dine spots in Montreal.

Joe Beef / Liverpool House
Owned by David MacMillan and Fred Morin, these two spots which sit side-by-side in St. Henri are the ultimate in decadent dining. Though dishes run a bit on the pricey side, the cost is fully justified by the quality of ingredients and the inventive plates produced by the talented pair. Espousing a locavore, nose-to-tail philosophy, you'll find the seasonal menu stocked with a wide variety of proteins and backyard-grown produce (dine with a garden view during summer months!). I always order the oysters and consider the lobster spaghetti the ultimate indulgence, but you can also make an amazing meal by piling on the appetizers. With chefs MacMillan and Morin receiving international attention through appearances on The Taste and Anthony Bourdain's The Layover, be sure to book well in advance.

Le Filet
With a menu featuring multiple small plates, Le Filet is the less stuffy Plateau-located sister to Old Montreal's upscale Club Chasse et Peche. At $10 - $20 per plate, Le Filet is perfect for people who love variety and are good at sharing. I adore the raw fish dishes (the crudeau with Japanese plum, wasabi and cucumber is to-die) and appreciate that they also have a not-so-secret vegetarian menu. All you have to do is ask!

Garde Manger and Le Bremner
It was a lobster poutine that put Chuck Hughes on the map, when he became one of the few Canadian competitors to beat out Iron Chef Bobby Flay. The Food Network star owns two restaurants in Old Montreal, Garde Manger, which turns into quite the party scene after the 9pm seating polishes off their last bites of dessert; and Le Bremner, which focuses more on seafood and pizzas. How to choose? I go to Garde Manger if you like to dance on your table after you've eaten on it and Le Bremner if you're looking for a smidge more peace and quiet.

Tuck Shop
The menu changes frequently at Chef Jon Bloom's restaurant, tucked away in an up-and-coming stretch of St. Henri. Featuring local, seasonal ingredients, the one-page menu is flavoured with French, British, occasional Asian and even Carribean influences, for a dining experience to fit every taste. A lot of Montrealers consider this spot their go-to resto for an easy, delicious meal with friends, so book ahead.

Kitchenette
Chef Nick Hodge brings a welcome southern flavour to our very cold city with dishes that speak to the soul with great flavour and a dash of whimsy. It's a bit out of the way of the traditional restaurant scene, but the brussels sprouts with grits, bacon and egg are worth a trip in and of themselves. And that's just an appetizer.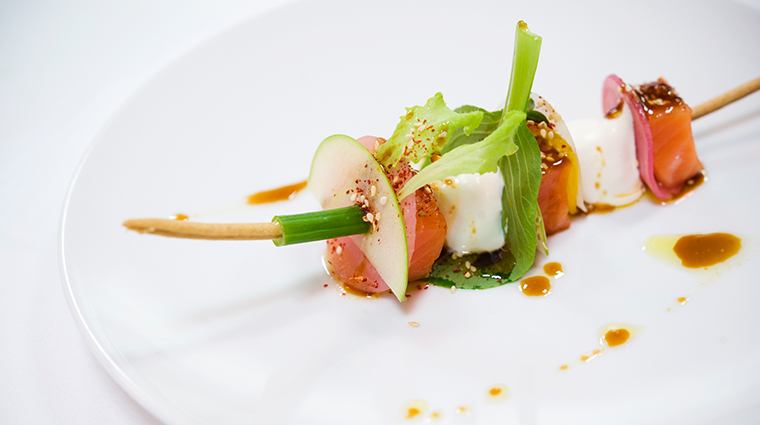 Courtesy Toqué, Hans Laurendeau, Studio Shoot
Montreal is the second largest French speaking city in the world, after Paris, so it is not surprising that many of the best restaurants offer French cuisine! Montreal is definitely a gastronomic destination and most foodies around the world have it on their bucket list of places to visit.

As a Clefs d'Or Concierge in Montreal, I have the opportunity to interact almost on a weekly basis with all of the best restaurants, with their chefs, Maître D's and owners and I had the chance to eat in most of them. My favorite restaurants list is based as much on my personal experiences as on the feedback I receive from the thousands of guests for whom I made restaurant recommendations and reservations and from regular conversations with my fellow Clefs d'Or Concierges. I always take into consideration, first and foremost, the quality of the food. Then, I look at the quality of the service, the knowledge of the staff, their efficiency, the creativity of the chef, the originality of the presentation, the decor of the restaurant, the ambiance, the location and finally the overall dining experience that will be offered to my guests.

So, I'm happy to share with you my personal list of the best restaurants in Montreal. I chose them because I believe they deserve to be recognized for their talent, passion, efforts and continuous pursuit of excellence and because they constantly make my guests very happy and satisfied !

The top 5 restaurants in Montreal (Not necessarily in order):

Restaurant Européa: Located in the heart of downtown, on beautiful rue de la Montagne, Européa has two «Grands Chefs Relais et Châteaux» in the kitchen, to make sure your meal will be unforgettable: Jérôme Ferrer, the most famous chef in Montreal and Ludovic Delonca, his partner and co-owner since the beginning. To complete them, an executive pastry chef, Roland Del Monte, that was named «Meilleur Ouvrier de France» (Best Worker of France).

If you feel adventurous, take the 10 course tasting dinner with wine pairings and you'll probably end up tasting 12 to 14 courses, depending on the chef's inspiration of the moment, and certainly see as many different plates and other recipients for the most outstanding and creative presentations! The service is equally amazing as you will get a full description of each and every dish presented to you.

Toqué!: Located in the International Quarter, in between the hustle of downtown and the charm of Old-Montreal, you will feel very comfortable in their contemporary decor and very spacious seating arrangements. The chef-owner Normand Laprise is considered by many to be the most creative chef in the country and the pioneer of modern, experimental, molecular French cuisine in Montreal. He has been an inspiration for the new generation of young, daring chefs who keep pushing the limits of gastronomy in the city. The dining room is under the masterful supervision of co-owner Christine Lamarche, whose attention to details and flawless service is remarkable. Normand Laprise is proud to have developed privileged relationships with local farmers and breeders, which allow him to guarantee the quality and freshness of all ingredients used in the kitchen as well as being able to offer local Quebec products all year round.

Club Chasse et Pêche: (The hunting and fishing club) Located on charming, cobblestoned, St-Claude street, in the Old-Montreal neighborhood, steps away from the Old Port and Place Jacques-Cartier. Claude Pelletier is one of the best chefs in the Province of Quebec; he is a master at assembling creative yet simple dishes whose flavor and balance are just perfect for your palate. Whether you choose from the fish and seafood side of the menu or from the game meats side, every bite will be delicious and highly enjoyable. Co-owner Hubert Marsolais manages a team of professional service people who are knowledgeable, attentive and friendly and he makes sure that no detail is overlooked and everybody's needs are anticipated.

Estiatorio Milos: The original Milos restaurant, property of the Spiliadis family, who also owns Milos Restaurants in New York City, Las Vegas, Miami and Athens. About 10 minutes drive from most downtown hotels, Milos is a destination by itself. You will find a great selection of the freshest and most delicately prepared fish, seafood and other Greek specialties. The service is friendly yet extremely professional and caring. The decor is spectacular and leaves no doubt that you are in a Greek restaurant, with its white plaster walls and fresh catch-of-the-day display, where you can personally choose the fish you're going to eat. There are absolutely no compromise here about the quality of the food and the whole dining experience is more like a feast than a meal.

Au Pied de Cochon: Located in the Plateau neighborhood, it is a modern bistro where the emphasis is definitely on the outstandingly daring, extravagant, borderline crazy, recipes of chef Martin Picard, one of the young apprentices of Normand Laprise, that I was referring to earlier! The menu revolves around two main ingredients: Pork and foie gras, and around two main concepts: Very creative and very rich. It is a foodies' heaven where taste prevails over all other considerations; definitely not a place to go if you are serious about your weight-loss diet! Because you cannot come to Montreal without trying our most famous National dish, the poutine, you might as well try the highly heralded Poutine au Foie Gras. Chef-owner Martin Picard has a near-cult following, so tables here are regularly booked up a month in advance.

Montreal is so rich in great restaurants that many other fine dining establishments could have easily been on this top 5 list. It was so difficult not to include them that I feel like you should at least know who they are, so if you are ever invited to dine at Maison Boulud, La Queue de Cheval, Les 400 Coups, L'Épicier, PortusCalle or at Garde Manger, you really should do everything in your power to go experience their fine cuisine.

Bon appétit!