What are the best restaurants in Nashville?
Answers from Our Experts (5)
Nashville is home to two star-rated restaurants. Four-Star Capitol Grille, located inside The Hermitage Hotel, is known for its power lunches and pre-theater meals, thanks to its close proximity to the Tennessee Performing Arts Center. You'll find a menu chock full of sustainable Southern fare, with seasonal dishes such as Sunburst Farms trout, truffle mac and cheese and a strawberry almond tart. The trendy Hutton Hotel houses Four-Star restaurant 1808 Grille in the city's West End district. Chef Charles Philips crafts New American cuisine with hints of Southern influence for tasty dishes such as braised short rib with cheddar boxty, Guinness demi and horseradish cream.
From the high-end perspective, The Catbird Seat. The team at The Catbird Seat has trained under some of the best chefs in the world, but they are doing something at what, in my opinion, is a fairly affordable price point relative to the amount of labor and cost of ingredients. They are cooking with detail and you're eating 10 courses, but it's tricked out and they're serving the food and you're watching them sweat. It takes away the pomp of fine dining.

City House is obviously a staple for us — Tandy Wilson makes solid food. I love his simple vegetable dishes — recently I had this wonderful arugula and peanut salad. And I love all the pizzas; there isn't one I love more than the others. Plus, I think City House has some of the best desserts in town. I enjoy going to Husk, I've had several good meals there. I love Bella Nashville; they make great pizza in the farmers market. Obviously, Arnold's Country Kitchen, everybody talks about it and for good reason. It's just good, down home, warm food that makes you feel good — and sleepy. There's no pretension at all. Arnold's makes great southern greens with fried chicken or a pork chop — you can't go wrong.

And then there's Las Americas on Nolensville Pike; it's a taqueria and pupusería. I like to get a pupusa, which is this moist masa dough that is very thin and flat and filled with some combination of meat, beans and cheese. It's cooked on a pancake griddle and comes out softer than a tortilla. They serve it with a chopped cabbage condiment. It's all so good and so cheap.
I love to get all of the appetizers at City House — cured meats or whatever they're doing is always so good. At Rolf and Daughters, I love to order the chicken.
I love The Yellow Porch. It's very good, and that's been around for a while, sort of a Nashville staple these days. Germantown Café is really good, too.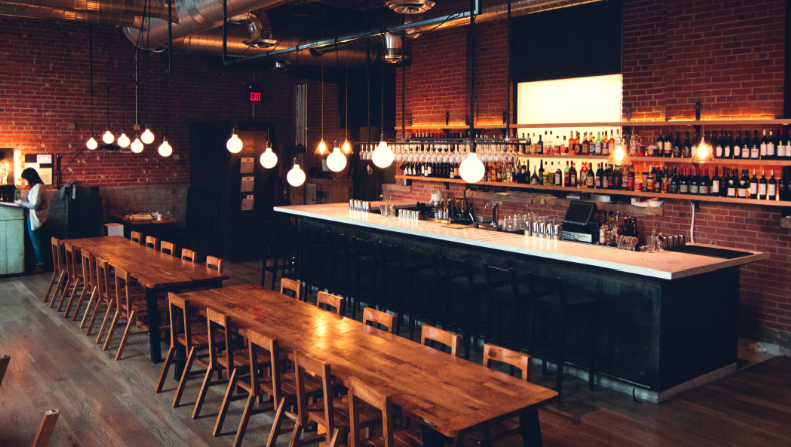 Rolf and Daughters. photo credit: Eric Staples
I'm a big fan of a well-prepared meal. I'm a bigger fan of not doing dishes. But I'm the biggest fan of not walking out of a restaurant feeling like it was a wasted meal—and when you're on vacation, you only have a few chances to get it right. So here's a little cheat sheet to some of our favorite spots in Nashville.

1. The Catbird Seat. ​Thirty-two coveted seats around a U-shaped kitchen. Two widely acclaimed chefs with wildly inventive imaginaitions and palates. One too many drinks. These are the makings of a night at the Catbird Seat, arguably Nashville's most modern, far-reaching restaurant. With a prixe-fixe menu of small plates and courses, chefs Josh Habiger and Eric Anderson will be at work in the center ring, awakening your senses and your memories of chemistry class. A night at The Catbird Seat is part food-business and part show-business—and it's the best reservation in town (just make sure you make it about two months in advance).

2. Rolf and Daughters. Located in Nashville's newest nook of Germantown, Rolf and Daughters offers a cozy atmosphere and delicious food, coupled with a near pefect list of specialty cocktails that make it a must-see stop on any trip to Nashville. The menu of small plates, appetizers and pasta bowls begs for an "order as you go" and "share everything" mentality, with chicken liver pate, beef skirt and Siberian kale among the most popular items. If you're in the mood for bourbon, don't miss the "Man Around Town," an old-fashioned with a hint of chocolate.

3. Margot Café & Bar. Recent James Beard Award nominee Margot McCormack whips up rustic French and Italian cuisine in this East Nashville cafe, a rehabbed 1930s-era service station. Though the small menu changes daily, you can always expect a fresh, simple and seasonal meal that is both affordable and sophisticated. It also helps that this is where my husband and I had our fist date...but I'm not biased.

4. The Yellow Porch. Sometimes I can get a little tired of the restaurant "scene" in Nashville, and if that's happens, we make a reservation at The Yellow Porch. With a list of rotating seasonal entrees (including a perfect filet mignon every single time), this spot offers a warm, cozy dining experience and a long history in Nashville. The wine list is intriguiging and eclectic, the service is welcoming and helpful, and the mussels? Order them.

5. City House. Ask anyone in Nashville what restaurant to try, and most likely this will be the restaurant they suggest. With famed chef Tandy Wilson at the helm, and multiple James Beard Award nominations under his belt, City House has propelled Nashville's restaurant scene beyond just regional recognition, and rightly so. With inventive twists on rustic Italian fare, Wilson keeps it approachable with a wood-burning oven that fires up pizzas, including the popular Belly Pizza that features belly ham, mozzarella, grana padano, oregano and chiles.

Since I really can't just choose five restaurants, here are a few others you might consider: Burger UP, Lockeland Table, Silo, Rosepepper and The Silly Goose. Bon Appetit!