What are some things to know before visiting New York City?
Answers from Our Experts (3)
There used to be a time when venturing into certain parts of central Manhattan at any time of the day, but especially at night, were be considered huge no-no's. Nowadays, there aren't very many areas of the city where that is the case, even the infamous Hell's Kitchen neighborhood (next to the Times Square area) is but a shadow of its former self. Filled with trendy restaurants and bars (appropriately named Restaurant Row), and within walking distance from many tourist attractions, as well as the Hudson River pathway, this once dangerous neighborhood is a wonderful place to meet friends, or even stay in.

New York is a walking city, so you should be prepared to do a lot of it (it's the best way to see the city) and there are always tons of tour options as well if you would rather have a guided experience. Eating in NYC can be expensive, but there are also really great options where you don't have to spend a lot of money. Each neighborhood is different, so I always encourage visitors to venture out by train to outter boroughs such as lower or upper Manhattan areas, or even Queens (for great ethnic food) and Bronx for great parks.
Be ready to take advantage of free or discounted museum days, free events at the parks (especially during warmer months) and city passes for discounted access to major attractions and tours. Most of the information is on each attraction's website, but it's also a good idea to coordinate with the concierge at your hotel for passes and discount options. Make sure to grap one of the city's free subway maps (most tourist shops sell them, but you can get them for free at the kiosks in the subway platforms).

Lastly, New Yorker's have a reputation of being rude. We aren't really - but we are always in a hurry and have somewhere to go. We love sharing our city with others, but don't ever really appreciate having them block our way as we are running through (so if you are admiring those awesome skyscrappers and taking pictures, please step to the side of the sidewalk). Our pace if always hurried, even when it doesn't need to be, but we are happy to give directions and share our favorite spots for anything and everything. The hard part will be identifying who is the New Yorker and who is the visitor, meaning you might have to ask a few people before finding someone who knows, especially in a touristy area.

Enjoy the city. Walk as much as you can (pack comfortable shoes), and venture out of your hotel area.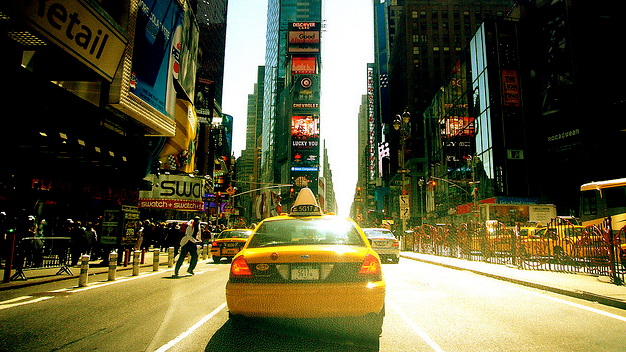 by Kaysha via Flickr
Even after living in NYC for 10 years, I still find the city to be a little daunting. For visitors it can feel down right chaotic, but, with these tips, I hope you find exploring the area a little easier.

Wear comfortable shoes: New York is a walking town, and using your legs as transportation is one of the best ways to see the city.

Dress in layers: Unless it's the dead of winter, you will find the city comes in varying degrees of temperatures. The subway can be freezing cold, while the subway station is sweltering. The same can be said for some stores and restaurants, in the summer, they tend to blast the AC while the outside air is hot and muggy.

Navigate the subway: There is no reason not to take the subway; it's safe, cheap, and often the quickest way to get around in the car-choked city. Get a week pass, it costs around $30 and lets you take the subways and busses as much as you would like. Just beware; you can't swipe the card more than once every 20 minutes at the same station. Also, if there is a glitch in the card, for example you swipe it and it says "just used," take it to an agent. Often times they understand.

Directions: On this note, a helpful trick I used when I first moved to NYC is to remember, if you are going up in numbers, you are going "uptown," and if you are going down in numbers or from Manhattan to Brooklyn, you are going "downtown." And don't forget, the subway map is your friend, and, most people are happy to point you in the right direction if you just ask.

Don't block traffic: I know it's hard not to stop and stare; there are some amazing things to see in NYC. But, if you don't want to get shoved or yelled at, try to pull over to the edge of the sidewalk to take pictures. That way, busy New Yorkers can bustle by.

Street food can be good: All over the city there are halal carts serving up gyros, kebabs, and falafel. A lot of these are good, but a tip to pick out the best is to look at the crowd. If there are two near each other and one has people waiting, that one is a safe bet. As for hotdog carts, well, those are fine, though there are plenty of really good hotdogs to be found, like at Crif Dogs in the East Village. Oh, and stay away from the pretzels at those stands, I have yet to have one that wasn't stale and bland.
When looking for flights, compare flights and times. Between JFK, LaGuardia, and Newark airports prices can vary wildly. You might find a great deal you didn't expect to find.

Most hotels do not include breakfast in the nightly rate. If you want to immerse yourself in the neighborhood, read up on breakfast options in the neighborhood or check with your hotel concierge for suggestions with personality.

New Yorkers are kind, but don't get in our way. Almost all New Yorkers are happy to share directions, help out with the subway, and even recommend restaurants or bars in our neighborhood. Just don't clog up the sidewalk taking photos and stopping short to look at your map.

Restaurants book up in advance. If you have your eye on certain restaurants (and want to eat at a normal time) be sure to make your reservations in advance. Policies vary for each restaurant, but many open reservations one month in advance.

Taxis aren't always the fastest transportation. While you get to see a lot of New York from a taxi, they also can get stuck in traffic and barely move. Download a subway app on your phone and purchase a MetroCard to utilize the quick and efficient subway system (it operates 24-hours a day).

Utilize your weekdays. Tourist attractions are busiest on weekends, so plan accordingly. Utilize your weekdays (and specifically, mornings) to visit museums and attractions at their least crowded. On the weekends, join locals at farmers markets or picnics in parks.