What are the best kid-friendly restaurants in New York City?
Answers from Our Experts (7)
New York has no shortage of restaurants, and that includes plenty of kid-friendly places. Some eateries such as L&B Spumoni Gardens and Serendipity 3 have been around for decades, while others such as Barking Dog, Brooklyn Diner and Carmine's serve comfort food that the whole family will enjoy.

Barking Dog has-you guessed it-a canine theme, which kids and adults alike can appreciate. The doggy décor and the American style comfort food including sandwiches and salads is a family-friendly combination.

At Brooklyn Diner, you're served large portions of comfort food your mother probably cooked such as rich macaroni and cheese. Known for being laid-back and having a faux 50s vibe, the quintessential diner is perfect for a night out with your kids.

Another restaurant that does not subscribe to the notion that less is more is the Italian family- style gem Carmine's. Though they have opened a few locations since, the first Carmine's appeared in Manhattan in 1990. In what looks like your Italian grandmother's home, you'll be served heaping piles of steaming pasta that the whole family can share.

L&B Spumoni Gardens displays a sign above the restaurant that reads "Family-owned for over 70 years," which is the main reason to take your family to this traditional pizza joint; they know pizza. So order some Italian ice and one of their "thick Sicilian pies," and mingle with gaggles of families.

The classic New York kid spot-Serendipity 3-offers "real" food like hamburgers and hot dogs, but it's best known for its famous frozen hot chocolate, a sweet treat for both kids and adults.
The best kid-friendly restaurants in New York City are:

Café Fiorello

Carmine's

Landmarc

Ninja

Rosa Mexicano
The best kid-friendly restaurants in New York City are:

1. Mars 2112 (1633 Broadway at 51st Street). This Times Square spot is an over-the-top version of the red planet, where the surroundings are out of this world even if the food isn't necessarily stellar. The menu zigzags all over the universe, serving everything from Mariner pizza and smoked-duck quesadillas to sushi. If the kids can't sit still, send them into the interactive game room. Be careful: There are aliens walking about looking to have their pictures taken with your kids.

2. Two Boots (201 W. 11th St.). Two boots is a great place for both children and adults who would like to revisit their own childhoods. Who can argue with two boots — one in New Orleans and the other in Italy? That's where the name comes from. It serves a great variety of pizzas, like the Earth Mother, the plain slice and the mild margarita. For the meat lovers, there are lots of other options, but children are more than welcome and are served in break-proof plastic ware.

3. Jekyll & Hyde (91 Seventh Ave. S.). Jekyll & Hyde is a fun and unique place. It's filled with a wild collection of strange artifacts as well as special effects and all sorts of scary things that come to life and talk to you. There are also great characters walking around and visiting with you, creating on-the-spot shows for all to enjoy. There are four different floors, all with different entertainment. The food is decent and the portions large. It's unlike anything you've ever seen.

4. Brooklyn Ice Cream Factory (Fulton Ferry Landing at Old Fulton Street, 718-246-3963). The eight flavors served in this classic ice-cream parlor may seem as old-school as its 1920s fireboat house location, but the scoops ($4 for a single) are made from fresh, high-quality ingredients, such as Bensdorp cocoa. Postcard views of Manhattan and the Brooklyn Bridge are within sauntering distance; it's a dream come true.
The five best kid-friendly restaurants in New York City are Serendipity 3, Ellen's Stardust Diner, Alice's Tea Cup, American Girl Place and Max Brenner's chocolate café.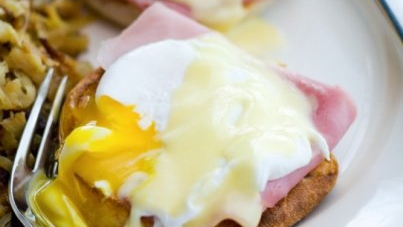 Want to bring share the fine-dining experience with your little ones? Luckily there are several New York restaurants that are more than happy to oblige, such as Landmarc. Sure you'll find the mac and cheese and grilled cheese on the kids menu, but little foodies can also indulge in green eggs and ham (spinach & basil pesto, cheesy whole wheat toast 
served with sliced apples & bananas) and orecchiette. The environment is welcoming and friendly, a great place to get your little ones on the road to fantastic eating.

The Sea Grill, another great spot to check out with kids is right by one of NYC's most beloved landmark: Rockefeller Center. Get a seat overlooking the ice skating rink during winter month, or reserve a table outside during the warm months and sit back while the friendly staff caters to your little one, serving up their seafood flair like lobster mac and cheese and jumbo lump crab cake.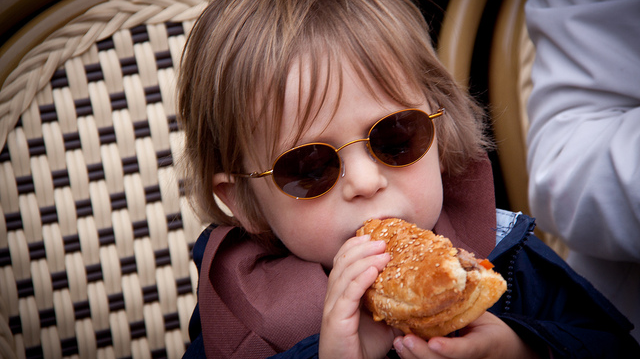 Photo by Chris Goldberg via Flickr
New York might not seem like a kid-friendly city, and granted, there are plenty of places not to take your child, especially the younger ones; however, it's not impossible to find a restaurant that caters to kids, especially the budding foodie. My first choice, Mira Sushi & Izakaya, where they serve a plethora of fun, innovative Japanese eats including tangy Kyoto Crunchy Sloppy Joes, crisp wanton tacos with beef bulgogi, and bi bim bap, which is great for its simplicity. Also, if your kids are sushi fans, they offer some fun rolls like the Magic Dragon with tempura shrimp, eel, and avocado.

Another decidedly kid-friendly place is Alice's Tea Cup, which has three locations. Here, you can get delicious adult fair like the croque monsieur, and then for your child, get the grilled cheese. You can also order peanut butter and jam sandwiches, cookies with milk, and even a small pot of herbal tea and a scone, so you child can have teatime with you.

Next on the list, bring your daughter and her doll to the American Girl Cafe in Midtown, where, you guessed it, they have seating for both the humans and the toy. Of course, only one actually gets to eat, and there they make it extra exciting by offering meals like the interactive tic-tac-toe pizza, and the picnic lunch, which has a tiny hamburger, mini hot dog, macaroni and cheese, and some fruit for good measure. Just make sure you book ahead, for little girls, this is the place to be.

For a funkier sort of dining experience, try Yaffa Café in the East Village. This Mediterranean-esq restaurant features zebra-print booths, bizarre artwork, and a large backyard. Also on the fun side is Cowgirl Hall of Fame in the West Village. Not only is the décor entertaining to look at, but also they have a great kid's menu with items like Frito pie and pulled pork sandwiches. On that note, you could also take your tots to Blue Smoke, a barbecue joint in Gramercy that serves good food, and has plenty of space to accommodate kids.
1) Ellen's Stardust Diner located conveniently to Broadway Theaters and Times Square on Broadway and 51st Street. Classic Diner cuisine in a 50s retro atmosphere. The staff perform random skits of music, song and dance. Open for Breakfast, Lunch and Dinner daily.

2) Serendipity: East 60th Street between 3rd and 2nd Avenues. An old fashioned general store ice cream parlour.

3) Alice's Tea Cup: Several locations around Manhattan; young girls can wear faux wings and glitter; great for children's parties.

4) Carmines West 44th Street and Broadway and Upper West Side: Extra large portions are great for family style sharing.

5) Any restaurant with a view or if they have a large open space with an interesting design and colorful decorations I find children enjoy the most: TAO, Ruby Foo's, Landmarc, Robert, Boathouse Cafe, Mesa Grill, among others.