What are the best Italian restaurants in New York City?
Answers from Our Experts (13)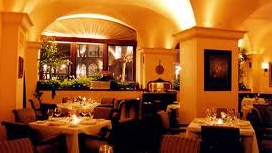 Scalini Fedeli
Most Romantic: Scalini Fedeli
Best Traditional: Il Mulino
Best Seafood: Marea
Best People Watching: Elio's
Best Roman Jewish: Lattanzi
Most economical: Gino's Pizza East 83 Street

I'm Italian and my mom's Italian and we have such good cooks in my family I usually steer clear of Italian places, but Felidia is my favorite. At Felidia, you never get a bad meal.
There's a pizza place called Lucali in the Cobble Hill neighborhood. It's the best pizza you'll ever have — it's fantastic. Everything is made from scratch. You can watch them make everything. Their ingredients change depending on what they have that's fresh. You'll walk in and see some big baskets of mushrooms, and those mushrooms are going on the pizzas tonight and that's that. If they don't have good mushrooms, you won't get mushrooms on your pizza. They don't have any wine lists, so you're encouraged to bring your own wine, which for me is great. So it's a great Sunday-night activity to just bring a really nice bottle of wine and have a great pizza.
I don't know if it is the best but I would say my favorite right now is Eataly because you can really get the feel of different concepts and different ideas and you can eat different food inside. Based on Italy that is important.
Favorite Italian restaurant… wow, it's a tough call. I like Marea on the high end. I love Cesare Casella's place Salumeria Rosi [Parmacotto] and that's much more causal. I love all of Mario Batali's places — Lupa is probably my favorite of his. There's so many.
Sandro's on the Upper East Side. Sandro Fioriti has been around for decades and I'm very fond of him. He is from Rome. He came here in the mid-'80s and has quite a reputation. He's one of the early guys in New York who wasn't cooking northern Italian — he was really cooking the food of Rome. He can do it with the best of them. I'm very fond of Sandro.
If you talk about Italian food in New York, you can't go wrong with Il Mulino and [our maître d'] Claudio. That's our go-to birthday or date place.
Peasant is one of my favorites. I like Marea. Brio is right next door to me; I love it. It's more of a trattoria; it's fantastic. There's another little place called Tiella that's on First Avenue and 61st with very good food. I like Babbo. And I like Lincoln Ristorante.
I like the Chelsea Market and Eataly. I'll take the Italian experience. It's twofold. Number one, you have to go to Rocco's on Bleecker Street and have a cannoli. Then you go to Ferrara Bakery on Grand Street and get the sfogliatelle. I am not kidding you, you have to have it. And if you're not sugared out go to Di Palo's and get some fresh mozzarella and take it back to you hotel room. Don't speak to anybody, just sit down and eat the fresh mozzarella. To me, that is a true Italian experience.

I like L'Artusi. It's a perfect hybrid of Italian and American food. Unpretentious and delicious. I went for brunch last week and I had a simple wild blueberry cake and scones. I went back for dinner a few nights later and I had spaghetti with garlic and tomatoes — it made me giddy.
My favorite Italian restaurant is on Avenue B in the East Village. It's called Barbone — it's owned by a friend of mine. The food, the service, the hospitality and the ambience are just unbelievable. They even have a backyard. It's authentic Neapolitan food, and it's really good.

Another really good Neapolitan restaurant — it's actually a pizzeria — is Forcella. It's across from The Bowery Hotel. This place has the best pizza in New York. The owner and pizza master Giulio Adriani imports the wood-burning ovens from Naples, and he just makes these pizzas that are so delicious.
I'm married to an Italian and I cook at home. People have this idea that chefs are always outside eating in their restaurants. And it's true, but it's usually always something unhealthy late at night. Then, when we do cook, it's usually at home. I mean, I cook with my daughter Francesca and I have to tell you, the last thing I want to eat is Italian food. I'm looking for wasabi, I'm looking for dumplings, chile, things like that. I'm going to pass on that question because the last time I had Italian food in New York City, I was at Patsy's with a friend of mine and that is like a total throwback. Every Italian restaurant has its own niche.
Currently, I like Joe Bastianich and Mario Batali's Del Posto. The chef, Mark Laudner, is a very special guy who brings a lot to the table. He has tremendous skill and personality.
With so many great Italian restaurants in the city, choosing which one to go to can be a challenge. We have two Little Italys, one in Manhattan in the Lower East Side and on Arthur Avenue in the Bronx, an Italian section in south Brooklyn, and hundreds of Italian eateries (some under the radar) scattered throughout all five boroughs. Of these, here is my top seven.

1. Lincoln Ristorante: Though it's been open only a handful of years, this gorgeous, glass-sided restaurant nestled in Lincoln Center churns out some of the best Italian food in the city. Thanks to chef Jonathan Benno, you can get perfectly executed seasonal pasta dishes, their rotating regional specials, and pair it all with an exceptional 400-plus bottle wine list.

2. L'Artusi: One of the stellar restaurants by Gabe Thompson, this bi-level West Village eatery serves small plates to go with their well-curated wine list.

3. Babbo: Mario Batali and Joseph Bastianich have been rocking this eatery for 15 years. Yet, despite the big names, the space is modest and nestled in a quaint carriage house.

4. Del Posto: Another from the Batali-Bastianich team, with live piano music, marble and mahogany décor, and plush booths, this Chelsea spot maintains elegant class while churning up superb plates of pasta and other Italian specialties.

5. Torrisi Italian Specialties: Head to NoLita for a taste of Rich Torrisi and Mario Carbone's Italian-American fare. Here you can get a seven-course, $65 prix fixe, just make sure to stop at Parm, their sister café next for a slice of ice cream cake.

6. Marea: Michael White knows his Italian, and at this Midtown spot, fine dining, fine house-made pastas, and fine wine go hand in hand.

7. al di la Trattoria: In Brooklyn there are a lot of Italians, so it goes to reason one of the best Italian restaurants would be there. Here, owners Emiliano Coppa and chef Anna Klinger serve up Northern Italian fare to hungry visitors and Park Slope residents.