What are the best restaurants in New York City?
Answers from Our Experts (18)
Critics often label New York City as one of the best restaurant cities in the world, so a fine dining experience is a quintessential part of any trip. With exceptional food, elegant surroundings and attentive service, these Forbes Travel Guide Five-Star restaurants are the best places to book a table.

Touted as one of the top French restaurants in the country, the Forbes Travel Guide Five-Star Daniel in New York's Upper East Side is a playground for the city's elite to see and be seen, so dress to impress. A trip to world-renowned French master chef Daniel Boulud's flagship restaurant requires a reservation — unless you're just grabbing a cocktail like the Smokey Bandit in the bar. Redesigned in 2008 under the direction of famed designer Adam Tihany, the space imparts a feel of classical sophistication with a touch of whimsy, thanks to touches such as vine-like wrought iron sconces and Limoges chandeliers. The James Beard Award-winning restaurant is known for its elegant plating and use of local seasonal ingredients, which are incorporated into the ever-changing three-course prix fixe ($105) and six ($185) or eight-course ($205) tasting menus. If you're looking for a lighter — or less expensive — dining experience, you can dine à la carte in the sophisticated lounge. The artistic French dishes (with an American twist) range from a delicious array of seafood, meat and vegetarian options, including a slow-baked sea bass with Syrah sauce, roasted veal tenderloin with artichoke barigoule and mousseron and Swiss chard ravioli. On our last visit, the attentive staff helped us navigate the 1,500-bottle wine list (pairings available) and amend the tasting menus to fit our preferences and dietary needs. Details like flower petals suspended in the ice cubes of your cocktail and a basket of warm madeleines at the end of your meal keeps Daniel established as one of the most elite restaurants in New York City.

Housed in an eloquent Art Deco building in New York's historic Flatiron District, the high ceilings, bountiful floral arrangements and intricate light fixtures do not take away from executive chef and owner Daniel Humm's French-influenced seasonal cuisine at the Forbes Travel Guide Five-Star Eleven Madison Park. One of our favorite things about the New York contemporary French restaurant is the mix-and-match menu, on which dishes are listed solely by their principal ingredients. You are invited to share any thoughts or preferences — including any ingredient dislikes — and allow the chef to design your meal from there. The innovative format allows you to be as adventurous or choosy as you want — a true rarity in upscale dining — and is meant to establish a dialogue between you and the kitchen. Open for lunch (four-courses $74; tasting menu $125) and dinner (four-courses $125; tasting menu $195), the Five-Star New York restaurant is truly an exciting culinary journey — one plate at a time.

Located within the Five-Star Trump International Hotel & Tower, chef Jean-Georges Vongerichten's flagship restaurant has continued to redefine French cuisine while remaining an icon for chefs — and diners — from around the world. The sleek dining room at the Five-Star Jean Georges reminded us of an extra-large egg, thanks to the curved white seating, soft round lighting, pale white walls and sheer drapes. The New York restaurant serves a signature, three-course prix fixe menu ($108) that incorporates an Asian flair to traditional French cuisine. In an effort to allow the essence of each ingredient to shine through, dishes such as the sea trout and oyster tartare with horseradish and lemon and duck breast with cracked almonds and Amaretto jus are not plated in an overly complex manner with unnecessary fanfare. The dessert menu changes often, but you can always count on the signature molten chocolate cake having a presence. With a number of prestigious James Beard Awards under its belt (not to mention your own captain, waiter and busboy) an experience at Jean Georges is the epitome of fine dining.

When it comes to seafood, nothing compares to the Forbes Travel Guide Five-Star Le Bernardin, touted as one of the best restaurants in New York City. The recently revamped dining room features a lighter color scheme, a large triptych painting of a stormy sea, curved dark leather banquettes and translucent, silvery fabrics on the windows. Legendary chef Eric Ripert has divided the menu into three playfully named sections: "Almost Raw" (hamachi lettuce roll with mint and Thai basil), "Barely Touched" (charred octopus with green olive and black garlic emulsion) and "Lightly Cooked" (bread-crusted red snapper with smoked red paprika sauce). For carnivores, a handful of meat dishes are available upon request. The New York City restaurant offers a three-course prix fixe dinner menu for $125, a seven-course tasting menu for $145 ($235 with wine pairings) and a ten-course chef's tasting menu for $190 ($330 with wine pairings). If you want to experience Le Bernardin without breaking the bank, we suggest the three-course lunch menu for $70, or the city harvest menu (offered exclusively in the lounge), a steal at just $45.

If you want to taste world-class sushi, be prepared to pay for it. A dining experience at Forbes Travel Guide Five-Star Masa will cost you $450 to $600 per person (before drinks and tip) depending on the availability or seasonality of the ingredients used in the 26-course pre-set menu. But for that price, you'll get to experience chef Masa Takayama's flawless sushi preparations utilizing 20 to 25 different types of fresh seafood (flown in daily from Japan) and luxury ingredients such as: truffles, Ohmi beef, foie gras and caviar, which generously topped our tuna belly. The best seats in the house are at the sushi bar (made from a gorgeous slab of Japanese cypress hinoki wood) where you can watch the sushi chefs in action and — on occasion be served right out of their hands. We suggest getting sake — the restaurant's forte — in lieu of regular wine. The list changes seasonally, but always features six varieties in addition to a private label. Having just 26 seats and serving lunch and dinner during only a four-hour time period, reservations are required. If you'd like to cancel or reduce your party size, be sure to give at least 48 hours' notice to avoid being charged a hefty $200 per person. Don't let the price tag of your meal dictate what you wear. The Five-Star restaurant does not have a stuffy dress code and considering all you'll be eating, you may as well be comfortable.

The Forbes Travel Guide Five-Star Per Se bears the same blue front doors as chef and owner Thomas Keller's French Laundry in Napa Valley, but sweeping views of Central Park and a more cosmopolitan design scheme bring you back to New York City. It will take you hours of choreographed service to get through one of two nine-course tasting menus (a chef's tasting and a tasting of vegetables) comprised of dishes such as butter poached Nova Scotia lobster, herb roasted Elysian Fields Farm's lamb and oysters and pearls (as in tapioca), a legendary favorite from the French Laundry. Per Se is committed to using fresh, seasonal ingredients — accented with high-end flourishes like nine varieties of salt and artisanal butter — so you'll never have the same dining experience twice. Each nine-course feast costs $295 inclusive of service, but not tax. Wine is available by the glass, bottle, or half-bottle, but for the ultimate experience, our Forbes Travel Guide editors suggest the pairings which begin at $295 per person. The Five-Star New York restaurant also serves a five-course tasting menu for lunch Friday to Sunday that costs $185. For an even less formal option, try Per Se's salon where you can order many of the tasting menu dishes individually without committing to a nine-course meal or making a reservation — which will otherwise need to be made at least one month in advance.

We could all take a page out of Mario Batali's book, and his Five-Star restaurant, Del Posto, is further proof that Italian eateries can provide delicious dishes while doing away with the checkered tablecloths. This is top-notch Italian fare, plain and simple. What's even better is that the atmosphere impresses just as much as the food, complete with towering columns and plenty of mahogany, plus thoughtful touches such as purse stools for the handbag-carrying set. The menu features a variety of mouth-watering plates (think pork and veal agnolotti or a cool lobster salad), in addition to offering five- or eight-course menus for the ultimate foodies. While you could easily satisfy your appetite with savory dishes, do same room for dessert. Del Posto's sweets menu includes unique options such as browned butter panna cotta or pecorino cake with honey gelato and roasted pears.

These selections only scratch the surface of the amazing culinary delights in New York. Check out the rest of our star rated restaurants in the Big Apple.
We love Strip House. The red velvet walls, old Hollywood pictures, the food and the service. Strip House is amazing. There's a local place called [447] Hudson Clearwater that is literally a block from our house that has one of the best brunches. The French toast and the omelets and the cocktails are all handmade.
There are a lot of great restaurants. I like Indochine. One of my favorite steakhouses is Peter Luger [Steakhouse]. Steaks are great, but I try to refrain from having steak. I usually get my fair share at Balthazar; so if I do go to a steakhouse — which, don't get me wrong, I'd go every day if I could — I kind of like the whole aura around Peter Luger. I don't go to many restaurants. I like Babbo, but good luck getting in there. It's one of my favorites; usually, I sit at the bar rather than in the restaurant. I always order pasta at Babbo. I sat at the bar once with my friend Jennifer Rubell and had the best squid ink pasta ever.
I still like Le Cirque. I like Per Se and Jean Georges for fine dining. Lincoln Ristorante. Gotham Bar and Grill has been around for a long time — very, very good. I still like Blue Ribbon for late nights. New York has so many new restaurants. I still love The River Café and Aureole — I drop in there when I hit the theater. Sometimes I just go local in my neighborhood here and have pasta; Tiella is one of those places. I like Morimoto for sushi, and Tribeca Grill if I'm downtown.
Lately, I've been going to a place in my neighborhood called Chuko — it's a ramen place. Also in Brooklyn is a little Italian place called Franny's. They have a very clean cuisine. They offer pasta, pizzas, but also some very clean appetizers. They also have a very smart wine list — not the biggest one, but it's so creative. If you have a big wine list, making it creative isn't very difficult. But making a small wine list creative is difficult.

In New York, I love to go to Daniel. For me, a great place is Blue Hill at Stone Barns. Everything is seasonal. I just came from there and had a really phenomenal meal. I don't mind traveling for food.

And even though it's not a brunch place, I go to SriPraPhai in Queens, a Thai place. It's not a fancy restaurant at all, but they deliver such authentic flavors onto the plate. The presentation is very simple, but it's a restaurant that is spotless clean. They even have a little garden outside and they allow you to bring your own wine.
Ushiwaka Maru is an amazing sushi joint on Houston and MacDougal streets. I love Minetta Tavern. Raoul's is one of my favorite old spots in Soho. I love Edi and the Wolf. I think Daniel, Le Bernardin and restaurants like that are iconic and amazing, but those are the easy choices.
There's always something new opening in New York — two or three places a day. However, I go to Balthazar religiously — at least every ten days. I always start with oysters, clams, King crab or stone crab when they are in season. I'm very predictable — they know me by heart. It's either steak frites or a tartare. And then I have two canelé and an espresso. Always the same thing, and always the same table.
I'm still liking Indochine, even though it's been around for a long time. I love Blue Ribbon. And Lupa in Soho for good Italian is standard.
Obviously, New York has some of the greatest restaurants in the world, and at the high end you can eat really well, such as Eleven Madison Park, Le Bernardin, Craft, Gramercy Tavern, Jean Georges, Per Se, Daniel, Corton and others. Then there are the amazing ethnic restaurants, some of the very best in every category. But for me, the restaurants that magically combine great food, great service, great beverages, but remain casual and low-key and are way cool to hang out in are The Little Owl, The Red Cat, Casa Mono, Ouest, Blue Ribbon, Momofuku, Annisa and Dell'anima.
Well, Franny's in Brooklyn is Italian but very focused on the ingredients. It's really simple cooking, and it's just food from the heart. Torrisi is this really small place, and it feels so great to be in there. The food is Italian, but like New York Italian. They're really clever and they're also in a very historic neighborhood on Mulberry Street, right on the cusp of Little Italy and Chinatown. When you eat there, it definitely feels like you're in New York, and the food is really delicious. I also love Momofuku Ssäm Bar, Brooklyn Fare and Atera.
On the casual end of things, there's a spot that not too many people know about, but I just think it's excellent. It's on the Brooklyn side and it's called Vinegar Hill House. It's just like having dinner at a really good friend's house. The food is excellent. If you want to go to the other side of things, I really love Brooklyn Fare. This is just a tiny restaurant; it's really like a chef's counter. You can watch them cook everything. It's not inexpensive — I think it's like $200 per person — but you'll have 20-some courses, so I would put that right up there with the Per Ses of the world as far as great dinners in New York. Obviously Per Se is one of those restaurants that I feel like you need to go to once a year to remind yourself what fine dining can be.
I like to go to Nobu in Tribeca. Usually, I just let the waiters pick my meals. When I go to India, I never order and I never get sick. I always ask the waiter to bring my what they're eating.

My favorite casual place is Blue Ribbon — it's a traditional kind of mom-and-pop place, but they wouldn't like to be called mom-and-pop. It's an institution. Their first restaurant was on Sullivan Street in Soho, and then they opened a bakery in the West Village and Blue Ribbon Sushi, and then they opened on Fifth Avenue in Park Slope in Brooklyn. Close to my house, they opened Blue Ribbon Brooklyn. It's a place where they bake their own bread. The servers are all amazing. They always have an oyster shucker behind the bar; there is always great raw food and seafood. If you're a vegetarian, you'll be happy there. If you're a carnivore, you'll be happy there. If you don't eat seafood, you'll be happy there. Everything is fresh. Everything is done right, and they are serving food until four in the morning.
The Garden at Four Seasons Hotel New York — I love the post-war modernist design. The service and the cuisine mutually complement each other to provide for an excellent and memorable dining experience.
Grimaldi's Pizzeria in Brooklyn Heights is probably my favorite place to be in the world. I love brick oven pizza so much. There's something about it that feels so distinctly New York. I just love walking across the Brooklyn Bridge and sitting down and having a pizza.

There's a little Japanese-Korean place I go a lot called Yakiniku. It's one of those places where you take off your shoes when you get there and you sit in these sunken tables and you literally grill the food yourself. Yakiniku is the perfect place to go with a big group. At its core, dining is about connection with other people over food and drink and it's a really cool place to do that.

I'm from Tarrytown in Westchester. It's really cool to go back to Tarrytown and go to Blue Hill at Stone Barns because for me, I think it's a really incredible place, but it's also fun for me to be able to go home and go out to a meal like that. I just went with my girlfriend a few months ago and got to show her where I grew up and where I went to school and then have a great meal.

We have strategic planning for our restaurant Eleven Madison Park every year, and the day we do it with our management team always ends with Korean fried chicken — there are a bunch of places in the city now — and a bunch of bottles of Obi Lager, the Korean version of Budweiser. It's funny when you're eating Korean fried chicken and feel like you're doing a New York thing. And there's a beauty in that too.
Certainly the top most deluxe restaurants immediately come to mind when anyone asks this question: Eleven Madison Park, Per Se, Daniel, Jean Georges, Bouley, La Grenouille, Le Bernardin, Gramercy Tavern and Gotham Bar & Grill; all of which represent exquisite cuisine, luxurious surroundings and pampered service with well known Chefs and owners. I am also a big fan of the following: Mas (Farmhouse) and Mas (La Grillade), Marea, and all of Tom Colichio's restaurants especially Colicchio & Sons and Riverpark. I also have many personal favorites by category and cuisine; we are so fortunate in NYC to be blessed with such an abundance of great restaurants!!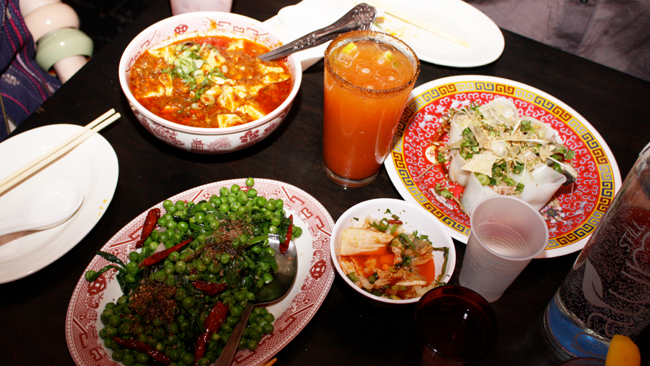 Mission Chinese by Linnea Covington
Last year a lot of buzz surrounded the rustic Italian restaurant il Buco Alimentari e Vineria, brought to NoHo by the owners of il Buco on Bond Street. But after all the hype, the real question remains, is it worth it? The answer—yes, 100 percent, and, if you can go, make sure to try chef Justin Smillie's roasted gnocchi with forged mushrooms, seared octopus with black garlic, and his classic salt-baked branzino with caramelized lemon.

Another great restaurant from 2012 can be found at this little shop in Brooklyn called The Pines. Aaron Lefkove and Andy Curtin, who run the fish eatery Littleneck next door, own it. Here, fish takes a back seat on the menu, and chef Angelo Romano focuses more on seasonal and innovative fare, and names the dishes based on the main ingredient. For example, "jicama" will get you a dish lace with the root as well as sea urchin, coconut, and smoked jowl; and the "agnolotti" comes with duck, pine nuts, and mushroom brood. How it's prepared is a mystery, but a delicious one to dive into.

For classic Chinese food lovers, San Francisco transplant Danny Bowien opened a NYC location of his popular East Coast shop last summer in the Lower East Side. Enter, Mission Chinese, where the restaurant façade looks like a cheap Chinese take-out joint, and the back feels more like an opium-den-meets-nightclub. It's here you can get inexpensive plates of Szechuan-peppercorn-spiked green peas, tingling mapo tofu, and sizzling cumin lamb. The wait is long, but well worth it.
This is the question New Yorkers find hardest to answer. We all have our own opinions depending on neighborhood, mood, price point, and dining companions.

My approach to this question is to share where I love to dine at the bar, a typical New York experience. The pasta tasting menu at Mario Batali's Babbo on a leafy street in Greenwich Village is even more delicious while sitting at the bar. For more buzz and excellent cocktails, head to the Bowery and grab a stool at Saxon + Parole. Start your meal with some oysters.

The wait might be long at Empellon, a modern Mexican restaurant in the West Village, but you can usually snag a bar seat for cocktails and plates to share without too much trouble. Another neighborhood spot in the West Village is Jeffrey's Grocery, a favorite if I'm craving seafood. For Italian with some scene on the side, order any of the pastas at Il Buco Alimentari e Vineria.

The bar seats are often the best seats.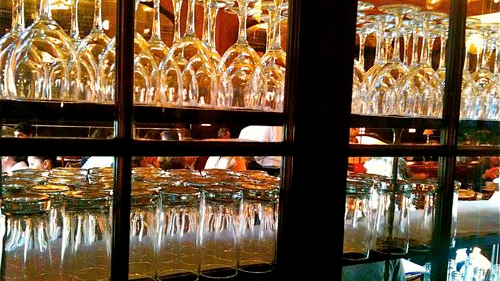 Balthazar, Carol Cain of GirlGoneTravel.com
As Chef Ripert points out above, the food scene in NYC is ever-changing. Hidden culinary gems can be found anywhere especially if you are willing to try something new and venture into different neighborhoods. Here are a few of my favorite places to dine out:

1.Balthazar - (And a Chef Eric Ripert favorite as noted above.) Often a bit harder to get seats for dinner, so I like going for brunch and lunch. Sour cream hazelnut waffles, brioche French toast, lobster, clams...the list goes on and on. The atmosphere is traditional French, and the atmosphere welcoming and comfortable. One of my favorite dining experiences in the Soho area. You can also take some of the experience home by visiting the Balthazar bakery, right next door.

2.The National Bar and Dining Rooms - A modern bistro brought to Midtown by Iron Chef Geoffrey Zakarian. Start your dinner off with a cocktail – specifically with the Jalapeño Margarita with Sauza Hornito's Reposado, Fresh Jalapeño & Lime, Smoked Sea Salt Rim. Sounds intense and it is. Your taste buds will absolutely adore you for it, and it's a wonderful way to prep your palate for the awesome that follows. Whether you go for the celebrity or for the trendy-factor, I promise that you will want to return for the food. Oh, and if you have extra room, order the Ugly Burger, you won't regret it. You can always just stay at The Benjamin Hotel, located right next door.

3.Perla - On Minetta street in the West Village is one of the hottest places to eat in NYC now. Italian food with the sole purpose of blowing your mind. Want proof? Try the Tajarin with black truffles, sage, and Parmigiano, or their Saba glazed duck. I would even go as far as suggesting the 56-day, dry-age rib eye for two. Great cocktail list as well. Bring a friend, or two, for the servings are generous and the food is worth the wait for a reservation.