What are the best souvenirs to buy in New York City?
Answers from Our Experts (3)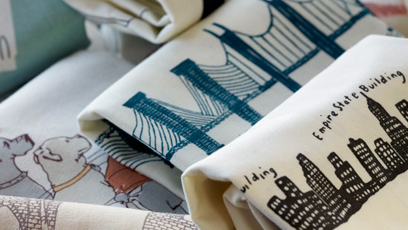 Fishs Eddy
As if dozens of Instagram pictures weren't enough, there are tons of souvenirs you can buy in New York for you, for your friends, and for your grandma who has everything. Here are a few of my suggestions.

For the foodie: New York City has so many delicious products coming out, it's hard to choose what to get. A good place to start is with local booze, a category that has boomed in the last few years. Grab a bottle of Dorothy Parker gin, or Widow Jane bourbon, which gets made in Red Hook, Brooklyn. If booze isn't your thing, pick up chocolate from Genosis. The rich bars come in flavors like pomegranate-acai and 90 percent raw cacao. Another great way to say, "Hey, I was in New York," is with a tea towel sporting a visage of the Brooklyn Bridge or Manhattan's skyline. You can find this, and plenty of other darling kitchen gear at Fishs Eddy.

For the artist: If you go to the Museum of Modern Art you can kill two birds with one stone: going to see the awesome exhibits there, and picking up some clever souvenirs. They have all sorts of fun stuff including mugs and change purses designed to look like the classic NYC Greek deli cup, cut-and-paste iconic buildings, and plethora of non-cheesy I Love NY knickknacks. For a truly unique token of the city, buy something from the street or at one of the many markets. It might not say "New York" on it, but it will have a story. You can find such treasured objects at the Hester Street Fair, Brooklyn Flea Market, or on Spring Street near Mott, where tons of vendors set up alfresco shops.

For everyone: If you have a lot of souvenirs to get or need to obtain a dozen "I Love NY" shirts, Chinatown is the best bet. There, the many hawkers sell shirts, bags, scarves, necklaces, stuffed animals—you name it and they have branded it a NY memento. Plus, things run pretty cheap and if you haggle, chances are you can get it for even less. Finally head ot By Brooklyn for, you guessed it, fun and whimiscal Brookly-themed products all made right here in the city.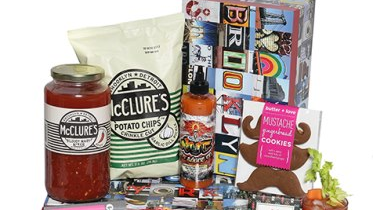 Souvenir shopping in NYC can be fun and these shops are everywhere! If you wanted to go beyond the basic "I Love NY" mug or t-shirt (though those are fun too), check out these options:

My favorite are the Metropolitan Museum of Art and The MoMa gift shops. The kinds of unique gifts you find here make perfect tokens for any occassion. And because these museums are such NYC icons, it's like bringing a piece of NYC art with you.

The Transit Museum also has a wonderful gift shop with posters, and other items displaying the famous NYC subway map (from mugs, to shower curtains, to underwear!) as well as toy NYC number and letter trains. There are two locations: the main museum is located in Brooklyn Heights, Brooklyn and the other, much smaller version (mainly gift shop) is in Grand Central Terminal.

Another great option is purchasing NYC themed gift baskets from Chelsea Market Baskets. The shop itself in located inside one of my favorite markets in the city, Chelsea Market and the baskets are filled with high quality, high end treats displaying the best of the best in the NYC food scene to take home (or ship).

But of course, nothing beats the age old practice of saving the Playbill from your night out in the theater, or that perfect photo in Times Square or while up on the Chrysler Building. Those are always the best.
The best souvenirs are the ones you will pick up and enjoy time and time again. Skip all the stores filled with generic souvenirs and check out these local favorites instead.

Kitchen Arts and Letters. For visitors interested in food, the best place for souvenirs is Kitchen Arts and Letters. This is much more than a cookbook store. Here you will find out of print cookbooks, contemporary food memoirs, and everything in between.

Smorgasburg. If you would rather eat your food than read about it, head to Smorgasburg, a Brooklyn flea market. There are many things to eat as you browse, but for souvenirs your focus should remain on locally produced goodies like coffee from the Brooklyn Roasting Company or preserved lemon syrup from Morris Kitchen.