What are the best things to do in New York City?
Answers from Our Experts (26)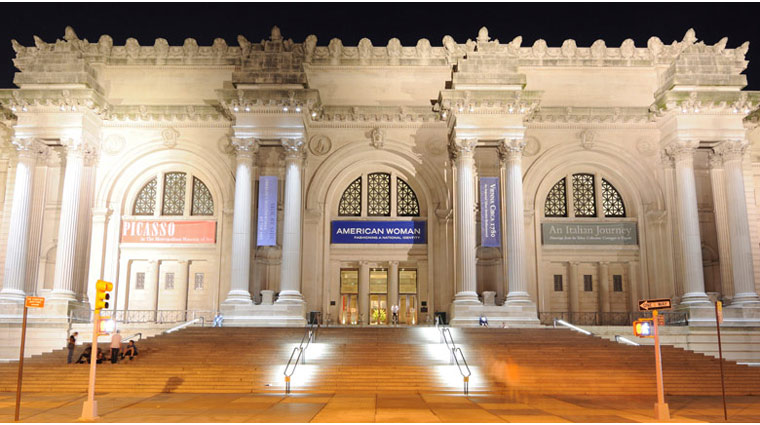 ©iStockseanpavonphoto
There's so much to see and do in New York City. If you're a first-time visitor, we suggest you focus on the places that are quintessential New York such as the Empire State Building, Times Square and Central Park. New York's museums are also some of the best, and what's a visit to New York without catching a show on Broadway?

See all of New York from the atop its tallest structure, the Empire State Building. You can take in the view from sky decks on the 86th and 102nd floors. When you?re looking at the building from the city streets, the changing colors of the tower lights mark everything from holidays to events such as the New York Marathon.

Roughly 30 million people pass through Times Square every year to see the flashing lights and billboards, shop the flagship chain stores and eat at theme restaurants. You can get maps and discount theater tickets (and use public restrooms) at the Times Square Information Center on Seventh Avenue between 46th and 47th streets.

You could easily spend an entire weekend exploring New York's playground, Central Park. Stop at the visitor's center, called the Dairy — mid-park at 65th Street — for a map and a calendar of events. Jog around the reservoir or rent ice skates at Wollman Rink or Lasker Rink, which becomes a swimming pool in the summer. Rent a rowboat at Loeb Boathouse or a kite from Big City Kites at Lexington and 82nd Street, and walk over to the park to catch the breeze on the Great Lawn. If you have kids, visit one of the 19 themed playgrounds, the zoo and petting zoo, the Carousel and the storytelling hour at the Hans Christian Andersen statue.

Culture fans should check out the latest exhibition at the New York Metropolitan Museum of Art (the Met) or the Museum of Modern Art (MoMA). Or plan a trip to see the next big names in contemporary art at the always-buzzed-about Whitney Biennial event at the Whitney Museum of American Art.

See famous movie actors put their acting chops on the line at a Broadway show, or try some edgier theater off- (or off-off-) Broadway. Line up at the TKTS booth in Times Square — at Broadway and 47th Street — for same-day show discounts.
The five best things to do and see in New York City are: Dine out in one of the world-renowned restaurants; see a Broadway show; sit on the stairs in Times Square and watch the live show of lights, people and action; try an overstuffed sandwich at one of the city's best delis; and pamper yourself in a world-class spa!
The five best things to do in New York City are:

Go to a Broadway show.

Walk across the Brooklyn Bridge.

Ice skate in Wollman Rink or bike ride in Central Park.

Visit the Empire State Building. Take a stroll on Madison Avenue, visit all of the wonderful boutiques and stop for lunch at Nello's.
We do go out to Brooklyn a lot just because there are so many places that are like home to me. We're big on museums so The Metropolitan [Museum of Art] and MoMA are big. I think The Cloisters is a really special place for the content of the museum and for the building. But I also love it for Fort Tryon Park and the river. It's a very special, meditative place. One other place that's really important to me is the Brooklyn Botanic Garden. It's a very special place for me and my wife, Diane.
Starting at the bottom, I would say getting on the Staten Island Ferry. It's one of the great free things in the city. You can take shots of the Statue of Liberty, and it gives you real perspective. The views from Staten Island toward the city and Brooklyn are fabulous. I would definitely walk over the Brooklyn Bridge. I would walk to Central Park. It's amazing how when you're in the middle of Central Park, you really get the sense that you're not in a big city because of the fact that it's very quiet and peaceful. Then when you get to the edges, you start hearing the taxis and the horns. You smell the manure from the horses. You might smell hot dogs cooking on a hot dog cart. New York City is pretty awesome for all those things. Theater — you must see a show when you're here. A lot of times, people come to the city because they have to go to a conference or do certain things. I actually had some friends in from Italy recently, and they said the greatest thing about New York City was that we had no plans. I think so many times when people go places, like to Italy or to New York, you have this set itinerary and you have to stay on it. The greatest part of the city is you can just live it the way New Yorkers do.
The restaurants in general — a good New York deli is a must and so is a great New York bar. I love the Bemelmans Bar at The Carlyle, I think that's sort of a must-see and such a New York thing to do. Central Park is still awesome. I like the Whitney [Museum of American Art].

The West Village is great. I have mixed emotions about all the neighborhoods of New York now because they've changed in front of my eyes. I love the extreme Upper West Side around Riverside Drive. I find it quite beautiful with its European facades, and the monuments and the park — that's a good place to live. The Lower East Side, that's a love-hate relationship now. I live in "strollerville" over on the Upper East, but I don't have any particular deep love for the neighborhood.
I really love to pretend that the whole neighborhood of Little Italy is alive and well, so I go to Alleva Dairy on Mulberry and Grand streets to get some cheese — mozzarella, whatever. Then I go across the street to Ferrara Bakery & Café, where I sit and eat warm Italian pastries and drink too much coffee. Then I go diagonally across the street and go to Di Palo's to get prosciutto and olives. I pretend that I'm in an Old World Italian neighborhood — that's something I've literally done all my life. My parents took me to those places when I was a kid and I take my daughter now. That's really big in my heart. I feel like people want to say, 'Go to the Bronx or go to Brooklyn and eat old school Italian food.' And I agree with all of that; I love Arthur Avenue, for example, but Little Italy is my Italian ritual and I do that when I need to feel Italian.

I love to go to La Grenouille — it's one of my favorite restaurants in the city. I love sort of an old world French restaurant because I lived in Paris for a number of years.

I love to go to the Strand Book Store on 12th Street. I like the smell of old books, and I like to go in there and just pick up a few books. I love old school bookstores — I'm kind of obsessed. I love the Strand; I love Kitchen Arts & Letters, which is another bookstore on Lexington Avenue and 94th Street.

I like to pick apart The Morgan Library & Museum. I like a manageable size museum or exhibit. Just when I start to get bored and think about the fact that I secretly want to be either eating in the cafeteria or spending money I don't have in the gift shop, it's over and that's part of what quantifies a nice palatable exhibit to me.

A walk along the West Side Highway is pretty underrated. I like to ride my bike actually up the West Side Highway. I start around 23rd Street on the West Side and I just ride straight up to the George Washington Bridge and there's a way of looking out on everything — it's so grandiose and big. Plus, you can enjoy a moment of quiet and solitude by the river.

Sometimes I like things in New York that aren't activity driven but they just give you a feeling for the place even though we're looking at New Jersey. I like to go to The Water Club and sit on the upstairs outdoor deck and drink Sauvignon Blanc for no reason at all. I think that's important. I like to look at the old Pepsi-Cola sign when you go along the FDR Drive.
1. MoMA [The Museum of Modern Art].

2. The High Line.

3. Visit the latest boutique hotel because they're all trying to outdo the last one. There is no point in going back to the last one, but there is a point in visiting the new one because they all try to outdo each other.

4. When I'm really craving fish I go to Le Bernardin.

5. Maybe when I'm craving homey, French, friendship, good cocktails, and soul food I go to Daniel. But that's because Eric [Ripert] is a friend, Daniel [Boulud] is a friend. We started together, so there is a friendship there.
When I met my husband, he lived on the West Side and we'd go down the Hudson River Pathway — a protected road path — and we'd either bike or walk. With my restaurant in Chelsea now, I'm so close to the High Line, which is really pretty. They're doing more and more stuff there — creating things and attractions — which is lovely.

I love to stroll through the West Village at night and see the restaurants and shops because it reminds me of old New York. I guess because I'm European I love to walk, and I think New York is best when you do a lot of walking. Now Times Square has that whole pedestrian area, which can be fun and a great New York experience.

I have a yellow Lamborghini, and on a beautiful night I just drive through downtown and through the tunnels, which are beautiful. Just driving through New York in a convertible at nighttime is spectacular.
1. Central Park. I think Central Park is an incredible feature in New York. I think the city would not be the same without it. We're lucky to have it. I'm not necessarily saying it's something a tourist should go visit, but it's definitely a major feature in New York.

2. Soho. It's a great place to be. We all have a love-hate relationship with malls. Soho to me is one big open mall, which makes it that much more attractive and appealing.

3. Museums. Whether it's MoMA or the Guggenheim, there are some interesting exhibits. We've all been to and seen enough museums, so I much prefer one-off exhibits. I liked Zaha Hadid (in 2006) at the Guggenheim and Alexander McQueen: Savage Beauty (2011) at the Met — both subjects interest me a lot.

4. Restaurants. If I have someone visiting me, I'd make sure I'd send them to the right restaurants, such as Balthazar or Indochine. I also like to send them to restaurants that they can never get into but I can help with reservations.

When you go to a different city that you haven't been to, you really miss a lot. There are places that you would just never get to. It could be a restaurant or a bar. It's those little things like going to La Colombe for coffee instead of Starbucks that, to me, make New York.
Music in New York is a pretty incredible thing. Whether it's up in Harlem or down in the Village. There's some really, really cool jazz in New York, as well Off-Broadway theater. There's an occasion when going to see a Broadway show is fun, but some of the Off-Broadway theater is a really cool experience.

The waterfront in New York has become a beautiful place, especially on the West Side. Right along the Hudson River between 15th and 22nd streets, there's a bunch of piers and grassy areas. In a city that's just go-go-go, it's nice to be still and take it all in. Whether you go to the green market or to any one of those great little specialty food shops, pick up some great ingredients and a bottle of wine and go sit by the water and just exist and eat and drink. People don't think about chilling out in Manhattan, and there is no rule that says you can't. There's also a place called the Frying Pan, which makes a reasonably good burger and has beer, and it's a boat that sits on the water. On a really nice day, it's a good place to sit out on the water.

It's fun to go spend a day in Coney Island and then go to one of these big Russian clubs in Brighton Beach, where you sit and they put down a bottle of Stoli frozen in a block of ice. And it's cool to visit one of the big soulful churches in Harlem and listen to the choir just belt it out — and then get some soul food afterward. If you're going to Brighton Beach, you're eating chicken Kiev, Thai food in Queens, pizza in Brooklyn. Go on a bike ride to get great Brooklyn views and get a slice of pizza.
1. MoMA PS1. It's an awesome thing to do. PS1 kind of correlates into the other museums, so kind of link that as one rather than saying all five museums. There's that ability to go to MoMA and see some brilliant artwork, which I think is something everyone should do while they're here.

2. Brunch at Balthazar. That definitely falls into things to do.

3. Sake crawl. There are some really good sake places in the city. Culminating with Cherry and what we've done there, I think something that's fun and unique is to go around and have sake at different places.

4. Bike ride along the West Side Highway. We don't take enough time to do it. Cruise along and look at that scene of the skyline.

5. Rooftop in Brooklyn. It's not as easy to do, but if you can get on a rooftop in Brooklyn or Long Island City, do it. As awesome as our skyline is for those of us who live in the city, it's kind of ridiculous when you're over in Brooklyn and looking at the skyline. Have a glass of wine and check out the view that's iconic for people around the world, but we don't get to see as often on our own.
There's a jazz place called La Scat [449 L.A. on Lenox Avenue in Harlem]. You can go in on a jam session on a Sunday and have no idea who's going to show up. You drink bad sangria, and you're just sitting in someone's living room, essentially. It's so close I can't even describe it. I also love walking through Bushwick [in Brooklyn] because creatively it teaches me a lot. There's still craftsmanship in Bushwick, there's still artistry. Bushwick is on the cusp. There's a lot of history to see, and when you walk around on a Saturday or Sunday afternoon, you see the steelworkers and the craftsmen in their open garages. Then I walk down to Roberta's restaurant before checking out a vintage shop. That's New York. That's why I love it. Nothing compares.
I love walking through the city. It's just an amazing city to walk around and take it all in. Definitely visit Central Park. The thing about New York is that you don't need to be a tourist. You can go to all the different neighborhoods, just walk and blend in and go to the local restaurants and parks.

Definitely go there during the fall, from September through Thanksgiving. The weather is still nice and all the energy is back in the city.
Eat out; walk the streets and museums; go to the theater; try new places and restaurants; visit art galleries. There's always something happening in New York. One of my favorite things is to come to the city on a holiday when nobody's around and drive the streets or walk when it's not crowded.
Obviously, New York is blessed to have Central Park right in the middle of the city. Central Park is great. I love to run. I can also go to Prospect Park in Brooklyn or run over the Brooklyn Bridge. For me, the Brooklyn Bridge is one of those magical places because just getting up on top of it and looking at everything gives you a great perspective.
I love to ride bikes on the Hudson River bike path all the way from Battery Park to the George Washington Bridge. Also, I like to sail in New York Harbor under the Statue of Liberty. Some other things I like to do include catching a Yankees game, wandering through Chinatown to buy produce and eat street food, or see an off-Broadway play by some previously unknown artist.
Go check out Prospect Park. It's one of the biggest parks in New York, and it's beautiful. There's a huge lawn there, and it's not fenced off like Central Park is, so you can walk a lot — you can lay out and nobody's going to bother you.

Take a bike ride from Manhattan Bridge all the way to Coney Island. It's a really cool thing to do because you are cutting through Brooklyn, and you are ending up at Coney Island. You can have a really cool hotdog there and authentic food. This trip is like a daytrip and not that hard to do both ways.
1. Statue of Liberty

2. Helicopter tour around Manhattan

3. Central Park

4. New York Opera

5. I always recommend doing some fishing because I fish, so maybe trout fishing in Montauk or some trout fishing.
I like the Neue Gallery up on 86th Street and 5th Avenue. It's a small museum, but I like it a lot. There's a café inside called Café Sabarsky, and they offer these fantastic pastries. I have a sweet tooth. You get the classics — the apple strudel or the Frischer Frucht-Streuselkuchen, which is this really great tart. I get the really typical Viennese tarts and cakes.

I live close to Prospect Park, and I love running there. I love going to different bars and restaurants. The reason I moved to Brooklyn was because I have a little outside space at my place. I can be outside and have a barbecue there. I can grill, which is nice. My grill's name is Suzie. I named her. She's the most beautiful woman on this planet because she doesn't talk back and is always beautiful. I love barbecuing in the summer though, inviting some friends over and drinking wine.
1. When I have time to look up and look around, it's amazing how beautiful the architecture here is. Just from block to block, the variants of styles, touches — whether it be a thing in stone or a piece of marble — there are so many little details that people never really realize or talk about here in New York. So I think one is to see the architecture here in New York.

2. Another thing that people don't really think about are the beaches. You can get on the train and in 45 minutes you can be on a pristine beach out on Long Beach, which is great if you're itching to get your feet wet.

3. I think the value for beverage and food here in New York is a no-brainer.

4. It's a great place to people-watch — anything and everything on the streets here. Sit at a café or a restaurant, order a glass of wine and watch the world go by. Within a half-hour, you can write a little book about the types of people and interactions that they make — just the little nuances are pretty special.

5. One of the only good things about the hurricane [Sandy] and the blackout was that I was forced to rent a bike. I'd never done that. I think it really opened my eyes to what you can see in the city — the little things that you can accomplish. So if you can, while you're here, spend half a day and rent a bike. It's really cool to get around and see the city that way.
It's amazing to see the diversity and go through all the different neighborhoods. I think a lot of tourists are not aware of that, and when I have friends in town, I love to show them some of the places in Queens, like some of the Asian restaurants. Some of the Asian culture in Queens has such a strong pull. In Brooklyn, there's a Polish neighborhood, a Russian neighborhood. Food then also comes into play. I've never been to a place outside of New York where I've been able to go to all these different neighborhoods and really feel a different culture.

Central Park is amazing. I'm a runner, and I usually go pretty early and I try to run on the bridle path kind of away from the crowd. On a day when it's off-season and early in the morning, you feel like you're almost alone in there, but then you see the big green woods and to the side you see all these high-rises. It's really inspiring to me to run in Central Park. There's this energy in there that is really special.
For me, I grew up in New York, so obviously I know the streets quite well. I do a lot of things related to sports. I'm at almost every one of the arenas at some point. We have a restaurant in Citi Field [where the Mets play]. I'm doing hamburgers down in Madison Square Garden, so now I have even more of an excuse to go to these places. New York is kind of an endless exploration. [Recently], I was in Brooklyn for the first time in a long time, and the dining scene there is very different, so that was exciting. There's always new frontiers to learn about in New York. For me, Chinatown is where I like to bring friends to hang around.
I look for events in Central Park. They have spectacular events and most of them are free. Visitors should go to some of the centers of different cultures. You can go to the Japan Society center and see exhibitions by Japanese artists. Just look around for all the different centers, because no city has the melting pots or connections to homelands like New York City.

There's always something happening on Broadway. And visitors get excited about seeing live music in small venues. There's a place called the City Winery, and they bring in musicians, both old talent and young new talent. The Beacon Theatre is also great — some nights you might find someone like the harpist from Burgundy there or you might find Eric Clapton playing there.

If someone wants a great Guinness, send him to The Ear Inn. It's about 120-something years old down in Tribeca. Nobody has Guinness like this place. They must clean their tanks and their tubing once a week, which most people don't. And they sell an incredible amount of Guinness. It's really local and very, very old. The ceiling looks like it's going to fall on your head. It's got a lot of history. It was a brothel for a while for sailors in the 1800s, and then it became what it is it today.

There are always great things happening on the 92nd Street Y, and then they opened down in Tribeca as well. There's also the Zen Center, which always has interesting things happening — dance, yoga, presentations, music.
My favorite things to do in New York City are:

1. MOMA. Go see "Starry Night." It doesn't get any better than that.
2. Go to the High Line in the Meat Packing District.
3. Go to whatever exciting Broadway show you want to see.
4. Go eat at Bouley.
5. Go to a Yankees game even if you don't like the Yankees. That's such a quintessential New York experience.
In New York, every morning, I walk in Central Park. I think this is pretty unique because I leave my house and I am basically in the park for 40 minutes. Central Park is fantastic. I love the fact that in New York, depending on your mood, you can go from one area that is completely different from another. For instance, I live on the Upper East Side, and if I go to SoHo, or go to the Meatpacking District, it's totally different. I love the ambience of being downtown.