What are the best wedding venues in New York City?
Answers from Our Experts (3)
The best wedding venues in New York City take care of every detail of the most important day of your life – from décor to cuisine – an undertaking that is best handled by one of our Forbes Travel Guide Five-Star hotels.

1. Four Seasons Hotel New York. When it comes to simplifying the wedding planning process – without compromising quality or service – the Four Seasons Hotel New York has it down pat. The hotel wedding staff has put together a wide variety of packages (from the modest Classic Elegance to the more elaborate Black Tie) that cover every aspect of your big day – including a planner that will be involved from start to finish. The newest addition to the wedding packages is "Dreams Do Come True," which is the first to feature The Garden, which is transformed into a magical outdoor forest. With the average cost per plate being $248, be prepared to pay a pretty penny for a wedding at this Five-Star hotel – but between the stunning venue selection and memorable cuisine (Hudson Valley foie gras terrine isn't exactly average), you get what you pay for. And when it's all said and done, you can reflect on your fairytale experience in your complimentary suite on the evening of your reception.

2. Mandarin Oriental, New York. Offering breathtaking views of Central Park and Columbus Circle, one of the most stunning wedding venues in the city has to be the 6,000 square-foot-ballroom at the Mandarin Oriental, New York. The luxury Five-Star hotel's Weddings and Honeymoons by Mandarin program well help you with everything from arranging applicable spa appointments along the way to booking your complimentary suite during the day of your wedding – and your honeymoon night. Then there's the reception: the social catering manager (boasting years of experience) will work closely with you on creating an efficient event timeline, a customized menu that will please all tastes, décor, entertainment and those perfect touches (think fireworks, horse and carriage arrival or departure) that you may not have even thought of yourself.

3. The Peninsula New York. The saying "go big or go home" best describes a wedding at The Peninsula New York. Priced at $350 a head, your Five-Star wedding will include an open bar, hot and cold hors d'oeuvres, a four-course dinner, house red and white wine and a champagne toast – but that's not including the cake (starts at $500) bartenders ($200 flat rate) and coat check staff members ($100 per hour), all of which are crucial details (and costs) that should not to be overlooked. Call it a "thank you" for your patronage, you'll get to spend your honeymoon night in the bridal suite, which will be enhanced with romantic details including: rose petals on the bed, chilled champagne, chocolate-covered strawberries and amazing views of Central Park. As an added bonus, you'll be invited back in a year to celebrate your first anniversary where the fairytale began.

4. The St. Regis New York. If classic elegance is what you're after, The St. Regis New York sets the scene the before your guests even walk through the door, thanks to its historic Beaux-Arts exterior and landmark status. With an impressive 16 venues available for rent, this Five-Star Manhattan hotel can accommodate affairs of all sizes. Our pick: the second-floor Versailles room. With its red carpeting and drapes, ornate chandeliers and overall regal vibe, you won't have to worry about too much – if any – additional décor. Put more attention towards collaborating with the catering department, as the average cost of a plate is $350.

5. The Ritz-Carlton New York, Central Park. One of the most crucial components to memorable affair is the meal you and your guests will be enjoying and when it comes to cuisine, The Ritz-Carlton New York, Central Park has an abundance of options to suit all tastes and reception types. From hors d'oeuvres and champagne cocktails to stations like a caviar display or seafood tower, gourmet buffets (we love the neighborhood themes like the Midtown) or formal dinners with plated selections and synchronized service, all options are catered in-house and may be tailored to accommodate preferences and dietary restrictions. While you can bring in a cake from an outside vendor, why would you want to when The Ritz has acclaimed executive pastry chef Joseph Murphy on-hand to make the cake of your dreams.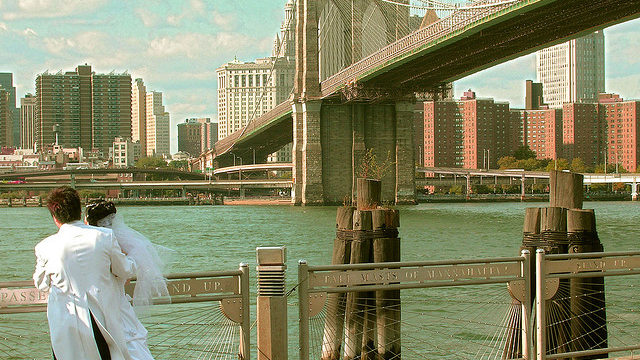 Whenever you walk around on the weekends, especially in the spring, summer, and fall, expect to see many blushing brides posing happily with their partners all over Central Park, in Grand Central Terminal, and by the Brooklyn Bridge in DUMBO's scenic park. Of course, photo ops aren't all there is to a glorious wedding, the venue is important too. Unfortunately, we can't all have our almost-wedding in the New York Public Library ala Carrie Bradshaw in Sex in the City, but there are plenty of great options for tying the knot.

For a truly classy, almost fairy tale wedding that's not too big, you can book 220 people at the St. Regis Hotel. Here, deep inside the 1904 classic Beaux Art landmark, you can arrange a bespoke wedding, complete with flower arrangements, catering, and a glorious ballroom for the after party.

The Ritz-Carlton by Central Park is also a grand place to get married, and you have the added bonus of the beautiful park right there. They also have a team of wedding professionals to help plan and tweak the event just to you. As for food, chef Mark Arnao oversees the menu, which can include caviar, a tapas bar, fresh seafood, and of course, the cake, expertly created under the watchful eye of pastry chef Joseph Murphy.

You could also choose The Loeb Boathouse in Central Park for a truly unique spot in the city. Here, they seat 230, and it's the perfect place to host the reception after performing the ceremony in one of the stunning spots in the park like the Conservatory Gardens. Though, if you want to get wedding photos on the Great Lawn, make sure to get a permit first.

If a wedding with a spectacular panorama is more to your liking, try the Lighthouse at Chelsea Piers, which, while high above the water, offers the glittering Hudson River as well as views of the Stature of Liberty. At this venue, chef Abigail Kirsch serves stylish and delicious finger foods, among other things, to help make your special day, well, just that.
The Waldorf Astoria New York: Classic elegance right in the heart of Manhattan offering one of the largest and most extensive luxurious wedding arrangements in all of New York City. We actually have an entire department devoted to Wedding Planning including a Wedding Salon where our expert planners can display various table settings and preview all aspects of planning from china, crystal, floral decorations, table linens etc. The Waldorf Astoria also has its own in house Floralia Decorators NYC who also have years of experience in planning and arranging some of the most famous weddings ever. Our Grand Ballroom is one of the largest and most lavish in all of NYC and known historically for years as it was televised each year on New Year's Eve when Guy Lombardo conducted his orchestra there. Our Starlight Room is another historic room which was once the first and only one of its kind during the big band era and the elegant dance clubs of the 1930s/40s and 50s.