Where is the best shopping in New York City?
Answers from Our Experts (6)
When it comes to the best shopping in New York, the first question to ask is: do you want to go uptown or do you want to go downtown? The cobblestone streets of Soho downtown are packed with every designer boutique you can imagine-Alexander Wang, Derek Lam, Isabel Marant, Marni, Prada. Some are the designer's first brick and mortar store and some (like Prada) are worth visiting just to see their cool design. Trendy stores include Intermix, Zara, Topshop and Uniqlo (Japan's version of the Gap). There's also a Bloomingdale's on Broadway if you plan to do all your shopping downtown but are just dying to visit the New York mainstay. Further downtown in the Financial District is Century 21, the well-known and loved discount department store. The favorite of label-loving bargain hunters is located across from the World Trade Center site.

Of course, some of the best shopping can also be found uptown along Fifth Avenue. You'll find all the luxury boutiques here-Fendi, Prada, Louis Vuitton, you name it-as well as all the great department stores: Saks Fifth Avenue (where you'll find the world's largest shoe department), Henri Bendel and the super-luxe Bergdorf Goodman. Walk over to Madison Avenue to find even more upscale boutiques-Valentino, Carolina Herrera, Christian Louboutin, as well as Barneys New York.
From vintage to couture, New York City has it all when it comes to shopping. Our favorite areas are Madison Avenue with its glitzy boutiques, mega department stores like Macy's or Saks Fifth Avenue, Soho, Noho, Nolita, Chelsea, Meatpacking District and the Upper West Side.
For the best New York City shopping, visit the big department stores, where you will find it all:

1. Bergdorf Goodman (754 Fifth Ave. at 58th Street, 212-753-7300). This upscale department store carries an incomparable range of top luxury designers. It also has the restaurant BG for a sophisticated lunch, an exquisite fine jewelry selection, a bridal department, a fur salon, an antiques gallery, a gourmet food section and an excellent beauty salon, John Barrett Salon.

2. Bloomingdale's (1000 Third Ave. at 59th Street, 212-705-2000). Bloomingdale's 59th Street flagship store is 924,000 square feet on 10 levels. It has an extremely wide selection of several key items: clothing, makeup, fragrances, furniture, home furnishings, bedding, glassware, furs, lingerie, shoes, chocolates and much more.

3. Barneys New York (660 Madison Ave. at 61st Street, 212-826-8900). Barneys is one of the best department stores in New York City for fashionable clothing. Most of the major designers can be found here. The window displays are among most fun and creative of all of the stores.

4. Prada (724 Fifth Ave. between 56th and 57th streets, 212-664-0010). One of Muccia Prada's first boutiques in New York, the Fifth Avenue store carries all of the latest clothing, bags, shoes and accessories.

5. Saks Fifth Avenue (611 Fifth Ave. between 49th and 50th streets, 212-753-4000). Saks lives up to its pristine reputation for carrying the best-quality merchandise and selection. It has excellent jewelry and leather goods departments. The women's departments are sensational, with floors and floors of fashions. The men's department is especially good for finding Italian designers.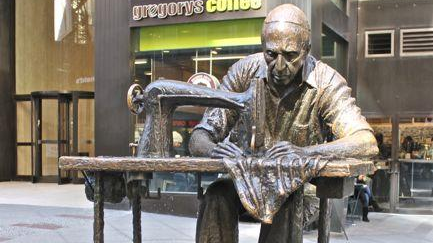 Carol Cain, GirlGoneTravel.com
Some of the best NYC shopping experience takes place in the various vintage shops, pop-up shops, and out door markets throughout the city. The best location for these are often in lower Manhattan and Brooklyn.

However, if you are more into the boutique and department store experience, than you want to head over to four areas in Manhattan:

1. Fifth and Madison Avenues are the homes to some of the world's best designers. From Gucci, Prada, Hermès, and more, here is where you will find the best of the best. Even if these are not as friendly to your budget as you might like, it's an experience in and of itself just to window shop as the design of their displays are as breathtaking as many of the price tags found in store.

2. The Fashion (or Garment) District is home to the warehouses, offices, and production sites of some of the world's most famous fashion labels. It runs from 7th to 9th avenues, and 34th to 42nd streets. The Fashion District is where most people go when they are looking to score some great deals in sample sales and discounts. It is also home to the world famous Macy's on 34th Street, where the annual Macy's Day Thanksgiving Day festivities take place.

3. The MeatPacking District used to be exactly that, an area where most of the butchers and fishermen would slaughter, perp, and pack much of the meat and fish served in many of the city's steakhouses and restaruants. Today, it is where you would fine posh eateries, celebrity homes, and high-end boutiques and art galleries.

4. SOHO (South of Houston Street) is the best of both world, offering shoppers everything from street art and vendors to high-end boutiques and eateries. One of the best places to visit when looking for fashion labels at discounted prices.


There are as many shopping experiences as stores in Manhattan. Begin by narrowing down the options according to neighborhood, budget, and what you're on the hunt for.

For huge discounts on designer apparel (and an impressive, varied selection) nothing beats Century 21, the discount department store in the Financial District. However, be prepared to battle the crowds (that's part of the fun!) and avoid shopping on weekend afternoons when it is busiest, if possible.

Many local bookstores offer a distinctly New York experiences. A couple favorites include the Strand (with literally miles of books and excellent prices) and Kitchen Arts and Letters, for those visitors interested in food and cooking. They are both New York institutions.

For unusual boutiques with slightly better prices than designer-dense SoHo, head to Nolita where you will find fun shops full of clothes, shoes, and jewelry. Keep an eye out for sale signs to nab the best deals in the neighborhood.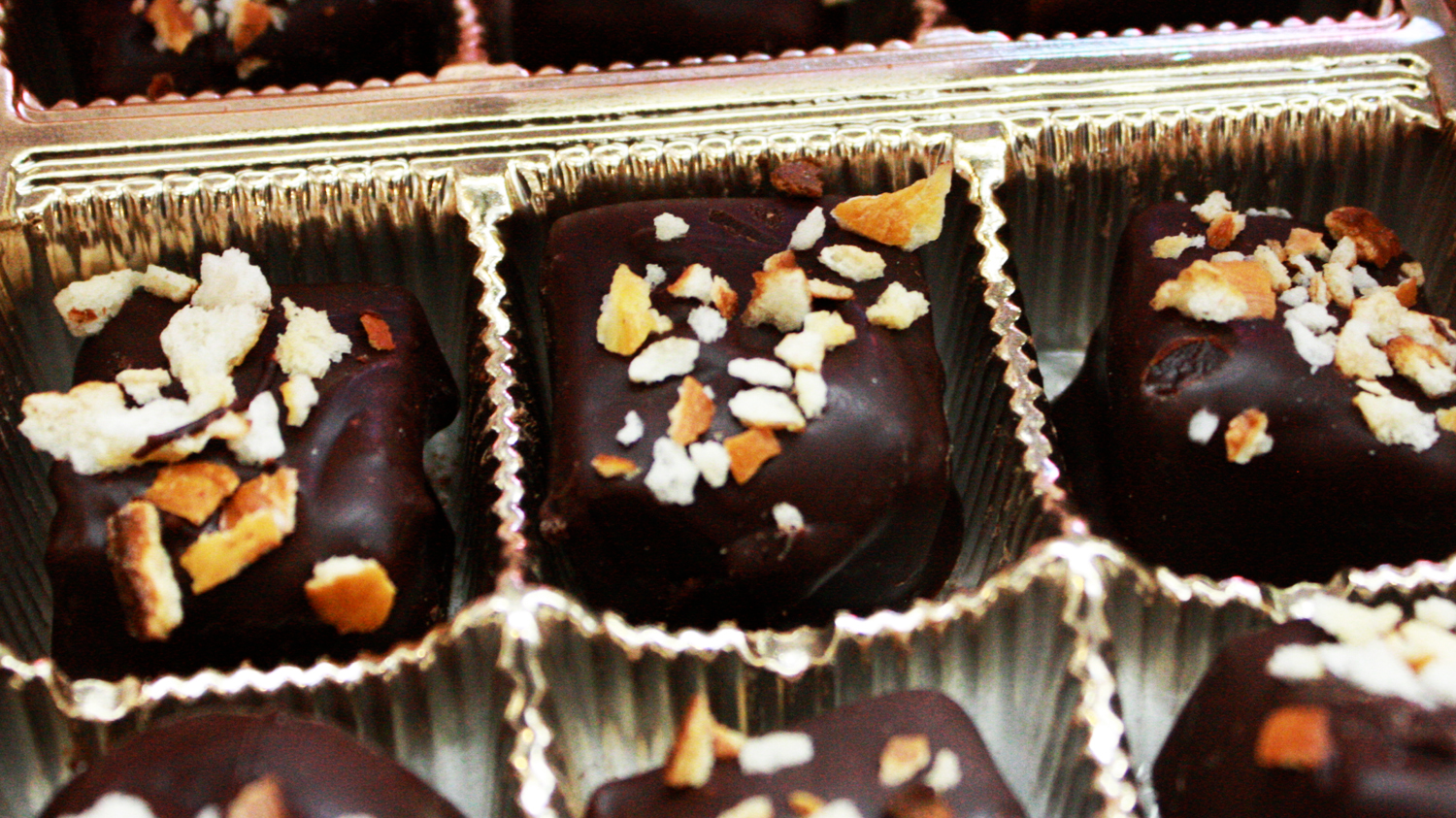 Roni-Sue's Chocolate-Covered Beer Caramel by Linnea Covington
For foodies out there who want to get a little shopping in, the Essex Market in the Lower East Side is a must do. There you can stock up on artisan cheese from Formaggio Essex, chocolate-covered bacon and confections from Roni-Sue's, or attempt to eat as many comfort food items you can off of the Shopsins menu (it's epic).


Another fun and tasty market to get your culinary shopping done at is the Chelsea Market. Originally the National Biscuit Company
In the late 1800s, now this building has an assortment of artisan eats from
Giovanni Rana's
immense display of fresh pasta at the new restaurant, coffee from
Ninth Street Espresso
, and hot loaves from
Amy's Bread
.
Finally, what food-focused shipping trip would be complete without a gander at the green market? In
Union Square
, they have venders from all over the tri-state area, including hand-rolled hard pretzels from
Martin's Pretzels
, spiced apple cider made by
Red Jacket Orchards
, and raw honey and maple syrup from
Berkshire Berries
. Plus, by the end of the day, after walking around all these markets will help justify the feast you collect.