Which New York City restaurants are best for brunch?
Answers from Our Experts (24)
You might wake up with a hankering for pancakes and bacon after a night of exploring all the world-class nightlife that Manhattan has to offer. But what you'll get is something far more sophisticated because New York's fine dining reputation doesn't only apply to dinner. Try Artisanal for superb cheese-related dishes and Balthazar and Brassiere 8 1/2 for modern French brunch. Celebrity chef Bobby Flay will cook you a spicy omelette at Mesa Grill, and you'll taste some of the fluffiest blueberry pancakes at Clinton Street Baking Company and Restaurant.

1. If you love cheese, then you've found your paradise at Artisanal. This sprawling, dimly lit bistro with buttercream yellow walls and red-checkered floors is where people to go when they want to nibble on baskets of airy gougeres and dig into pots of gooey fondue at the tightly packed wooden tables. It's the quality of the French-style food, from hearty leg of lamb to charred hanger steak, that salvages Artisanal from becoming a kitschy fondue joint and instead makes it a delightful restaurant you will want to return to again and again. Weekend brunch isn't for the calorie conscious-the cinnamon sugar dusted beignets are impossible to refuse.

2. Balthazar Restaurant, a warm, noisy French bistro, was once a hot spot of the 90s and is now a reliable standby. It's always been a transporting experience, though-from the sunshine-yellow walls to the European crowd devouring steak au poivre, duck confit and other "I must be in Paris" staples. The brunch is among the best in town; the smartest calls are the pillowy brioche French toast and baskets of baked goods.

3. Food Network fans know chef Bobby Flay as the red-haired chef who is a master of the grill. Today, he's practically an empire, with multiple restaurants under his helm, cookbooks and numerous television appearances. But Mesa Grill, which opened in 1991, was his first restaurant, and above all else, Flay is the king of all things spicy. Dishes such as sweet potato hash or scrambled eggs chiliquiles (paired with a spicy bloody mary of course) will test whether you can handle the heat. The service can be clunky, but your focus will be on the food.

4. Modern French cuisine has never tasted so good as it does at Midtown's Brassiere 8 1/2 where the contemporary restaurant offers its own twist on classic French dishes. On Sundays the restaurant hosts a buffet, but you can order off the breakfast or brunch menus when you sit and order as well.

5. Clinton Street Baking Company and Restaurant has become known as the spot for blueberry pancakes in Manhattan. Sure, the brunch lines are long, but the husband and wife team behind the restaurant follow pancake month-an entire month dedicated to introducing new pancake flavors. A bite of almond frangipane or Japanese pumpkin pancakes in February will immediately cause you to forget about your wait.
The Five best restaurants for brunch in New York City are:

Jean Georges

Balthazar

Blue Water Grill

Isabella's

Telepan
Brunch is a favorite activity among New Yorkers. The best brunch spots in New York City are The Astor Court at The St. Regis New York, Park Avenue Autumn, Norma's at Le Parker Meridien, Bubby's, and Pastis.
My favorite New York City brunch spots are Bubby's, Co-op, Prune, Locanda Verde and Balthazar.
Pastis — I was a bartender there. I fell in love with the place because it looked very European — there's a plaza outside with cobblestones. It was the first kind of cool place in the Meatpacking District. When we opened Pastis, there was nothing around us. I think Pastis is an experience for brunch. It's certainly a place where you can have a really classic New York-style, French bistro brunch and really enjoy it, and it doesn't break the bank.

I like to go mostly to local places in Brooklyn. There is a place close to my house on Vanderbilt Avenue called Le Gamin. It's really nice. French food is what I like to eat for brunch, like eggs and omelets and croque monsieurs, stuff like that. Another great place for brunch that comes to mind is Bread in Soho on Spring Street. They have really nice Italian-style brunch, and they're like real Italians with really cool food.
Brunch in Manhattan is a thing of the past. I like lunch though. I love La Grenouille in Midtown. It's French for "the frog." I am looking forward to lunch there with Issac Mizrahi. We're friends and I don't think he'd mind that I mention that. We share a deep love for this restaurant. We share the same point of view. He loves it. So do I. It's just amazing. They interact with you in the way the old places used to, like Lutece. You don't get that kind of service or French food in the city like that. Really cool place.

I like McNulty's. It's a tea and coffee shop — sacks and tins of coffee and tea. They don't make coffee. They don't make tea. They're hilarious. They're great. It's a family — the father, the son, the uncle. Tea and coffee. Not by the pound, but by the scoop. There are a bunch of other shops on the block. A great chocolate shop. It's really good. You buy something you like and you're a patron for good. I didn't know I needed eight pounds of tea, but I do. And you know, they sell the best. I was buying jasmine tea and I picked up a tin and they very slightly shook their head and I asked, "should I buy another," I pointed to another tin and they're like, "yeah." A great New York experience.
The River Café is really special because it's where I proposed to my wife. It's where we got engaged, but also it was a place where I discovered my personal love for cooking that led me to start cooking a few years later. It resonates with me as part of my personal source. They have a great brunch. When you're at brunch on a Sunday at The River Café, you sit under the Brooklyn Bridge and you really gaze at what everyone wants. I know they had great difficulty [during Hurricane Sandy], but I have all my cards betting that Michael O'Keeffe will make The River Café great again.
I actually did have brunch recently at a place called Riverpark. Tom Colicchio's not really in the kitchen there, per se; but it's part of his restaurant group. It's right on the East River. It's part of a large medical facility [Alexandria Center] where they're doing a fair amount of research — like ImClone is a partner in this. Great location. I had brunch there and it was absolutely fantastic — very creative, very well made, clean flavors, local flavors. For price and value, certainly there.

Clinton St. Baking Company & Restaurant is always pretty cool if you're in the mood for more gluttony.
Locanda Verde in TriBeCa is the place for me. They have these eggs Bolognese, which are great. Normally when I go out to brunch — it sounds kind of cheesy — but I love eggs Benedict. I never get tired of it.
1. Balthazar
2. Nougatine
3. Prune
4. Café Orlin
I'm not necessarily a brunch person but I like Clinton St. Baking Company if I'm downtown. Actually, if you have guests form out of town and you want to impress them with New York brunch, I think Asiate, the restaurant at the Mandarin Oriental does a great job. The spot is amazing. You can see the parks in the winter or summer — it's very beautiful.
Union Square Cafe does a great brunch, and a Sunday in Union Square just feels very New York to me. Over in Brooklyn, there's a little spot called Mile End that does great brunch as well. It's a casual, quick place, but as far as great bagels and lox, it's a fantastic spot. If you ever walk over the Brooklyn Bridge and cut across in Battery Park City, we have a spot called North End Grill. That's great as well because it's right there on the water.
I go to a little joint called Cornelia Street Café. They have really good food and a brunch and wine program. It's just a forgotten little village place. What I love about it is that they have a little basement showroom with the most interesting things every night, everything from a physicist giving a lecture to a jazz group from New Jersey from a young woman out of Juilliard who's a master of violin. I did "On the Town" down there, the show I'm doing around the country now. That place is forgotten, wonderful gem of Greenwich Village.
I do like brunch. Of course, there are the classic ones like those at Sarabeth's and even Pastis.
I'm a big bagel fan, a connoisseur of bagels. For the best bagels, you've got to go to Queens. There's also Jumbo Bagel on Third Avenue and 57th Street in Manhattan.
My favorite places for brunch in New York City are:

1. Gemma at The Bowery Hotel in the East Village. It has a chill vibe.
2. The Mercer Kitchen in Soho. It's super hip.
3. Isabella's next to the Museum of Natural History.
4. Sant Ambroeus in the West Village.
At Marea, we do it sort of at lunchtime, and there are a couple dishes that are not traditional, like the poached egg with crab. Most restaurants, when they call it 'brunch' in New York City, it's a couple of courses. It's maybe a bakery basket, a very nice omelet or market vegetables, so I think that type of brunch is alive and well. I might do dim sum in Chinatown, or go to dim sum at Chinatown Brasserie. On Sundays, Red Farm does a really, really great dim sum. Or, for brunch, something fun like Trestle on Tenth, or Five Points is classic. Cookshop on 10th Avenue. Those are actually owned by the same people that own Five Points, Hundred Acres and Cookshop. They're really doing a fabulous job with brunch. And Minetta is an excellent spot.
I like brunch — the more creative, the better. I don't mind if it's a buffet or à la carte, but I like to go to places that have very interesting brunch dishes. I mean, I love eggs Benedict and I like an omelet but I like to see something a little more creative.

I love The River Café for brunch in Brooklyn because of the view and the fantastic food. The Water Club is another good place. It's on the water. Asiate at Mandarin Oriental, New York has a very good brunch and the views are fabulous.
I don't have a one place, but the latest one where I've been is David Burke Kitchen at The James Hotel. That was tremendous.
I go to Balthazar, especially because I have a lot of European friends. It's not just the food; it's the total New York experience. For me, you walk in and you don't want to leave. That's one of those things I feel we've created and works so well at Red Rooster, because I don't want to leave my own restaurant. What's in the air is key, and re-creating that many times is an incredible proposition. They do that at Odeon or Pastis, too. But there's something about just going in to Balthazar and having a New York moment.
Brunch is kind of my thing, but it's not something you can do Saturday and Sunday. Brunch for me is a three-hour thing — a couple of martinis, a bottle of wine, a lot of food, dessert (which I don't usually eat) — then I just go home and take a nap for two hours. I have a standing reservation on Sundays at 1 p.m. at Balthazar for brunch. The seafood platter is a must-have item here, hands down.

Other places I like are [Osteria] Morini, which is right next door to me and is an Italian restaurant, and Morandi, also Italian. At Morini, I like to get any of the pasta dishes, but I also like their green salad with shaved apples. The egg dishes, particularly those with tomatoes, are great at Morandi. For brunch, those are my three favorites. I want to try Lafayette [Grand Café & Bakery]. I haven't been there yet, but I have a feeling they'll have a nice brunch.
I go out to brunch when I can. Balthazar is a must. LIC Market in Long Island City does an amazing brunch. I love Zum Schneider for brunch as well just because it's that kind of alternative, totally different brunch cuisine. It's a German beer hall, but the food is really solid and there's a great energy there. For the younger, crazier scene, The Sunburnt Cow is fun.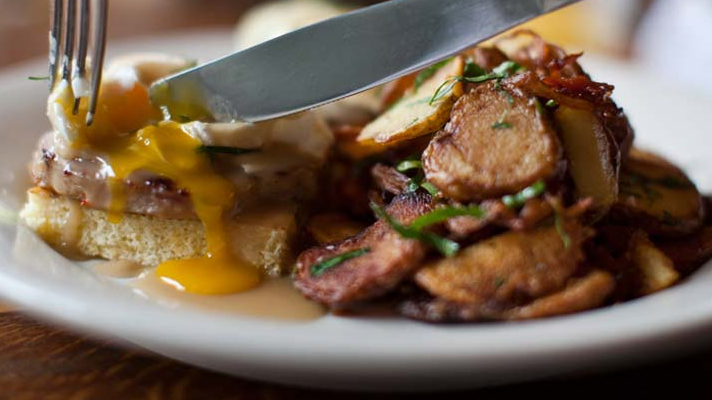 Brunch is my religion of choice on Sundays in New York City. It's one of those things that is such a part of the culture of this city, that I tend to miss and want to replicate when traveling elsewhere. As New Yorkers we love to show off our brunch spots to friends or anyone visiting our town. They are our badges of honor and the reason we choose the apartments we live in. Here is a list of my favorite places, worthy of bragging rights:

The Smith is one of those places that never disappoints. It's comfortable and casual, but still holds up to the standards of a brasserie. The coffee sizes come in two: cup or bowl; and the Bellini, Blood Orange Mimosa, or Bloody Mary are a must. Whether you choose to start off with their raw bar or go straight to their Steak Frites with chimichurri sauce to accompany your steak and eggs, you will no doubt enjoy the experience. Delicious food, fun staff, great ambiance - you just can't go wrong.

Bosie Tea Parlor is for those who prefer to kick-off their weekend mornings with a nice cup of tea (though they also serve some really great coffee), in a more intimate setting. Following the style of French tearooms, Bosie provides guests with a wide selection of teas from all over the world, homemade sweets (though they are most celebrated for their macaroons), tea sandwiches, quiches, and other light brunch entrées.

Sarabeth's is another favorite brunch spot known to draw crowds in love with the popular homemade jams and pastries. With various locations throughout the city, Sarabeth's is a family and neighborhood favorite. My most enjoy the venue in Tribeca, for their sunny dining area, perfect to help welcome the day while sipping on a delicious cup of coffee, as you munch on a warm, homemade scone spread with just enough decadent jam to make you smile for hours.

When thinking of Bubby's, I can't help but think of pies…and of the awesome post wedding brunch I had there 11 years ago! It was then, and still remains, one of the best things about New York City brunch with food items that promote and celebrate the purveyors who help bring it all to the table. I don't shy away from having pie for breakfast, but if you would rather start your day with something else, their Organic Cheese Grits, Jalapeño Scramblers, and Sour Cream Pancakes are all great choices too. And, if you happen to be in Japan, make sure to look them up!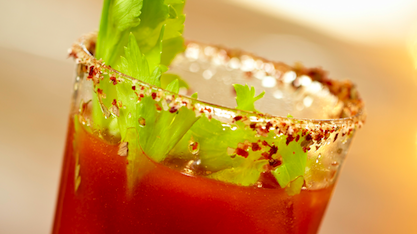 Brunch is the sort of meal that rules New York, and some places have a cult following and lines two hours deep. Of course, there are plenty of under the radar places you can get your weekend grub on too, so, here is a list that combines them both.

1. Prune: At author and chef Gabrielle Hamilton's East Village eatery, brunch is queen, and the lines here can run into the two-hour range. For most, the decadent Bloody Mary menu and food options like handmade lamb sausage with oysters, fresh ricotta with sun-dried figs, and fluffy Dutch-style pancakes, keep brining them back.

2. Clinton Hill Baking Co. & Restaurant: This is another brunch spot that has a lot of hype and a long line, but for a good reason. Namely, their pancakes, of which they serve with warm maple butter and, in February, they offer different flavors every day, all day.

3. Molyvos: In Midtown, close to the park, this large Greek restaurant has reinvented the idea of brunch and given it a Mediterranean twist with ouzo-cured salmon on their version of a bagel, a hearty egg casserole with feta, and a heaping plate of lamb and eggs. Their version of Bloody Mary is made with Mastic, a unique liquor made from tree bark that gives the Bloody Cretan a special kick. Also, since they don't carry the buildup of some of the downtown locations, you don't have to wait for a table.

4. Buttermilk Channel: In Brooklyn, this delightful Carroll Gardens café offers one of the best brunches around, and based on the lines that form after 11am on the weekends, other people agree. They serve classic southern-style brunch fair like fried pork chops over cheddar-waffles and pecan pie French toast, you will want to get both.

5. Parish Hall: Located in Williamsburg, Brooklyn, this simple eatery is the calmer, less busy sister to George Weld's bustling Egg nearby. That doesn't' mean their brunch, filled with red flannel hash and Johnny cakes, is any less good, it just has a shorter line, which means you get to eat sooner.