What are the best neighborhood restaurants in Paris?
Answers from Our Experts (2)
Paris is full of quirky neighbourhood restaurants and to find your own coups de coeur, you must branch out and sift through each of its very different neighbourhoods. My top 5 neighbourhood boltholes are Paul Bert in the 11th arrondissement (metro line 8 to Faidherbe Chaligny), for its frankly extremely well prepared brasserie fare. Expect excellent food, excellent service and mid-range prices – and don't expect to get a table unless you've booked at least a week in advance.

Hôtel Amour (metro lines 2 or 12 to Pigalle or Saint Georges) serves brasserie food with a touch of hip to reflect its trendy surroundings (it's a Thierry Costes venue). In the summer, book a table in the conservatory for green views of the little garden at the back.

Located in one of the quieter, lesser-known neighbourhood of Batignolles in the 17th arrondissement, dinner in the garden of Bistrot des Dames (just below the Hotel Eldorado) is a perfect start to the short walk to the Batignolles Square, which is especially pretty in the early afternoon around spring time.

Tucked away in the lively 11th arrondissement in the Bastille backstreets, you will find the atmospheric Café de l'Industrie – or three Cafés de l'Industrie to be exact (metro lines 1, 5 and 8 to Bastille or Bréguet Sabin). Hoarding two street corners, choose any one of the two main cafés for food as the smaller one of the three only does drinks. Although the food isn't the best in town, it's cosy and the colonial-themed décor is unusal.

And just to mix it up a bit, one of my all-time favourite eateries that wins hands down everytime, is the Vietnamese Paris Hanoi (metro line 9 to rue de Charonne). Its rouleau de printemps starter and beef nem bo-bun are the stars on the menu. It's so popular that people are prepared to queue outside for hours; if you really can't wait, there is a second outpost at Philippe Auguste metro station (line 2) about 20 minutes' walk away.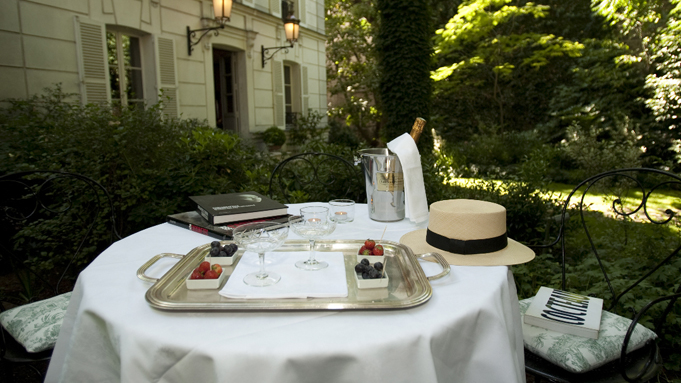 I love living in Montmartre for the abundance of little neighborhood restaurants. For example, rue Caulaincourt is full of restaurants, like Piazzitalia for some amazing Sicilian pizza, or further up the street, La Pizzetta for some more gourmet pizza and a really nice atmosphere. I love Au Rêve for their Tuesday night €5 dinner, made fresh according to whatever ingredients the Chef found at the market that day.

Also on rue Caulaincourt is a cute restaurant called Les Novices, where items like risotto and scallops are affordable and delcious. And just around the corner is Marcel, located on the most beautiful street in Paris- Avenue Junot. This tree-lined, cobblestone street is so picturesque, you can't help but fall in love with Paris while walking here.

Two of my all time favorite Paris restaurants happen to also be located in my neighborhood- La Rallonge and La Table d'Eugene. These two spots are owned by the same family and are located next door to eachother near the town hall of the 18th arrondissement. Serving entirely different menus, La Rallonge offers incredible tapas to share in a bustling atmosphere and mostly bar seating, whereas La Table d'Eugene is much more upscale offering a daily set menu as well as a la carte dishes for a traditional three-course meal. At either of these places, you must try the truffle rissotto made with little pastas and a creamy truffle sauce- it's to die for!

(Featured in the image is another one of my neighborhood favorites for Brunch or a Summer dinner in the garden, Hotel Particulier)