Where is the best pizza in Park City?
Answers from Our Experts (1)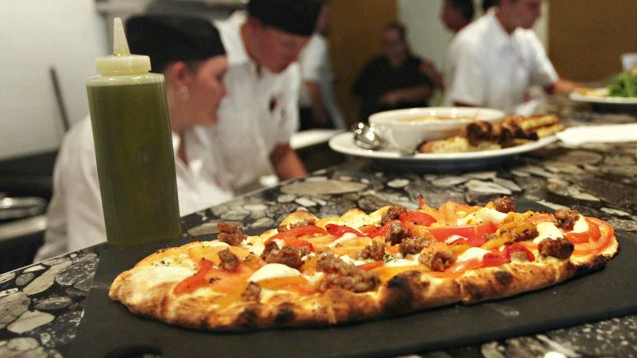 Courtesy of Vinto
Everyone has their personal standards when it comes to an Italian pie, but these three restaurants in Park City, Utah are the hometown heroes for pizza lovers everywhere – no matter your preference.

Since opening its doors on Park City's Main Street in Winter 2012, locals and visitors have been singing praise of the gourmet pies at Vinto – that is, when they're not racing to grab the last slice. Thin-crust, wood-fired pizzas are served up family-style at this casual joint: just don't expect the typical pepperoni-and-olive combo to be listed anywhere on the menu. Housemade sausage, caramelized onion, salty prosciutto, wild arugula and other artisan toppings sit atop bubbly bread and are often drizzled with a balsamic glaze or white truffle oil for an unexpected burst of flavor. Traditional antipasti and insalate shouldn't be overlooked, and all of Vinto's specialty pies can be swapped for a gluten-free option.

Tucked away in a small neighborhood plaza, you'll have to head off the beaten path to find Fuego Bistro & Pizzeria, but the rewards are worthy of your efforts. Wood fired to perfection, these bubbly pies put a gourmet spin on the ol' classics, like Margherita or BBQ Chicken, and pay homage to local landmarks with the Wasatch (honey-tomato-chipotle sauce, pancetta, mozzarella, garlic, pineapple and cilantro) or the Jupiter (fresh spinach, sundried tomatoes, garlic, olive oil, feta and mozzarella). Its casual bistro atmosphere welcomes families with children in tow, and its regular and gluten-free pies (available in 12- or 16-inch) are perfect for sharing – or keeping to yourself.

East Coast pizza has migrated west at Maxwell's East Coast Eatery. After getting its start under the Fat Kid Pizza moniker inside a nightclub on Park City's Main Street, the delicious pies have established a following at this suave sports bar/pizzeria in Kimball Junction. With pies named after A-list mafia movies (think The Donnie Brasco, or The Godfather), these 20-inch pizzas are hand tossed for a chewy crust and carefully loaded with Italian favorites like ricotta, garlic and savory sausage. Saddle up to the full-service bar or grab a table in the dining room: either way, you'll have a prime view of the game du jour playing on the many flat screen, high-def TVs. Maxwell's also offers a gluten-free pizza for those unwilling to give up their favorite Italian meal, and pizza by the slice is available all day.